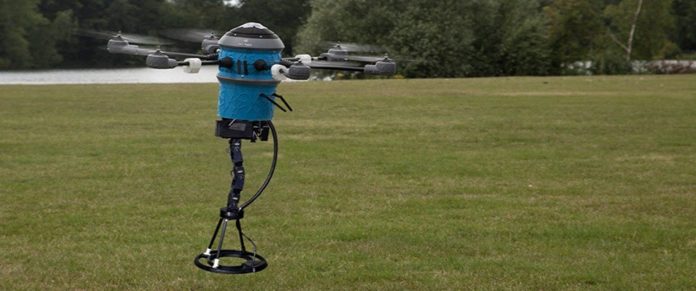 A Netherlands-based Kickstarter campaign has been initiated, aiming to use drones to create a landmine-free world in less than 10 years. The Mine Kafon Drone, an unmanned airborne de-mining system, uses a three step process to map, detect and detonate land mines safely and efficiently.
Worldwide, it is estimated that there are around 100 million land mines, many of which are remnants of conflicts long-past. As many as 20,000 people are killed or injured by the hidden explosives, every year. In response, founder Massoud Hassani has launched a campaign on the crowdfunding site Kickstarter, with the aim of finally ridding the world of the deadly explosives.
"With the Mine Kafon Drone we can save thousands of lives," says MKD. "Civilians will have access to agriculture, water resources, education, and the freedom to play outdoor sports. A billion people currently cannot move freely for fear of mines."
According to the drone's designers, the Mine Kafon Drone is 20x times faster than other methods and 200x times cheaper, making it the ideal solution to the world's landmine concerns. "The Mine Kafon Drone (MKD) offers an innovative solution to land mine removal, providing a reliable demining system that delivers accurate updates and information on mine clearing operations," shares the Mine Kafon Drone team.
The drone will work to disarm landmines by flying over dangerous areas across the world to map, detect and detonate landmines from a safe-distance. "The Mine Kafon Drone flies over dangerous areas to map, detect and detonate land mines from a safe distance. The drone works autonomously equipped with three separate interchangeable robotic extensions," says MKD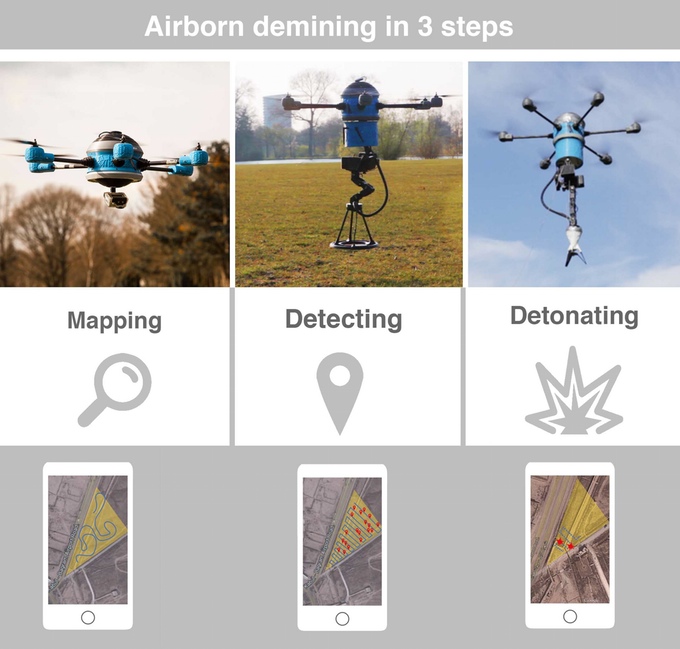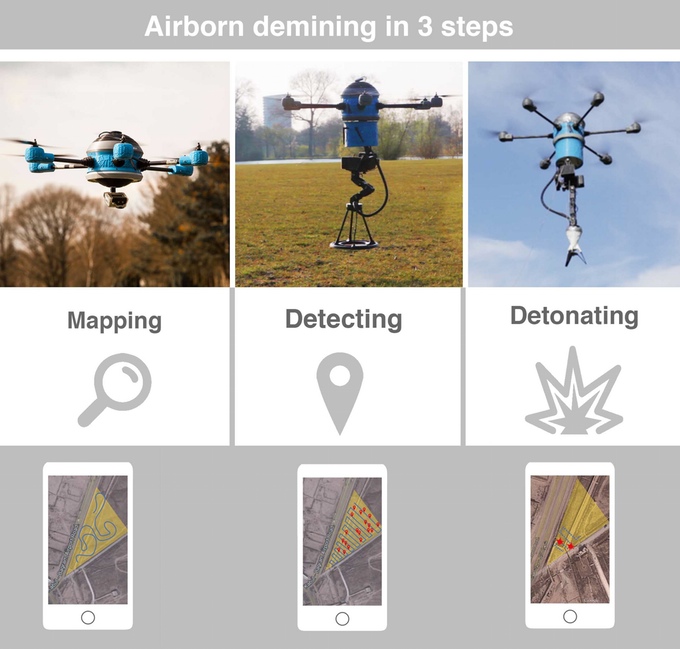 Firstly, the drone flies over the search  area with an aerial 3D mapping system, which allows it to identify all the dangerous areas with GPS waypoints. Then, using its equipped metal detecting arm, the drone hovers above the ground at approximately 4 cm to detect mines. All detected mines are geotagged on the operator's system, thus constructing a map of known mine locations. Finally, the drone places a small detonator on every detected mine. The mine is detonated from a safe distance using a timer.
"Our mission is to solve the landmines problem within 10 years," said founder Massoud Hassani. "Let's have a landmine-free world, because one less landmine means one saved life."
Hassani is looking to raise funds for the drone, so they are able to take the drone out for development and testing. The campaign was launched with a target of €70,000, but has already raised over €160,000. As explained on their Kickstarter page, the additional funds obtained by the campaign will be used to improve the drones detection methods and install Hydrogen batteries, which will power the drones for up to 3 hours.
"So far, we have already developed several working prototypes of the Mine Kafon Drone. We have performed tests with the Dutch Ministry of Defense on their territory and spoke with their experts on demining difficulties. The Mine Kafon Drone is now ready for its next step," says MKD.
Massoud and Mahmud Hassani, the brothers behind the Mine Kafon Drone project, experienced the horrors of landmines whilst growing up on the edge of Afghanastan's Kabul, in a little town called Qasaba.  Drawing from these experiences, Hassani set out to develop a smart, safe and cost-efficient method of disarming landmines.
In 2013, Massoud launched his first successful Kickstarter campaign for the Mine Kafon, a wind-powered mine detonator. Since then, the brothers have been working to improve and adapt their original idea in an effort to tackle the issue.
Today, landmines can be found in more than 60 countries. If current technologies were used to detect and clear all the landmines in the world, it would take over 1100 years. In addition, current methods are also slow, dangerous and expensive. In comparison, the Mine Kafon Drone, which is capable of riding the world of landmines in less than 10 years, is both cost effective and is completely casualty free.

---
You want to support Anonymous Independent & Investigative News? Please, follow us on Twitter: Follow @AnonymousNewsHQ
---
This article (Innovative Drone to Rid the World of Landmines in Less than Ten Years) is a free and open source. You have permission to republish this article under a Creative Commons license with attribution to the author and AnonHQ.com.