The worst terrorist attack in France in more than 50 years at the offices of French satirical magazine Charlie Hebdo in Paris earlier this year caused worldwide revulsion, provoked denunciations by Muslim leaders, and prompted millions to march for freedom of speech and freedom of the press.
Charlie Hebdo, victim of horrific jihadist attack in January, is now under fire after publishing a series of racist and insensitive cartoons mocking the death of drowned Syrian toddler Aylan Kurdi.
The latest satirical edition depicts the dead Aylan lying face down in the sand under the caption 'So Close to Goal'. Above him is an advertisement for McDonald's reading: 'Two children's menus for the price of one'.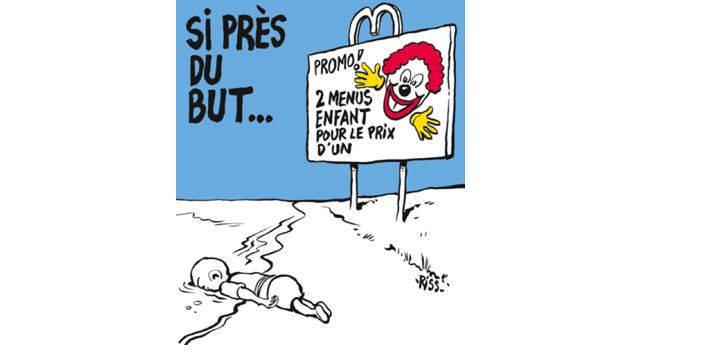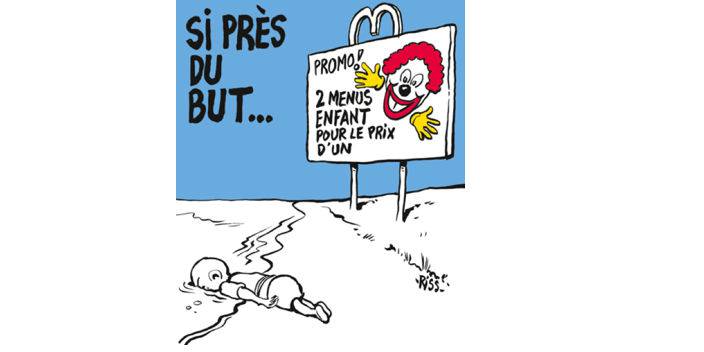 There is also a cartoon mocking Aylan's religion, with a caption reading: 'Proof that Europe is Christian'. It shows a Jesus-like figure next to the words 'Christians walk on water' and a little boy upended in the sea next to the words 'Muslim children sink'.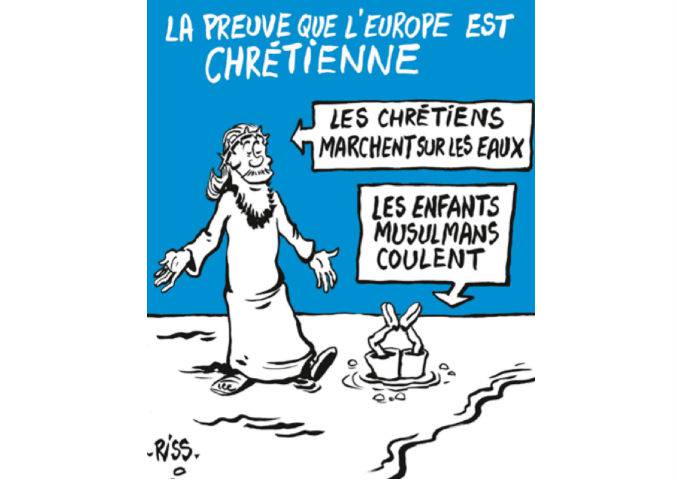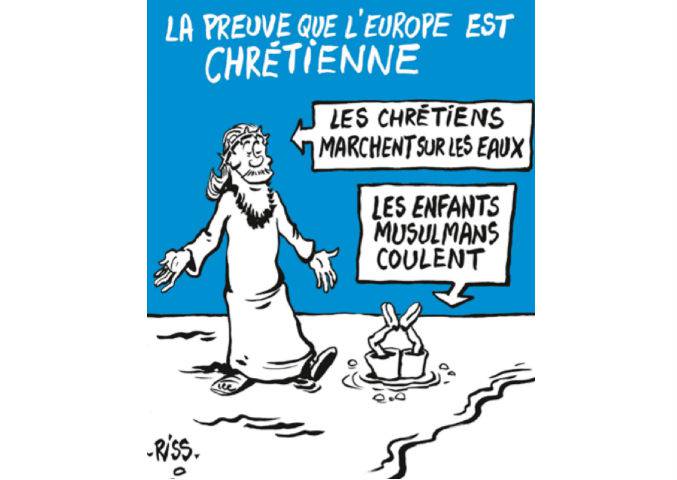 Has Charlie Hebdo gone too far by mocking the unfortunate death of an innocent kid? Is it a good time to mock a catastrophe and associated outpouring of grief from around the world?
#CharlieHebdo mocks AylanKurdi's death. In Islam we can't make fun of dead ppl, so I won't mock the deaths of 9/11 http://t.co/1c96i8n4IO

— Adnan Ali ➊➋➌ (@adnan04ar01) September 15, 2015
If you think Charlie Hebdo mocking the death of Aylan Kurdi is freedom of speech then you're part of the problem. — Abu Hashim (@zvyyvd) September 14, 2015
Charlie Hebdo is a purely racist, xenophobic and ideologically bankrupt publication that represents the moral decay of France.

— D Peter Herbert OBE (@herbert_donald) September 14, 2015
A new low for Charlie Hebdo. Shame on you. http://t.co/ei7jCuV891 — Noor Tagouri (@NTagouri) September 14, 2015
Charlie Hebdo have printed two cartoons mocking Aylan Kurdi, further evidence that they use satire not to mock power, but the powerless.

— samayya (@mayyasa1) September 14, 2015
Anyone up for a bit of #JeSuisCharlie? Hold hands and walk down Paris in support of these images? Disgusting. pic.twitter.com/LMNL0GP20o — FRB (@FRB94) September 13, 2015
And who is still saying Je Suis Charlie? Nasty, unfunny, racist & lacking in taste. pic.twitter.com/KJFI1crVCs

— yvonneridley (@yvonneridley) September 14, 2015
CH takes Freedom of Press to a very sick level & so must also accept its dangerous repercussions #JeNeSuisPasCharlie pic.twitter.com/Z8f6encxHL — Sanjay Saldanha (@SanjaySaldanha) September 14, 2015
However, defenders of the cartoons argue that the magazine is using racist and religious stereotypes to mock racist and religious stereotypes and believe Charlie Hebdo did not overstep the mark.
If you think the #CharlieHebdo cartoon mocks the Syrian child then you are a fucking idiot. Try and think a bit harder.

— Mr Hyde-White (@jabbawonger) September 15, 2015
#charliehebdo's Aylan cartoon mocks well-fed European media vultures doing a U-turn from 'economic migrants' to 'refugees'. Read the text! — joelleg (@joellegartner) September 14, 2015
Anyone who thinks that #CharlieHebdo's latest cartoon mocks the death of that #Syran refugee is either obtuse or willfully missing the point

— Matt (@MattyPGood) September 14, 2015
These new toons from leftist Charlie Hebdo are actually mocking Europe and Christians for not doing more for refugees pic.twitter.com/1qqUwjKwpo — GodHatesFAQs (F.J.) (@MrPolyatheist) September 14, 2015
The Charlie Hebdo cartoons are not mocking Aylan Kurdi, they're using his death to mock European sensibilities http://t.co/sVoNfXyrF1

— Jerome Taylor (@JeromeTaylor) September 14, 2015
Misplaced outrage: http://t.co/pUjuxcD4dq Contribute your views here: https://t.co/yHbqebuPYV pic.twitter.com/zXqll1omhN

— maajid nawaz (@MaajidNawaz) September 14, 2015
The body of Syrian refugee Aylan Kurdi was washed up on Bodrum beach, in Turkey on September 2. He drowned, along with his mother and five-year-old brother, after their boat capsized as they tried to reach the Greek island of Kos. The tragedy led to a vast outpouring of compassion around the world, with countries pledging to take in thousands more refugees.
---
This Article (Insensitive Cartoons: Charlie Hebdo Mocks Death of Drowned Syrian Toddler) is free and open source. You have permission to republish this article under a Creative Commons license with attribution to the author and AnonHQ.com.