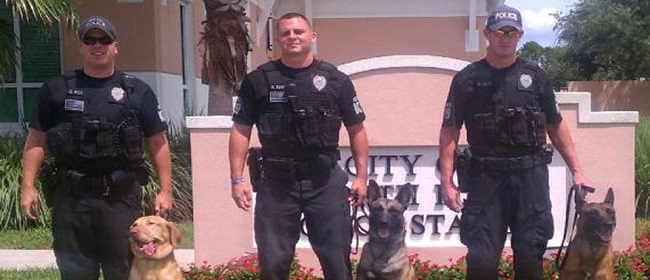 North Port, Florida – Where to begin… From pre-planning to maul a suicidal teenager's face with a K-9 unit service animal, to hiding spying devices from the courts, the North Port Police Department has joined the ranks of numerous other departments across the nation as particularly corrupt. And as can be expected, little has been done about it.
Between 2010 and 2014, North Port police dogs bit at least 34 people, including juveniles, which according to reports, was "more than the combined number of bites reported by the police canine units of neighboring municipalities Sarasota, Bradenton, Palmetto, Venice and Punta Gorda during the same period." In an investigation by the Sarasota, Florida based daily newspaper, Herald-Tribune, it was found that between 2010 and 2014, 37 percent of apprehensions made by the police canine unit in North Port ended in attacks, exceeding the national limit of 30 percent.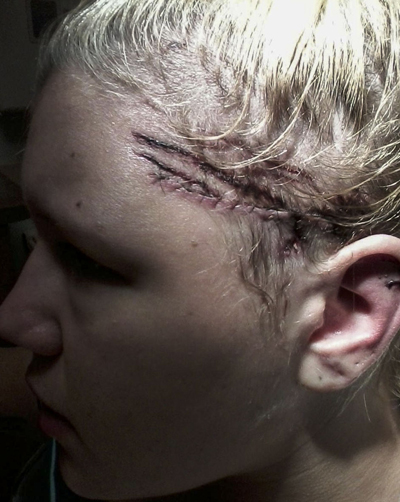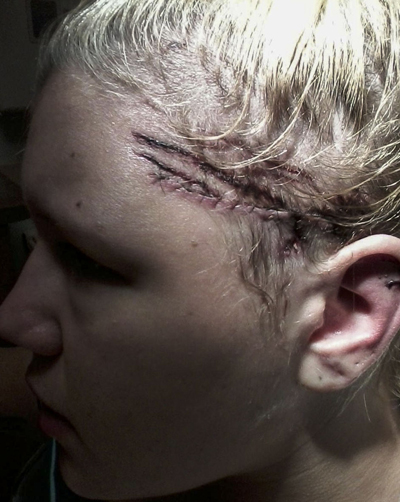 North Port Police Chief, Kevin Vespia, refused to talk to the media about the findings, and instead had the department issue a written statement that declared their canine unit has "acted in accordance within the law and in keeping with best practices." This statement holds little value when presented with the case of Justin Lemay, a teenager who was mauled by a police dog in a pre-planned attack.
In 2012, Lemay's mother, fearful her son was suicidal, called North Port police after her daughter found a noose in the garage. Lemay's mother had hoped the police would prevent her son from hurting himself, but instead, they attacked the teen with their service animal before even speaking to him.
Lemay was hiding in a trash can when officers entered the home, and from there he recounts what happened next:
"I remember hitting the ground on my hands to brace myself from falling, and I looked up at them, and I went to say 'OK, OK,' and the guy sicced the dog on me as soon as I started to talk. I remember [the dog's] mouth coming toward me and latching onto my face. He literally drug me out of the trash can."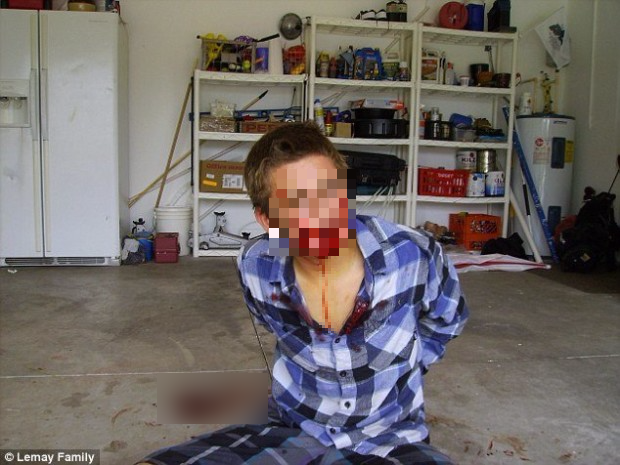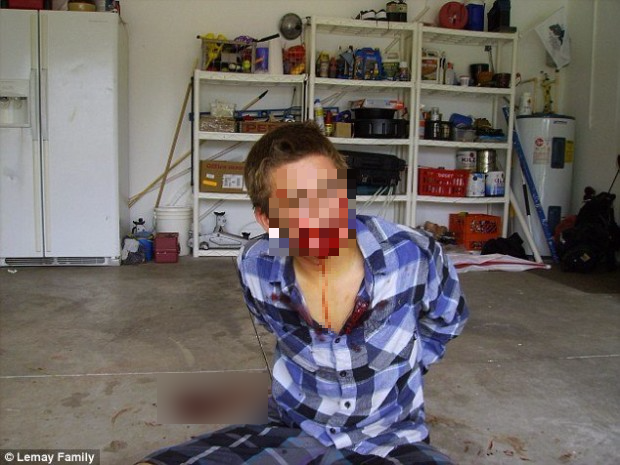 Incriminating texts between the involved officers, Keith Bush and Michael Dietz, showed that before even arriving to the scene, Bush texted to Dietz, "COME GET UR BITE." Minutes later, Bush messaged again, "IM GONNA TAKE UR BITE IF U DONT HURRY UP."
After the altercation, fellow officer, William Carter, texted "CONGRATS" to Dietz on his first bite with the unit while Lemay was on his way to the hospital. Another fellow officer named Brandon McHale texted Bush to ask about the boy's injuries, displaying no concern for the teen:
"YOUR BITE OR (Dietz's)?" McHale asked.
"I LET (Dietz) HAVE IT," Bush replied.
"NICE, HOW BAD?"
"BAD," Bush responded, "FACE AND BACK."
"SKIN GRAFT BAD?" McHale asked.
"NO."
"COULDA BEEN WORSE THEN, HE SHOULD HAVE COMPLIED," McHale finished.
Police Chief Vespia found the officer's actions were in accordance with the law, despite the texts or the fact it was in direct violation of their own policies which state that canine units are not to engage "the mentally disturbed if no other crime is involved," and that "extra care should be taken and alternatives to the deployment of a canine should be considered in the case of juvenile suspects."
Three years later (2015) officer Dietz was arrested for domestic battery. He resigned soon after.
The Police Department's K-9 Unit has faced three lawsuits for brutality since 2014, one of which involved yet another teenager whose family reached a settlement with the department in December.
In another investigation by the Herald-Tribune titled "A Legacy of Leniency," it was found that 19 North Port officers had been investigated three or more times over an 18-year period, however as the agency's internal affairs data are kept in written log, and details involving officer discipline or outcome are missing, this statistic is most likely inaccurate. Just a few of the known crimes committed by officers include:
Drug Abuse: Officer Sean Butcher was allowed to resign after it was found he was "doctor shopping" by filling multiple prescriptions for the same ailment through various doctors. The incident was never reported to the Florida Department of Law Enforcement.
Breaking and Entering: Officers John McKinney and Todd Choiniere broke into a man's home without a warrant by cutting his screen to arrest him because of a complaint about loud music. Choiniere had already been fired for handcuffing his wife and throwing her in a pool during a domestic fight.
False Imprisonment and Sexual Battery: Officers Melanie Turner and Ricky Urbina handcuffed a woman at a party that was attended by other officers, and sexually battered her. Urbina shot and killed himself before arrest, and Turner (a mother of two) was arrested without incident. Turner appears to have a history of mental instability, and had previously been investigated five times in connection with six other allegations, including handcuffing her roommate. After the scandal, other people came forward with stories about wild parties thrown by North Port officers, including a former police officer who attested that the parties often got out of hand.
The list goes on. One officer wrote bad checks to his landlord and then threatened the man, saying that as a police officer, his landlord should not to do "anything to make life tough" on him. Another officer sent a picture of his genitals to undercover detectives who were working a sting, and Officer J.W. Triplett resigned after showing fellow officers a video of a woman exposing her breasts on police camera. Only 18 percent of the investigations against officers resulted in suspension or firing.
In 2014 it was reported by the ACLU that the North Port Police Department and the Sarasota Police Department had been implementing the use of cell site simulators, or "stingrays," designed to trick cellphones into reporting their locations, and they were "deliberately concealing the use of stingrays in court documents submitted to judges in criminal investigations." This information was obtained by the ACLU of Florida through a set of internal police emails.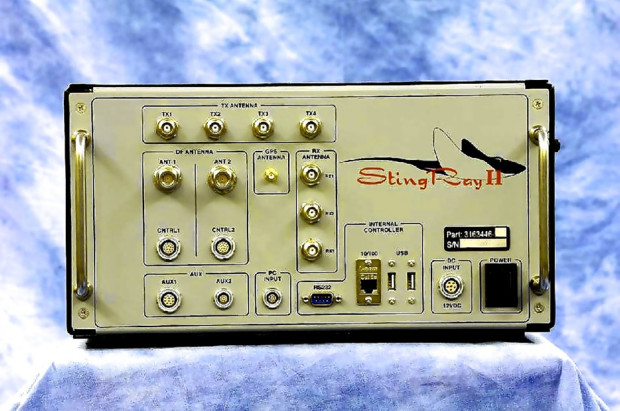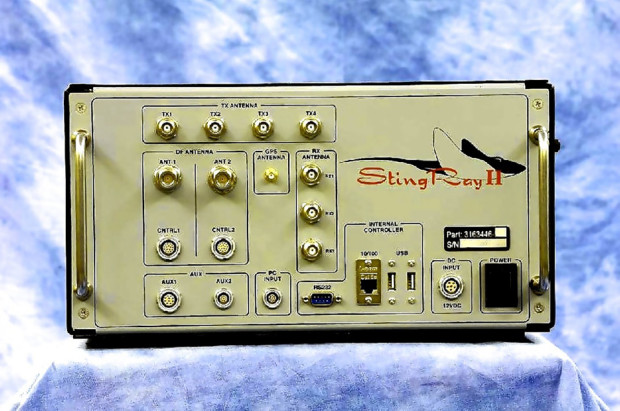 By concealing the fact they were using stingrays, police deprived defendants of their right to challenge unconstitutional surveillance, and it kept the public ignorant about invasive monitoring by local law enforcement.
Much of the corruption in this department has happened under Police Chief Vespia's watch, for which he's received quite a bit of criticism (browse through some of the provided sources), and there are plenty of indications he isn't well received in the community. And yet, he's working on 18-years with the department.
In related news: Survey shows low morale at North Port Police Department
In regards to the sexual battery case involving Melanie Turner and Ricky Urbina, Vespia made this statement:
"I will not stand here and make excuses for the actions of these few officers who violated our policy and the public trust, as they were wrong and they know they acted inappropriately.
"However, I will defend the majority of employees within the North Port Police Department who continually do the right thing each and every day.
"I ask the citizens to please not judge the many great employees we have here in the department based on the actions of a few."
Police deal with citizens on a daily basis, and the actions of a few bad cops can have tremendous, life-altering effects on numerous people in their communities. What happens when you have a department that's full of them? Some of the "officers" named above are still active and loose on the streets of North Port.
---
This Article (Corruption: North Port Police Department, Florida) is a free and open source. You have permission to republish this article under a Creative Commons license with attribution to the author and AnonHQ.com.
---