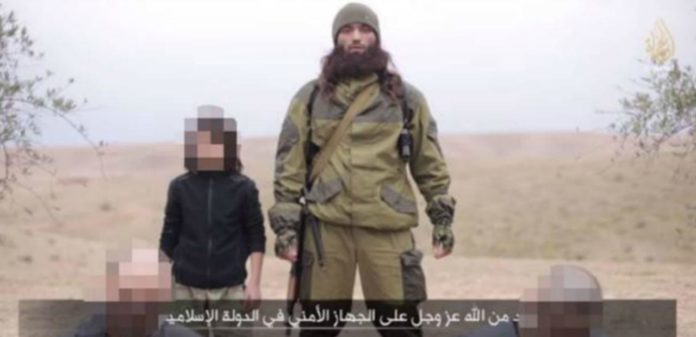 The Islamic State militant group has just  released a chilling video that shows a boy, thought to be around 10 years old, executing Russian spies. The frightening footage, released through ISIS' Al-Hayat Media, depicts a child shooting two "agents recruited by Russian intelligence" in the head in a desert.
The video shows an Islamic State militant, accompanied by a child, reading a series of Quranic passages, before saying a few lines in Russian. "Allah has gifted the Islamic State's security agency with the apprehension of these two spies," he says, with subtitles in Arabic and English. He continues: "By Allah's grace, they are now in the custody of the lion cubs of the Khilafah". At that point, the child, armed with a handgun, steps forward and shoots the two kneeling captives in the back of the head.
One Isis-affiliate under the name Abu Marthad Al-Muhajir shared the video (which was later removed by YouTube) on Twitter warning those "who sent spies"
This is not Al Qaeda, This is the #IslamicState O you filthy stupid Marxists of #Russia http://t.co/VF8Rg1JANR This is your destiny

— أبو مرثد المهاجر (@bbbeeoo) January 13, 2015
The 10-year-old boy had earlier appeared in the below propaganda video showing child soldiers in Kazakhstan being trained with AK47s. The video, released in November 2014, claimed: 'Meet some of our newest brothers from the land of Kazakhstan. They responded to the crusader aggression with their hijrah and raced to prepare themselves and their children, knowing very well that their final return is to Allah'.
Islamic State fighters post photos of "mostly just tots posing before the increasingly iconic Al-Raya black flag," writes Gawker's Sam Biddle. "Most of these come from Twitter user Osman Iraqi, who maintains a feed consisting mostly of beheading video stills, Islamist cartoons and combat photos".
@om__osaid @isiscoool @marmaar93 @Isis01323state @k_a_i_z @ISIS_GUN @isisbomb_4 @iis_____iis @KChourfi @allliraqi pic.twitter.com/bkAijt8ZW4

— عثمان العراقي (@allliraqi) January 12, 2015
@zainab22_ak @omsa1268 @gsaan2009 @lslalslam898989 @hhmmwwnnnii @allliraqi pic.twitter.com/aqizKefcHi

— عثمان العراقي (@allliraqi) January 12, 2015
Islamic State militants train children to be suicide bombers at training camps across Syria. Ibrahim al-Raqqawi, a Syrian activist who monitors Islamic State activity in Raqqa, told the Telegraph, "In Raqqa city, Islamic State fighters hold festivals for children as recruitment drives for the training camps. The camps are portrayed as "boy scouts clubs," where parents are told their children will learn about Islam and study the Holy Quran. Once the children arrive at the Al-Sharea'I Camp, however, they are taught combat tactics, including suicide bombings, and brainwashed to support the group's ideology. The children are at first trained to use Kalashnikov rifles and RPGs. They are then divided into separate groups: some are taken to be trained as suicide bombers and others as regular fighters. We believe there are between 200 and 300 children in each camp".
References:
http://mic.com/articles/108332/the-islamic-state-just-released-its-most-horrifying-propaganda-video-yet
http://www.dailymail.co.uk/news/article-2845531/ISIS-release-shocking-new-video-child-soldiers-Kazakhstan-trained-AK47s.html
#k/news/world/middle-east/isis-execution-video-purports-to-show-10yearold-boy-shooting-dead-two-russian-spies-9975648.html