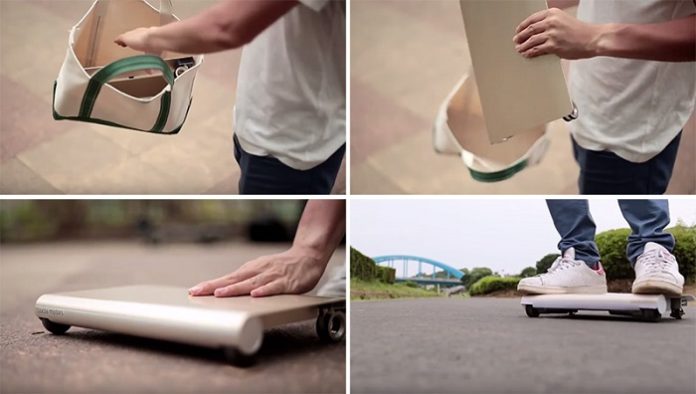 As we learn more about technology, and how it is able to assist us on day-to-day matters, Japanese engineers have designed a portable car that utilizes batteries. This car is also small enough to fit inside of bag. They call it "WalkCar."
In today's society, when one is walking somewhere and gets tired we have the option of calling a taxi. However, in the near future, we may very well be carrying our own personal car in our handbags or backpacks. This vehicle weighs in at just under 7 pounds, and is the approximate size of your average laptop.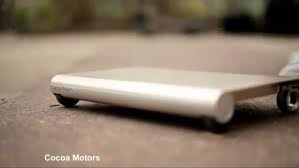 At the age of 26, Kuniako Saito – as well as his small team "Cocoa Motors" – created this innovating new technology. While the device itself runs off lithium batteries, it looks as if the team decided to take a laptop and place skateboard wheels on it instead. The car is created from aluminum, and the team created indoor and outdoor options for you to choose from. The weight, for the indoor model, comes to a total of 2 kilograms, while its bigger brother comes to an astonishing 3 kilograms.
But just how powerful is this new car? In accordance to the creator, the device is capable of pushing a wheelchair, while the aluminum surface board is strong enough for a man weighing 120kgs.
And the goodies don't stop there. In fact, this little car is capable of reaching speeds up to 10 Km/H (6.2 Miles Per Hour). Since the WalkCar is utilizing lithium batteries, the complete charging time is only 3 hours, and will be able to carry you a distance of 11.2 Km (7 miles).
To the average person who lives in a large city, this is an ideal new means of transportation.
The little car seems easy to control. As soon as you step onto the surface, it takes off. To stop, you simply get off. In order to turn the vehicle, you lean onto one foot or the other, depending the direction in which you wanted to go.

Saito's knowledge in electric car motor control systems provided him with the idea. While working with his control system he stopped and wondered if we could carry our transportation in our bags.
The team will be utilizing KickStarter in October; for everyone to pre-order their new car in a bag. You will also be able to discuss your views about the WalkCar in the comments section.
---
This article (Japanese Engineers Develop Car in a Bag)  is a free and open source. You have permission to republish this article under a Creative Commons license with attribution to the ITNinja and AnonHQ.com.