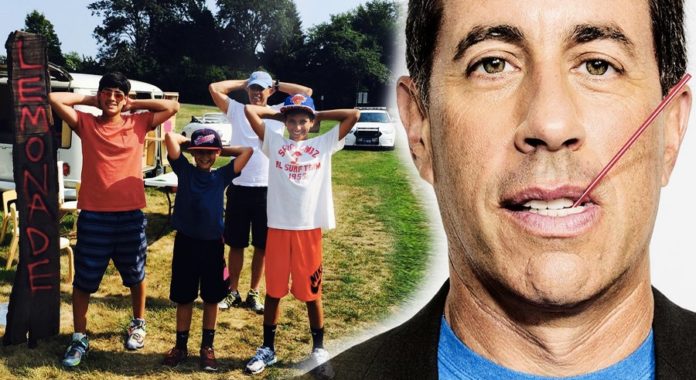 Written by Anti-Media Staff
New York — Last Week, Jerry Seinfeld and his son set up a lemonade stand in the family's East Hampton, New York neighborhood. Seinfeld and son — along with a few neighborhood friends — were raising money for his wife's Baby Buggy charity. Everything was going well until the lemonade stand had a run-in with the law.
According to Counter Current News, "one of their neighbors called the police to complain. Sure enough, the police jumped at the chance to rush over and shut down another lemonade stand. Jerry didn't want the cops to get away with shutting down their innocent lemonade stand without capturing a chance to make fun of the cops."
Jerry's response? The Seinfeld family, along with his son's two friends, decided to mock the cops by posing for a picture as if they had been arrested.
"Jessica Seinfeld's Instagram followers instantly joined in ridiculing the police for their 'crime fighting' activities. 'What can you do, you live in a seedy town, from the wrong side of the tracks,' one commenter said jokingly. 'Lemons are a gateway fruit to bigger and badder things like vegetables,'" Counter Current News documented.
While police shutting down "criminal" lemonade stands is not uncommon, this is the first time a celebrity's child has been subjected to the overbearing police state in such a petty fashion. In what has become a running joke, children's lemonade stands are shut down all over the country over permit and regulatory violations.
Further, heavy-handed regulators and their police thugs are now targeting kids for other "illegal" entrepreneurial activities, as well. An 11-year-old girl from Madison, Illinois recently had her illicit cupcake business shut downbecause it violated the state's food service code.
Fortunately, some local governments are making moves to avoid similar PR nightmares by "legalizing" kids' lemonade stands. The Salt Lake County Council slashed much of the bureaucratic red tape required for small entrepreneurs in 2013, making a special exemption for "lemonade stands and similar operations run by children."
RELATED: Illegal Street Vendors Bring Half Billion Dollars Into Los Angeles Economy Every Year
Still, widespread suppression of children's activities begs a dismal question: What kind of country do we live in when setting up a lemonade stand as a child results in a raid by heavily armed police officers? What's next? A SWAT team showing up to verify permits for Girl Scouts selling their cookies door-to-door?
---
This article (Jerry Seinfeld Responds After Cop Shut Down His Kid's Lemonade Stand) is free and open source. You have permission to republish this article under a Creative Commons license with attribution to theAntiMedia.org. Anti-Media Radio airs weeknights at 11pm Eastern/8pm Pacific. If you spot a typo, email[email protected].