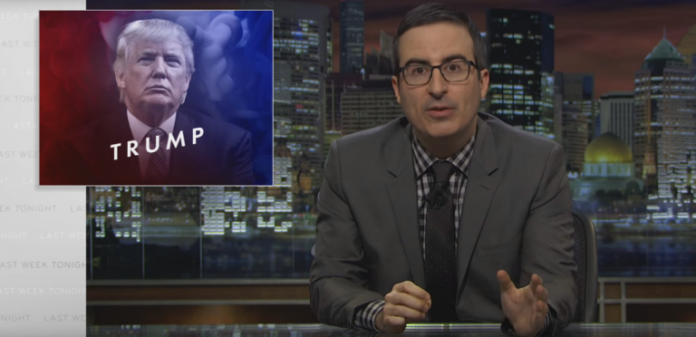 By Amanda Froelich at trueactivist.com

The unthinkable has happened: Donald Trump has now won three states and recently even received an endorsement from Chris Christie.
Realizing that now's the time to issue America the wake-up call it needs, John Oliver dedicated Sunday night's edition of Last Week Tonight to the topic of Donald Trump.
Or, more accurately, Donald Drumpf. 
Oliver began the 22-minute roast of epic proportions by listing the selling points of the billionaire mogul's campaign. He then shredded each of them, one by one.
"Donald Trump is America's back mole," Oliver began. "It may have seemed harmless a year ago, but now that it has gotten frighteningly bigger, it is no longer wise to ignore it."
Supporters of Trump are then shown on camera, revealing their reasons for supporting the candidate. "He tells it like it is," says one fan. "He's independent," says another.
It then becomes Oliver's task to shred each fallacy, and he begins with obliterating the thought that Trump is a plain dealer.
As has been reported about in the past, Trump is actually a chronic liar. When Politifact rated the truthfulness of 77 statements made by the real-estate billionaire, it was fond that 75% of them were false to varying degrees. You can read more about that here. 
Some of the false statements made by the Republican candidate frontrunner are then delved into.
According to Oliver, the problem is that it never matters even if they tycoon is caught in a lie. "You can hold his feet to the fire, but he'll just stand there on the stumps bragging about his fireproof foot skin," he jokes.
But seriously, the inconsistencies spouted by the tycoon are no laughing matter. Is this really the man Americans want in the White House?
The epic rant takes a turn when Oliver reveals that Donald's family once had a different last name: Drumpf.
"It turns out the name Trump was not always his family's name, one biographer found that an prescient ancestor had changed it from Drumpf," he says.
John then takes a shot at Trump for chastising Jon Stewart's Jewish family for changing their name, as Trump's family did the exact same thing.
Of course, this then prompts the show's host to ask Americans to #MakeDonaldDrumpfAgain, as "Drumpf is much less magical. It's the sound produced when a morbidly obese pigeon flies into the window of a foreclosed Old Navy."
The Last Week Tonight team has actually set up an online store hawking products bearing the Trump clan's onetime family name, Drumpf. The idea, obviously, is to take Trump down a notch by attacking the real-estate billionaire where it really hurts: his brand.
"The very name Trump is the cornerstone of his brand," Oliver quips. "If only there were a way to uncouple that magical word from the man he really is."
In summary, Trump is a liar and Oliver is great at calling out inconsistencies in a comedic fashion. The combination is not only entertaining, it's informative. 
Hopefully, American voters will take something useful from the rant as they prepare the upcoming  election(s).
What are your thoughts? Please comment below and share this news!
---
This article (John Oliver DESTROYS Donald Trump's Campaign In 22 Minutes. You Must Watch This.) is free and open source. You have permission to republish this article under a Creative Commons license with attribution to the author and TrueActivist.com