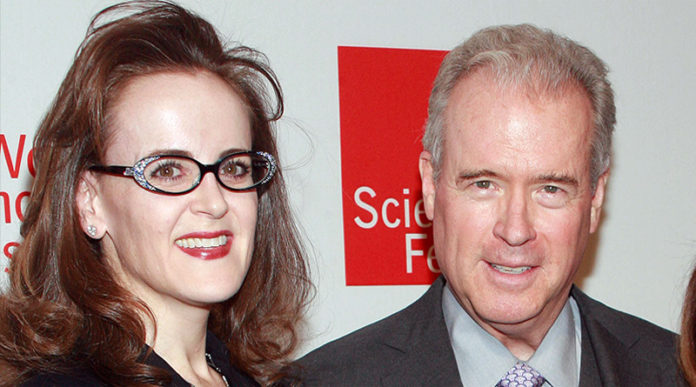 [responsivevoice voice="UK English Female" buttontext="Play"]
The name "Mercer" probably doesn't sound familiar to you, and this is for good reason – billionaire hedge fund manager, Robert Mercer, and his daughter Rebekah have taken painstaking efforts to remain out of the public eye. They've had a large hand in reshaping the American political landscape, yet they refuse to speak with the media, rarely speak in public, and conduct their work from the shadows. This is the father-daughter billionaire hedge fund duo who "laid the groundwork for the Trump revolution," according to Steve Bannon.
"Irrefutably, when you look at donors during the past four years, they have had the single biggest impact of anybody, including the Kochs."
Democracy Now spoke with staff writer at The New Yorker, Jane Mayer, about her latest piece titled "The Reclusive Hedge-Fund Tycoon Behind the Trump Presidency: How Robert Mercer exploited America's populist insurgency." They report that before both Kellyanne Conway and Stephen Bannon joined the Trump campaign, they worked closely with the Mercers. Democracy Now's report states that the hedge fund duo also "bankrolled Bannon's Breitbart News, as well as some of Bannon's film projects," while "Conway ran a super PAC created by the Mercers to initially back the candidacy of Ted Cruz."
Perhaps more alarming, the Mercers have invested in Cambridge Analytica, a data mining firm that claims to have the psychological profiles of over 200 million American voters. Trump, as a result, hired the data mining company as well.
Jane Mayer describes Robert Mercer in the following statement:
"He's a computer scientist, a kind of a math genius and uber-nerd, who figured out how to game the stocks and bonds and commodities markets by using math. He runs something that's kind of like a quant fund in Long Island, and it's called Renaissance Technologies. He's the co-CEO. And it just mints money. So he's enormously wealthy. He earns at least $135 million a year, according to Institutional Investor, probably more."
Robert Mercer, who is part owner of Breitbart News, met Andrew Breitbart in late 2011, early 2012, and became captivated by Breitbart's vision that "Conservatives can never win until we basically take on the mainstream media and build up our own source of information." Mayer states that Breitbart had declared information warfare in the U.S., grounded on fact-based reporting and "substituting it with their own vision."
Having previously been employed in investment banking, Steve Bannon convinced the Mercers to invest $10 million into the venture, giving them their part ownership. Shortly afterwards, Andrew Breitbart died, Bannon stepped in as head of Breitbart news, and soon the far-Right news outlet began to focus on economic nationalism and political white-supremacy.
The Mercers became involved in Donald Trump's campaign after it was suggested that Trump's campaign manager, Paul Manafort, had nefarious ties to Ukrainian oligarchs and pro-Putin forces. Trump's campaign was in a state of disarray, and on behalf of herself and her father, Rebekah Mercer offered to financially back the campaign under the stipulation Trump "stabilize it." This is when the Mercers brought in Steve Bannon and Kellyanne Conway.
The Atlantic reports that no one knows the Mercer's motivations in getting Trump elected, and this includes those who work close with the family. A former Breitbart news staffer stated:
"All I can take away is that they just want to be power players. I don't' know what their principles are. I don't know how you switch from Ted Cruz to Donald Trump so quickly."
Most have known for years that the mainstream media can't be trusted, but for the establishment to completely discredit all sources of news, aside from those that cater to one particular political belief system (especially ones that openly embrace falsehoods) is not a form of democracy, but a form of totalitarianism. The fact that Trump makes it a point to discredit all news publications aside from Breitbart, Fox and Infowars (none of which can actually be considered news), should be highly alarming – it is an agenda that was created by Andrew Breitbart, funded by the Mercers, put into action by Steve Bannon, and it serves Trump's role as a demagogue.
With Steve Bannon pulling the strings in the White House, and Trump hanging on Breitbart's every word, it's clear who now runs the United States government. And while citizens on the Right have been fretting over George Soros, and those on the Left the Koch brothers, no one considered the idea of a new player on the field. Welcome to the United States of Mercer.
For more on the story, see Democracy Now's interview with Jane Mayer in full:
[/responsivevoice]
---
This article (You Know of George Soros and the Koch Brothers, Now Meet the Hedge-Fund Tycoons Behind Trump) is a free and open source. You have permission to republish this article under a Creative Commons license with attribution to the author and AnonHQ.com.
---
Supporting Anonymous' Independent & Investigative News is important to us. Please, follow us on Twitter: Follow @AnonymousNewsHQ