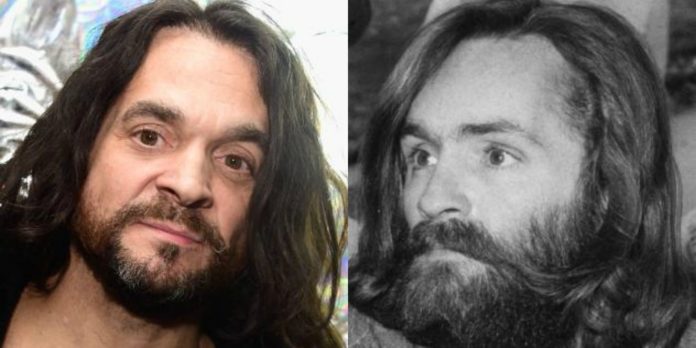 Who doesn't know Charles Manson — the notorious cult leader and one of the most infamous mass murderers in history? Musician Matthew Roberts didn't until 2001. But when he found out who Manson was, Roberts was frightened.
It wasn't because he was told that Manson was serving a life sentence at Corcoran State Prison in California for orchestrating the 1969 murders of pregnant actress Sharon Tate (wife of film director Roman Polanski) and six others over a period of five weeks in Southern California. Rather, it was because Roberts discovered that the dreaded criminal was his biological father and that he was conceived in a drug-fueled orgy.
When he was in fifth grade, Roberts' sister told him he was adopted. A shocked Roberts then confronted his parents (a Swedish mother and a German father), who reluctantly told him the truth — Roberts was indeed adopted as a 10-year-old. Roberts told news.com.au, "I just left it at that, as I really didn't have any desire to find out who my biological parents were or to get in contact."
But when he got engaged at 25, his fiancée Gina persuaded him to search for his biological parents. Four years of dead ends followed until Roberts finally got in touch with his biological mother, Terry, with the help of an adoption agency. Gradually, Roberts and his mother began to write letters to each other.
When he asked her about his father, she refused to divulge the truth. But when she saw Roberts' photograph, she revealed that she had been captivated by Manson — who she met in 1967 and eventually joined him and the Manson Family cult members in San Francisco — before she was raped by him during one of the many drug-fueled orgies. Roberts was born in 1968. Manson went on to commit nine murders in Los Angeles three months later.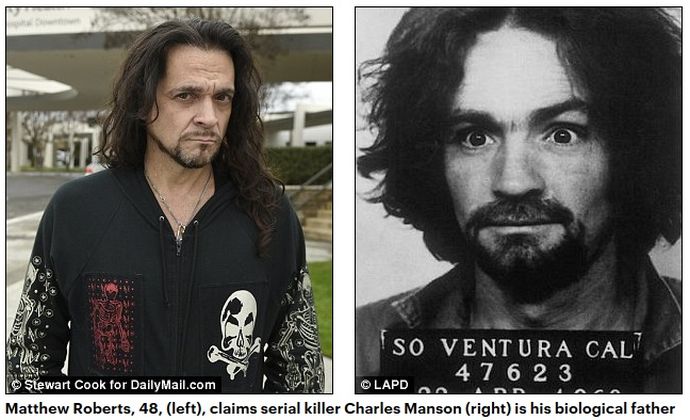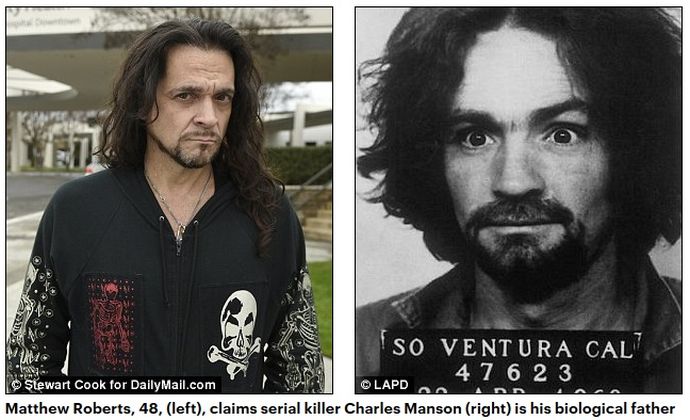 Roberts, who shares nearly identical facial features as Manson's, spoke out recently about the harrowing discovery:
"She said that I was the product of a rape — I was conceived in a drug induced sex orgy with multiple people involved, and that she was raped. Later she recanted, and said that she might have confused male aggression for male vigor, or male vigor for male aggression.
"She said she was part of a very infamous hippie group in the '60s that involved Charles Manson. I asked if he was at that orgy and she said, 'Yes', and I asked, 'Did you have sex with him?' and she said 'I don't know'. Well, when I looked in the mirror, I looked like his twin."
When his mother didn't give him concrete answers, Roberts sent a letter to Manson in 2001 and asked if he remembered his mother, and the events surrounding his conception:
"He wrote back immediately — like two weeks later, I got a letter from him and another one right away, and he remembered my mother and told me details that he seemingly could not have known had he not at least been there at that time: Details about her father — my grandfather — chasing him away, calling him 'bad biker trash outlaw bandit' — all of which was consistent with what my mother told me.
"It was like finding out your father is Hitler. I didn't want to believe it. I was frightened and angry. It's like finding out that Adolf Hitler is your father. At first I was stunned and depressed. I wasn't able to speak for a day. I remember not being able to eat.
"I get a lot of flak from people saying I'm trying to ride on some kind of legacy or trying to build a career. It has done nothing to advance my career; if anything it has ruined it. From the age 29 until this very day — I am now 48 — I live in chaos and uncertainty, and frankly it sucks. I think it is the worst possible outcome."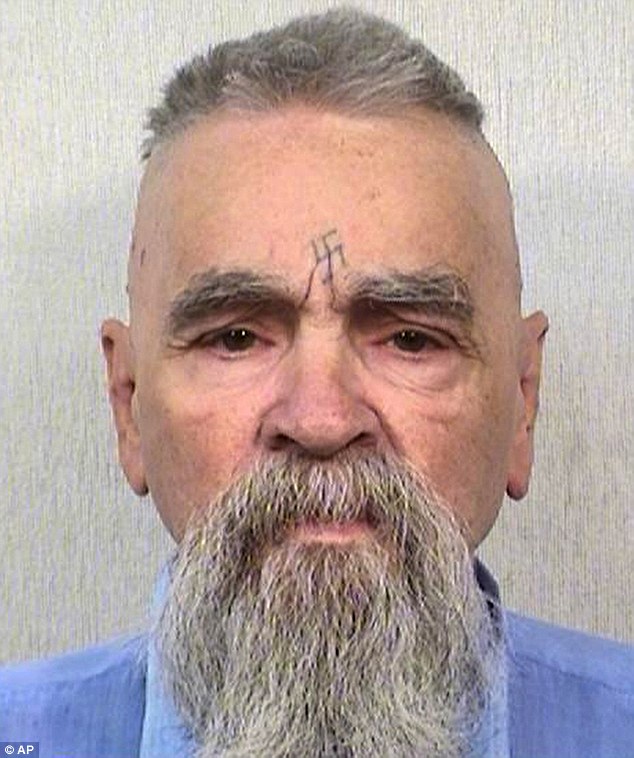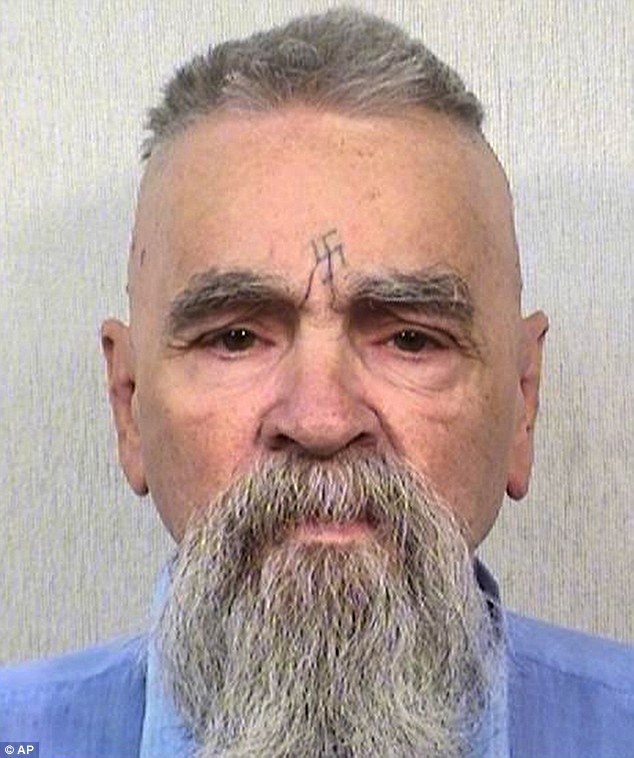 Despite writing to each other over the past sixteen years, Roberts has never met his father. Though he continues to struggle with the dark truth, and despite the trouble his lineage has caused him, Roberts hopes to achieve 'closure' by meeting Manson before he dies.
In an interview with DailyMail.com, Roberts says Manson, 82, has served his time and should be allowed to 'salvage' what's left of his fading years:
"If he was to be released and I could have some kind of friendship with him and we could be amicable, that would be wonderful. It has always been on my mind that I should reach out to him and see him because he might not have too much time left. My adopted father died in 2014 so I don't want to lose another dad."
---
This article (LA DJ Frightened to Discover His Real Father is Legendary Serial Killer Charles Manson) is a free and open source. You have permission to republish this article under a Creative Commons license with attribution to the author and AnonHQ.com.
---
Supporting Anonymous' Independent & Investigative News is important to us. Please, follow us on Twitter: Follow @AnonymousNewsHQ