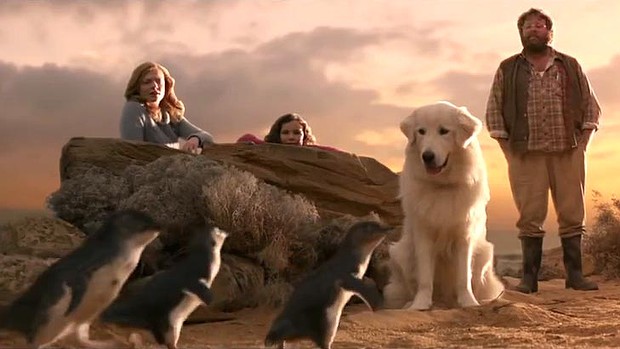 Dogs are often referred to as man's best friend, but in Warrnambool, Australia, dogs are literally Little Penguins' saviors.

Off the coast of Warrnambol lies Middle Island, longtime home to a colony of Little or Blue Penguins, the smallest penguin species in the world. A combination of tourism and the introduction and subsequent population boom of foxes wrecked havoc on the local Little Penguin population on Middle Island: while they numbered over 500 in 2000, by 2005 they had dwindled down to less than 10 individuals nesting on the island.

Concerned individuals, officials and local non-profit organization Coastcare Landcare struggled over how to protect the Little Penguins in 2006, when a free-range chicken farmer named Swampy Marsh approached them and suggested using a special breed of dog, Maremmas, to protect the penguins from foxes like he does with his chickens. Marsh's suggestion launched a revolutionary, world-first conservation program that is now the subject of the 2015 blockbuster movie Oddball.

No one had ever utilized dogs of any species to protect a dwindling population of an indigenous species before, and thankfully the bold effort paid off.
"The program of using dogs started in 2006 – since that time we have never lost of penguin to fox attack," Manager of Tourism Services with Flagstaff Hill Maritime Village in Warrnambol Peter Abbott said in an interview. "Coastcare looks after the penguin counts and breeding surveys. We at Flagstaff Hill Maritime Village look after the dog program and media, Deakin University the academic stuff."

Local Warrnambol volunteers work with Maremmas, teaching them to protect the penguins on Middle Island, especially during breeding season. Two Maremmas are selected and are trained to stay on island overnight and chase off foxes, whilst leaving the penguins alone. Additionally, Middle Island has remained closed to trampling tourists since 2006, except for guided tours during the summer season.
Today, the Middle Island Little Penguins have bolstered their population back up to approximately 150 individuals, and other conservation programs are looking to the unique method employed in Warrnambol.

"Zoos Victoria have started a program based on the 'Warrnambool Method' to train Maremmas to protect Bandicoots," said Abbott. "Our new (Maremma puppy) penguin guardian is in training now after we raised money through a crowd-sourced funding campaign."

The project owes its success to over 6,000 volunteer hours, a madcap idea from an unlikely source and the loyalty of man's and penguins' best friend. In 2010, the Australian Government awarded the project an award for coast care. Visit here to learn more or get involved.
---
This article (Little Penguins' Best Friend) is a free and open source. You have permission to republish this article under a Creative Commons license with attribution to the author and AnonHQ.com.