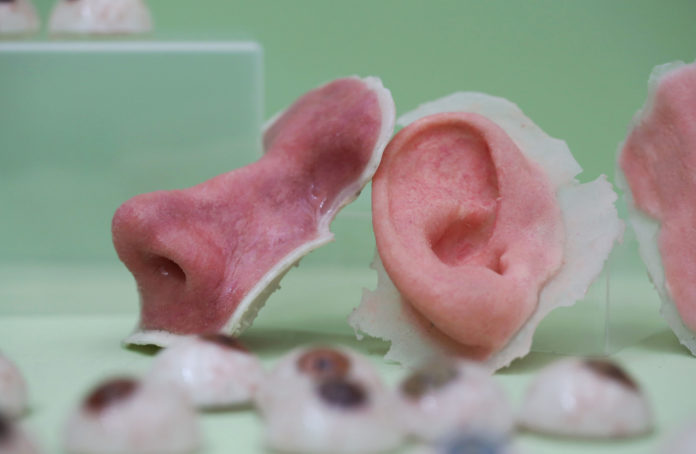 [responsivevoice voice="UK English Female" buttontext="Play"]
For years now, scientists have been working towards successfully printing human organs.
The ultimate goal for scientists: create organs that would be accepted by a human, or animal body.
Researchers at Wake Forest Institute for Regenerative Medicine made revolutionary progress in the mission to successfully print 3D organs. Using a bio-printer, the scientists managed to create sections of bone, muscle and cartilage, each functioning like the real thing when introduced to the bodies of living animals.
Like stated before, the idea of printing living things is not new. Scientists have been using prototypes of bio-printers for years now, managing to accurately lay down cells in coordinated patterns, with the ultimate goal of creating a working piece of bone or organ.
In San Francisco, a start-up called Pembient has been working towards 3D printing rhinoceros horns. Although the horns do not actually look like horns—but rather a block or a oddly shaped oval— when tested in a lab, results would state that it is 100% rhino horn. Genetically, the compound is identical to the real thing.
For centuries now, rhinos have been hunted for their horns; in some parts of the world, it is commonly believed that rhino horns possess healing powers. In Vietnam, a single horn can easily be sold for around $300,000, as the residents think that it can cure cancer and hangovers. In China, where it is traditionally believed that rhino horn is gifted with the power to heal, it is used as medicine.
If, in reality, a rhino horn did indeed possess these medicinal properties, this identical replica should do the same thing. It can easily be mass produced, shipped, granulated, morphed and implemented into medicines, just like the real thing. However, the compound is still not completely finished. The company will now work on making it actually look like a horn, as well as tweak a few things. Once these goals have been accomplished, the product will be ready to be introduced to the market.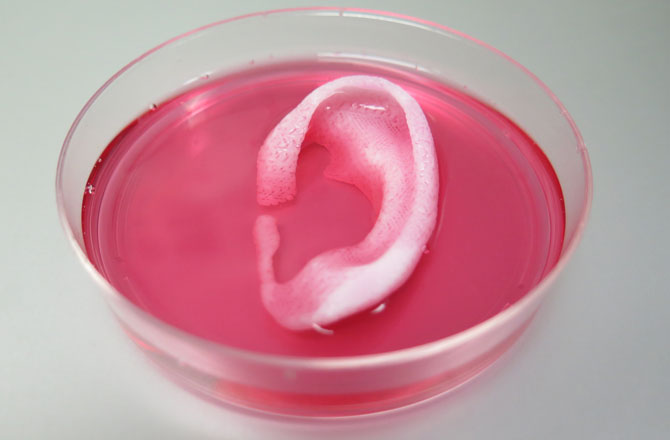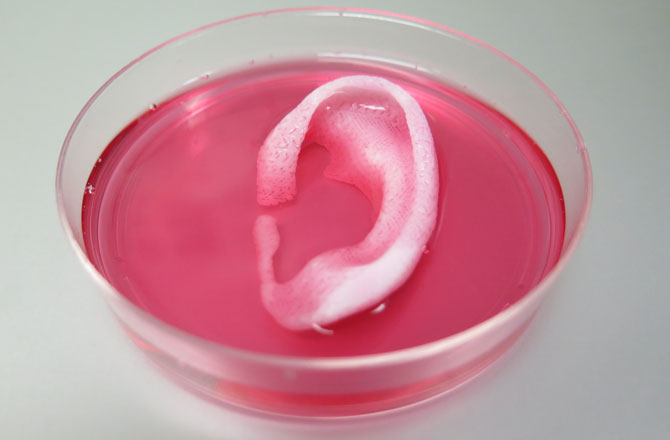 Going back to the topic of printing implementable organs.
In the human body, cells grow in demand of the blood vessels that supply them with oxygen and nutrients. In these printed parts, blood vessels cannot be included, as they are far to delicate and small to work with. As a result, scientist have been working to develop a solution to this problem.
Thankfully, the researchers at Wake Forest have managed to create a work-around for this fault in design. The team was able to develop a matrix embedded with micro-channels, allowing all of the needed nutrients and oxygen to flow freely throughout the entirety of the structure. The design could be described as a sort of bio-sponge, soaking up everything that's needed, and flowing it throughout the structure.
The way that the product works is genius. The scientists would first shape the biodegradable sponge into any form that would suit best—like a portion of an ear, or a layer of tissue. The product would then be infused with a liquid based gel that would contain the living cells.
The cells are given time to grow, before being implanted into an animal. Once the procedure has taken place, no more work is needed. Over time, the sponge will bio-degrade into the hosts body, with the cells keeping their shape.
The design has already been tested, passing all expectations. After two months, scientists found that the ears that had been implanted in mice had kept their shape. After five months, amazingly, working blood vessels actually began to form inside the ears, replacing the sponge in areas which would have bio-degraded.
The research at Wake Forest has been funded by the US army, it's only a matter of time before the design is used on soldiers injured on the battlefield. Who knows what may happen next.
[/responsivevoice]
---
You want to support Anonymous Independent & Investigative News? Please, follow us on Twitter: Follow @AnonymousNewsHQ
---
This Article (Living Ear, Bone and Muscles Can Now Be 3D-Printed And Implemented Into A Body Safely) is free and open source. You have permission to republish this article under a Creative Commons license with attribution to the author (FLU5CH) and AnonHQ.com.