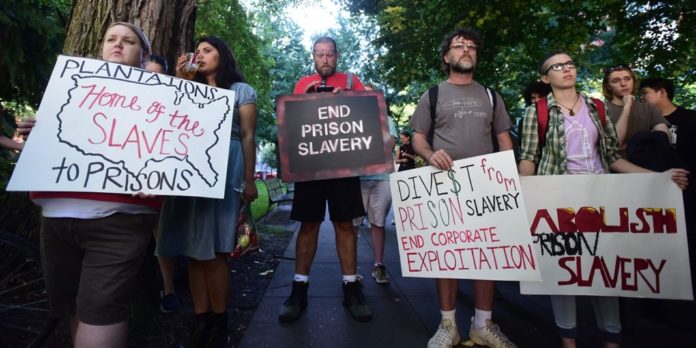 A strike, which began Sept. 9 has taken place over 24 U.S. states, and has included over 50,000 inmates, in what is being called one of the largest prison strikes in American history. Forty to fifty prisons pledged to join in with the strike.
The strike, which started on the 45th anniversary of the Attica prison uprising, is demanding an "end to slavery in America." Better conditions and healthcare are among some of the demands coming from the thousands of prisoners.
Media co-chair of the Incarcerated Workers Organizing Committee, Azzurra Crispino spoke to We Are Change in September, describing the lack of mainstream media coverage as intentional, with many prison officials denying the strike ever occurred.  
"Between prisoners and TDCJ [Texas Department of Criminal Justice], who do you think reporters are going to believe?" Crispino asked. She went on further to describe how only a protest with violent action is of importance to mainstream journalists.
"I'm a pacifist, I would like to see the strikes remain nonviolent," Crispino said. "Yet in terms of the mainstream press coverage when there's blood on the ground the prisons have to fill out reports that guards were hurt so then they can't deny strikes occurred."
Crispino accused the media of causing violence in these situations, feeding the need of violence with a price tag, while ignoring the peaceful demonstration. However, in the case of a prison protest of such a large scale, one could consider mass sponsors who use prison labor, from the likes of MacDonald's and Walmart, through to Chevron and AT & T, are the deeper reasons behind explaining the media actions, as opposed to the simple audience market and what article sells.
Adam Johnson, who reported on the event, sums up the media responsibilities in Crispino's quote: "I almost want to say, the mainstream media is complicit if there's violence. The message they are sending to striking workers is, we will only give you coverage if things turn ugly."
"The strike has been pulled off, but we're not quite breaking through to getting mainstream media," says Ben Turk of the Incarcerated Workers Organizing Committee to The Intercept. "I talk to people who aren't in that milieu and aren't seeing it on their social media, and they'll be like, 'We didn't hear about it, there's nothing about it anywhere.'"
Pastor Kenneth Glasgow, who is a former prisoner said of the coverage, "People on the outside are not understanding they are being bamboozled," because the strike hadn't gathered the attention it deserved. "A lot of people are not realizing the value in what's going on, they don't realize that it's slavery, that slavery still exists."
At the end of the day, it's the mainstream media's bloodlust for stories…
---
This article (Mainstream Media Ignore Largest Prison Strike Ever) is a free and open source. You have permission to republish this article under a Creative Commons license with attribution to the author AnonWatcher and AnonHQ.com.
---