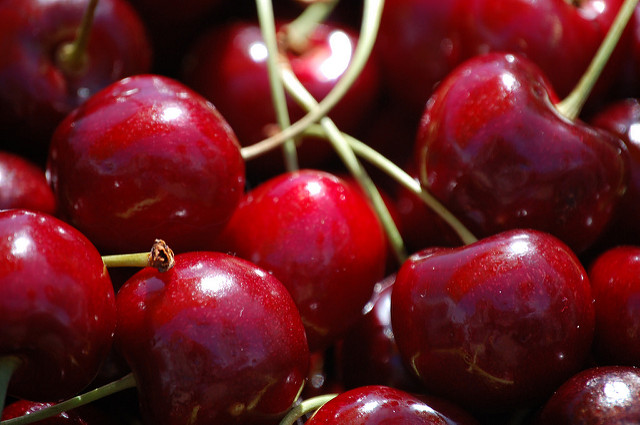 A Traverse City cherry farmer has been forced to throw away 14 percent of his crops – around 40,000 pounds of cherries – in order to comply with industry market restrictions designed to keep the price of cherries stable.
On July 30, Marc Santucci, the owner of the 80-acre Santucci farm, posted a photo of the thousands of pounds of tart cherries that were going to waste as a result of the agreement imposed by the U.S. Department of Agriculture, in an attempt to raise awareness about the issue. The Facebook post has since gone viral, garnering nearly 67,000 shares.
"These cherries are beautiful! But, we have to dump 14% of our tart cherry crop on the ground to rot. Why? So we can allow the import of 200 million pounds of cherries from overseas! It just doesn't seem right…"
About 21,000 people die every day of hunger or hunger-related causes, according to the United Nations. However, while tens of thousands of people die of starvation every day, around one third of the food produced for human consumption is lost or wasted every year – that's around 1.3 billion tonnes.
The marketing order, which was imposed through the U.S. Department of Agriculture as part of the federal Agricultural Agreement Act of 1937, imposes limitations on how much can be sold in order to make way for imports.
Perry Hedin of the Cherry Industry Administrative Board in DeWitt, MI told the Free Press:
 "Cherry growers have been paid better prices over the past 20 years because of the order, which was opted into by tart cherry growers and processors in 1995."
The act was implemented in an attempt to stabilize the price of tart cherries, one of the most volatile crops grown in the United States. However, for independent and smaller scale cherry farmers the marketing order is said to have a crippling effect on their livelihoods.
"If I have to sell these excess cherries for less, I might not make that much more. But if we're ever going to stop the increase in imports, we've got to compete with them head to head on every cherry we produce. If we don't do that, we're leaving the market wide open to them."
According to reports, Santucci and a host of other cherry farmers are set to continue losing a market share to imports, including from Turkey and Eastern Europe. In addition to threatening the future of local cherry farmers, the environmental effects of imports and food waste should also be considered.
Around 11 percent of carbon emissions in the food system are from transportation, according to the 2008 paper 'Food-Miles and the Relative Climate Impacts of Food Choices in the United States'. Meanwhile, national studies for the US (Venkat) and the UK (Chapagain) estimate food waste emissions to be 300-400 kg CO2e per person, excluding deforestation emissions.
Unsurprisingly, the essence of a solution to these environmental issues lies in front of us – sourcing seasonal produce from local farmers. By doing this, nations will likely significantly reduce their carbon footprint, and secure the future of local businesses and farmers.
"I posted (the photo) because I want people to know that we sometimes do stupid things in this country in attempt to do the right thing — we end up doing the wrong thing," Santucci said to UpNorthLive.com. "Unless we can make the people who count understand and know what's going on, we'll never change it."
Image: Flickr User – SunGodServant (CC BY 2.0)
---
You want to support Anonymous Independent & Investigative News? Please, follow us on Twitter: Follow @AnonymousNewsHQ
---
This article (Make Way for Overseas Imports: Cherry Farmer is Forced to Waste 14 Percent of Crops) is a free and open source. You have permission to republish this article under a Creative Commons license with attribution to the author and AnonHQ.com.