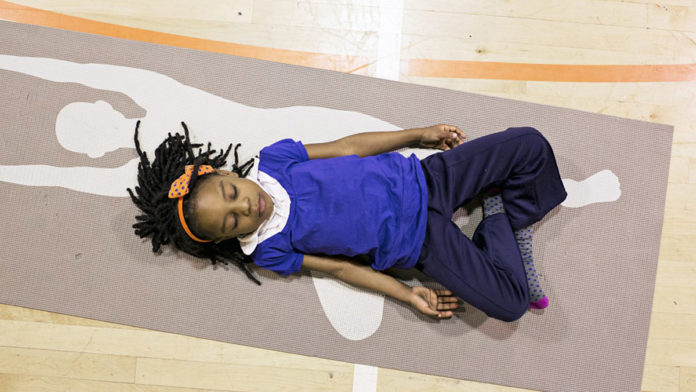 Although 31 states and the District of Columbia have banned corporal punishment, 19 states in America still paddle students because spanking in schools does not violate students' rights, specifically the Eighth Amendment's "cruel and unusual punishment" clause and the Fourteenth Amendment's "right to due process."
According to federal statistics, black students make up 16% of the students enrolled in public schools, but are 35% of those physically disciplined; this means black children receive physical punishment at almost three times the rate of their non-black peers.
Detrimental effects of corporal punishment and racial disparities on students are prompting many to advocate against its use, preferring to look for alternatives to help mischievous kids cope with stress and anger. Holistic Life Foundation – a Baltimore-based nonprofit organization committed to nurturing the wellness of children and adults in low-income, high-crime neighborhoods – has found a unique way to calm children.
At Robert W. Coleman Elementary School in West Baltimore – the epicenter of the riots that followed Freddie Gray's death in police custody, in 2015 – unruly students are sent to the Mindful Moment Room to meditate and wind down, rather than to the principal's office to teach them a lesson and add to their misery. The new initiative, in place for over a year, is part of the Mindful Moment program run by the Holistic Life Foundation.
Oprah reports:
"The day at Coleman starts with a breathing exercise over the PA system and ends with an after-school program where, in addition to sports and tutoring, students can learn yoga. All day, staffers guide students through breathing and other centering exercises in the Mindful Moment room. And it's working: In the 2013–14 school year, Coleman had zero suspensions."
According to KidsSafetyNetwork.com, when a student is sent to the Mindful Moment Room, he/she goes through breathing and centering exercises with a staff member, discusses his/her feelings and emotions surrounding an incident of conflict, and works with the staff member to figure out what mindfulness technique he/she could use the next time a similar incident occurs.
As the year progresses, visits to the Mindful Moment Room decrease as students get empowered to take control over their behavior, actions and emotions. Andres Gonzalez, one of the organizers of the program, says that children are even bringing home what they are learning at the school.
"That's how you stop the trickle-down effect, when Mom or Pops has a hard day and yells at the kids, and then the kids go to school and yell at their friends. We've had parents tell us: 'I came home the other day stressed out, and my daughter said, Hey, Mom, you need to sit down. I need to teach you how to breathe'."
Studies have shown that mindfulness can relieve pain and stress, enhance creativity, balance emotions, and boost immune systems. In 1998, a breakthrough study had in fact discovered that meditation can actually reverse heart disease.  The best part is, practicing mindfulness in schools can improve test scores, cut down on school suspensions, and lead to a better learning atmosphere for students.
Additionally, research shows corporal punishments and harsher punishments, like those od suspensions and expulsions, don't prevent future misbehavior, they only make it worse. So if unconventional techniques like mindfulness show results, don't you think it should be practiced nationwide? Please share your views in the comments section below…
---
This article (Baltimore School takes Holistic Approach to 'Punish' Undisciplined Students) is a free and open source. You have permission to republish this article under a Creative Commons license with attribution to the author and AnonHQ.com.