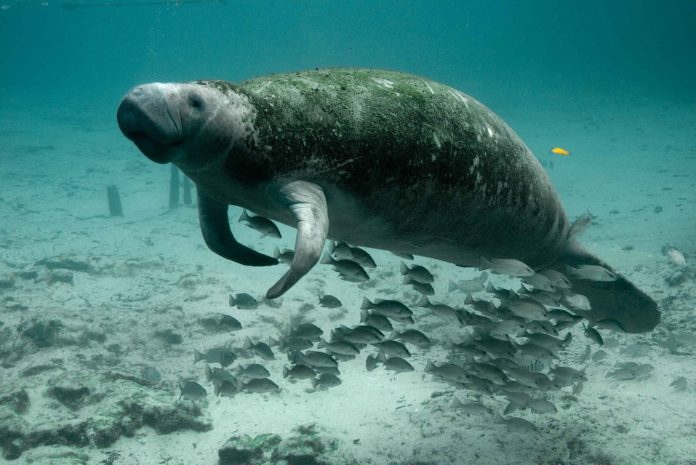 by Amanda Froelich at trueactivist.com
As a result of significant improvements in habitat conditions and threat reduction, the West Indian manatee will soon lost its 'endangered' tag and be reclassified as "threatened."
Here's some positive news to brighten your day. As a result of significant improvements in habitat conditions and threat reduction, manatee populations have soared in recent years.
CNN reports that in 1991, only about 1,267 West Indian manatees could be found in Florida. Since then, the population of the sea cow has increased by 500%. There are now 6,300 in the state of Florida and 13,000 overall.
As a result, the U.S. Fish and Wildlife Service announced on Thursday that it intends to down-list the manatee's status from endangered to threatened under the Endangered Species act. Of course, federal commitments to protect the animal will remain intact to ensure the population fully recovers.
"It's like taking manatees out of intensive care and putting them in a regular care facility," said U.S. Fish and Wildlife manatee coordinator Jim Valade.
Commented Michael Bean, the Principal Deputy Assistant Secretary for Fish and Wildlife and Parks at the Department of the Interior:
"The manatee is one of the most charismatic and instantly recognizable species. It's hard to imagine the waters of Florida without them, but that was the reality we were facing before manatees were listed under the Endangered Species Act. While there is still more work to be done to fully recover manatee populations, their numbers are climbing and the threats to the species' survival are being reduced. Today's proposal is a positive step that recognizes the progress citizens, conservation groups, the State of Florida, the Commonwealth of Puerto Rico and our own Service employees have made working together."
According to the ESA, an endangered species is one currently in danger of extinction throughout all or a significant portion of its range, and a threatened species is one that is likely to become endangered within the foreseeable future.
In the past, manatee populations dropped partly because of the presence of boats, as the slow-moving mammals spend a lot of time just under the surface of the water. They would then get struck and/or killed by propellers.
The manatee protection measures put in place by federal and Florida officials, the Commonwealth of Puerto Rico, and industries resulted in the establishment of over 50 manatee protection areas, which have played an important role in reversing the species' decline.
Florida counties have also made significant progress in developing and implementing manatee protection plans near boat facilities to reduce boater impacts on manatees. Significant advances have also been made in reducing the threat from entanglement in fishing gear. Additionally, manatee rescue, rehabilitation and release organizations help save dozens of manatees yearly, with a majority successfully released back into the wild.
Before proposing to down-list the classification of the manatee, the Fish and Wildlife Service reviewed the best scientific and commercial information and has since opened a 90-day comment period in which the public is invited to submit scientific or technical information that will aid the agency in reach its final decision.
Some conservationists argue that the manatee's endangered distinction should remain, for fear that the change would result in less awareness and eventually an increase in death, which would put them back in harm's way. But because the sea cow is protected under federal law, it is not expected that manatee mortality would increase.
Public comments on this proposal can be made until April 7, 2016. Learn more at the FWS website.
What are your thoughts? Please comment below and share this news!
---
This article (Manatee To Be Crossed Of 'Endangered' List As Population Rebounds By 500%) is free and open source. You have permission to republish this article under a Creative Commons license with attribution to the author and TrueActivist.com
Get Your Anonymous T-Shirt / Sweatshirt / Hoodie / Tanktop, Smartphone or Tablet Cover or Mug In Our 
Spreadshirt Shop
! 
Click Here