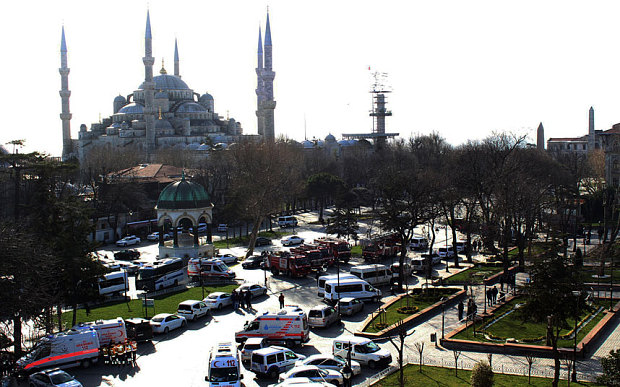 In the latest deadly attack to hit Turkey, 28-year-old Nabil Fadli, a Syrian suicide bomber belonging to ISIS, blew himself up near the iconic Ottoman-era Blue Mosque in Sultanahmet, Istanbul's busiest tourist district, on January 12 killing 10 and critically wounding 15. The bomber is believed to have entered Turkey recently from Syria but was not on a watch list of suspected militants, the Turkish government said.
This is the moment the bomb went off in Istanbul https://t.co/5AgDZGZjBT pic.twitter.com/EytXxzmShW

— The Independent (@Independent) January 12, 2016
According to The Wall Street Journal, Fadli walked up to a tour group preparing to explore the Blue Mosque and other world-renowned buildings nearby and blew himself up shortly after 10 am. As authorities imposed a ban on broadcast coverage of the terror attack in Turkey, police cordoned off the area, and halted the nearby tram service.
הרוגים בפיצוץ באזור תיירותי באיסטנבול שידור ישיר >> https://t.co/ASIOWGj7Lt נמצאים באיסטנבול? שלחו לנו הודעה פרטית pic.twitter.com/m2GKRM6q9m

— חדשות 2 (@Channel2News) January 12, 2016
From a rooftop: ambulances, police, crime scene units at the Blue Mosque #istanbul pic.twitter.com/goe8xXV55Y

— Zia Weise (@ZiaWeise) January 12, 2016
#Sultanahmet meydan patlama pic.twitter.com/g33eSB09nZ

— HAKAN DOGAN (@HAKKODO) January 12, 2016
Witnesses recount horror
"The explosion was so loud, the ground shook. There was a very heavy smell that burned my nose. I started running away with my daughter. We went into a nearby building and stayed there for half an hour. It was really scary," a German tourist told AFP.
Jostein Nielsen, a Salvation Army officer, told Norway's TV2 that he and his wife were sightseeing in the Turkish city when the bomb went off.
"I first heard a bang that I think is what detonated the bomb. After that came the real bang. I felt that my knee stopped working. It was a great shock. The doctors believe that I will be able to walk again. I appreciate that."
"The explosion was very loud. We shook a lot. We ran out and saw body parts." https://t.co/qTTH9J6Ebf

— VICE News (@vicenews) January 12, 2016
Turkey, Germany wouldn't back down

After Tuesday's attack, Turkey's President Recep Tayyip Erdogan pledged to press on with Turkey's fight against terrorism.
"Turkey is the primary target for all terrorist organizations active in the region. Turkey will continue its determined and principled fight against terrorism until the very end. Turkey's determined position will not change. We don't make any difference between the names or abbreviations (of terror groups)."
[Live] Erdogan: "Bomb blast was a suicide attack by a Syrian attacker " https://t.co/Rve1LorsqB #Sultanahmet https://t.co/lqQGvUbeLw

— euronews (@euronews) January 12, 2016
Chancellor Angela Merkel told a news conference in Berlin the latest attack would deepen German resolve to combat international terrorism.
"Today it [terrorism] hit Istanbul, it has hit Paris, it hit Tunisia, it had already hit Ankara. International terrorism once again showed its cruel and inhuman face and along with the sorrow that we of course feel, it once again shows the necessity to act decisively against terrorism and ultimately overcome these atrocities. I will also speak with Turkish Prime Minister Ahmet Davutoglu about the situation in the coming hours."
Today's bombing in Istanbul is the latest in a series of deadly terror attacks on Turkey https://t.co/UTql7cc5Hk pic.twitter.com/8K9xd1U41N

— New York Times World (@nytimesworld) January 12, 2016
Who is responsible?
According to Numan Kurtulmus, Turkey's deputy prime minister, "This attack is a repercussion on Turkey of the civil war that has been going on in Syria for five years, and its related proxy wars."
What the Islamic State gains from the Istanbul terror attack https://t.co/ZavRUABky5

— 草吾 (@follow_jpn) January 12, 2016
Just to Turkey's south, Syria has been embroiled in a civil war for nearly five years. Turkey has allowed the United States to launch strikes from Incirlik Air Base in southern Turkey and clamping down to curb more fighters from going through its territory to join ISIS in Syria. It has also moved to tighten security along its 900-kilometer border with Syria in a bid to stem the flow of militants. Turkey's actions against terrorism have made it ISIS' primary target. The country has been on high security alert since more than 100 people were killed in twin blasts in Ankara last October.
"We're muslim!" but they attack tourists in front of a mosque.. Just a proof that they're using religion as a justification #SultanAhmet

— #SultanAhmet (@flawlessxzm) January 12, 2016
Skeptics of Turkey's Syria policy believe that Erdogan and Davutoglu have played a dangerous game in their conspicuous support of rebel groups in Syria — and that now the chickens are coming home to roost.
"Today's bombing in Istanbul may be the incident that finally brings Turkey to shift focus and concentrate its efforts on the true enemy: violent jihadist groups. It is late in the game for such a switch," wrote Stephen Kinzer, a senior fellow at the Watson Institute for International and Public Affairs at Brown University.
Now ISIS is targeting foreign tourists rather than Turkish leftists and Kurds, I wonder if this will effect Turkey's Syria policy?

— Lucas Thorpe (@lucasthorpe) January 12, 2016
Further, Ankara has persistently battled the Kurdistan Workers' Party, or PKK, which launched an insurgency against the Turkish state in 1984, initially fighting for Kurdish independence but currently fighting for greater autonomy and rights for the country's largest ethnic minority. A Kurdish splinter group, the Freedom Falcons of Kurdistan (TAK), claimed a mortar attack on Istanbul's second international airport on December 23 which killed a female cleaner and damaged several planes.
We are all condemning Terrorism. We are one. #StopTerrorism #Sultanahmet pic.twitter.com/6IAa1UoC7M

— Raul Meireles (@OficialMeireles) January 12, 2016
Merkel is also under fire for her decision to open Germany's doors to migrants, particularly those fleeing war in Syria. The arrival in 2015 of 1 million refugees has put huge strain on resources and triggered a political backlash. Even a small attack on Germans in Turkey could multiply the nascent sense of resentment against Merkel's effectively irreversible policy of welcoming refugees.
We mourn the victims of the #Istanbul terror attack. #Sultanahmet pic.twitter.com/4dgbLLyg0o

— GermanForeignOffice (@GermanyDiplo) January 12, 2016
While there is a possibility that the tourists were deliberately targeted for Germany's liberal policy on accepting Syrian refugees, Behlul Ozkan, a professor at Istanbul's Marmara University, said Tuesday's attack appeared to be designed to damage Turkey by scaring away foreign tourists.
"The target is the Turkish economy. They're not doing it not just to kill foreign tourists but to show the world that Turkey is vulnerable," he said. Istanbul is one of the world's most-visited cities and the country's $30 billion tourist industry accounts for around 12% of Turkey's GDP.
#Istanbul attracted 12.41 million visitors in 2015, a 4.8 percent rise over 2014. 821K visitors only last month

— TurkJourno (@TurkJourno) January 12, 2016
---
Sources:
http://reshet.tv/News_n/heb/news/Abroad/Worldnews/articlenews,201290/
https://www.rawstory.com/2016/01/ten-dead-after-syrian-suicide-bomber-blows-up-in-istanbuls-busiest-tourist-district/
http://edition.cnn.com/2016/01/12/europe/turkey-istanbul-explosion/
http://www.wsj.com/articles/istanbuls-sultanahmet-square-rocked-by-blast-1452589837
http://www.ft.com/cms/s/0/3cd3f6f0-afa3-11e5-993b-c425a3d2b65a.html#axzz3x3kG9mkc
http://www.firstpost.com/world/terrorist-attacks-kills-10-injures-15-in-istanbuls-tourist-heart-2580850.html
http://nypost.com/2016/01/12/explosion-kills-10-in-tourist-packed-district-of-istanbul/
http://www.telegraph.co.uk/news/worldnews/europe/turkey/12094350/Explosion-in-Istanbuls-central-square-causes-casualties.html
http://www.news.com.au/world/suspected-terror-attack-by-a-suicide-bomber-in-the-main-tourist-hub-of-istanbul-in-turkey/news-story/838d7231e5681483936bb4a71e43468c
http://www.theguardian.com/world/live/2016/jan/12/istanbul-explosion-several-reported-killed-in-tourist-area-live-updates
---
This Article (9 German Tourists Among 10 Killed As ISIS Terrorist Explodes At Istanbul's Sultanahmet Square) is free and open source. You have permission to republish this article under a Creative Commons license with attribution to the author and AnonHQ.com.