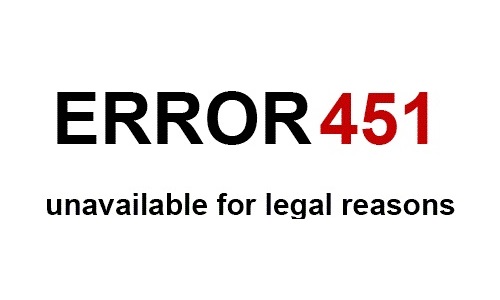 Following a massive campaign, the Internet Engineering Task Force has created a Hypertext Text Transfer Protocol status code that can echo internet censoring. Code 451 is a tribute to Ray Bradbury's classic novel Fahrenheit 451, which presents a future American society where books are outlawed. The idea behind 451 is instead of an online server, proxy or any other setup generating a 403 rule to your web browser anytime data is blocked, the 451 rule will state that is it unavailable for legal reasons.
The 451 rule implies that the machine is refusing availability of or to that site, as a result of a legitimate request from the person or company who does not want you to view their content. In addition, in most cases, the server at issue might not be the source server. This kind of legitimate demand commonly influences the functions of many internet service providers and search engines like Google, Yahoo, Bing, etc.
The Internet Engineering Task Force says that there are a few more steps to go before this can be seen on our browsers. It was supposed to go live in the summer of 2012, when the UK's internet service providers decided to block The Pirate Bay.
Mark Nottingham, a member of the Internet Engineering Task Force as well as one of many powerful internet infrastructure developers, wrote about why it took so long to obtain the approval. For starters, as there were already a good number of status codes doing their job, he says the influential people from the Internet Engineering Task Force were not convinced that this was going to be any good. Since Hyper Text Transfer Protocol status codes are a definite restricted namespace, as soon as somebody makes use of all the numbers from 400 to 499, then they would have been out of luck.
Also, although 451 filled a number of the principles for latest status codes (which includes becoming appropriate for any type of site), there had not been any precise methods for the computers to take advantage of it. Nevertheless, as the years went by, things started to change. As censorship got more obvious and widespread on the internet, people at the Internet Engineering Task Force started getting requests from people and sites, allowing them to finalize this decision.
Nottingham also recommends using the status code in a way that can remind the person to try and access the material via another way – for instance, it can direct people to The Onion Routing circle as an easy way to bypass censorship. However, the 451 code is not going to pop up in places where the internet is repeatedly censored. For the most part, nations are generally not very enthusiastic about allowing their people to discover the amount of content they are trying to hide.
You want to support Anonymous Independent & Investigative News? Please, follow us on Twitter: Follow @AnonymousNewsHQ
---
This Article (Error 451 – A New Way of Showing Censored Websites) is free and open source. You have permission to republish this article under a Creative Commons license with attribution to the author and AnonHQ.com.