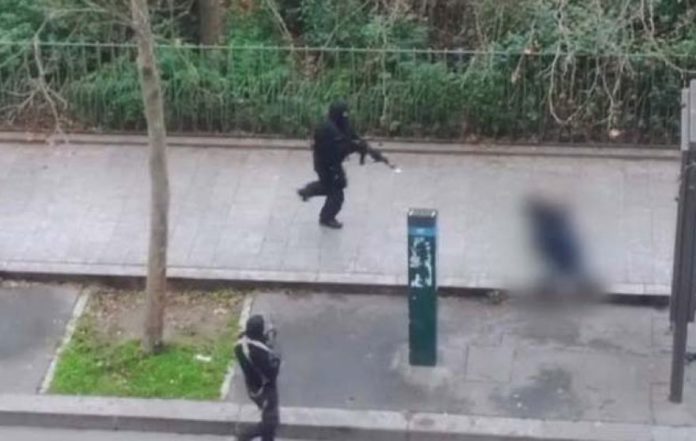 Masked and hooded gunmen armed with Kalashnikovs stormed the offices of the satirical magazine, Charlie Hebdo, killing twelve people. A massive manhunt is now underway.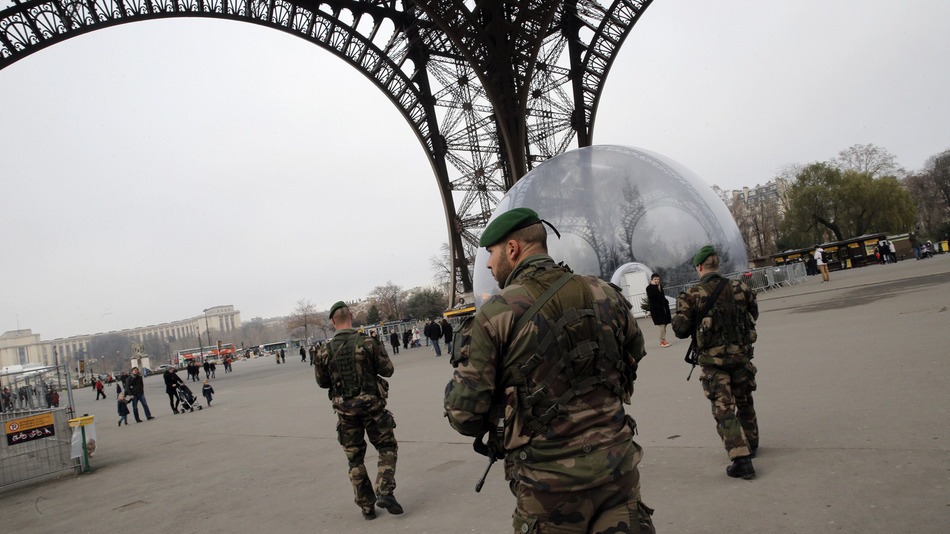 Two police officers and eight journalist were among those killed during the shooting. Francois Hollande, the French president, has described the attack as "an act of exceptional barbarism."
Warning, the following images are graphic:
At 11:30am, two gunmen entered the offices, killing one person in the foyer before making their way to the second floor. The paper, at that time, was holding an editorial meeting when the gunmen entered and attacked. At least one officer was killed in an exchange of fire after the gunmen fled the scene in a car. The men eventually carjacked a different vehicle near Paris's peripherique, and made their escape.
"We saw hooded men carrying Kalashnikovs entering the building. We called the police. After a few minutes we heard heavy firing—a lot of firing, a hell of a lot. We went upstairs to take shelter on the roof. Then after about 10 minutes we saw two armed men come out on to the street. There was more shouting, more firing. Three policemen had arrived on bikes, but had to leave because the men were armed, obviously… Then the attackers took off in a car." – Benoit Bringer, employee of a press agency located on the same floor as the magazine's offices.
The attack is described by Hollande as "a terrorist attack, without a doubt." Within recent weeks, it is reported that several other attacks had been foiled, and the French government has now raised the terror alert level as high as possible.
The names of five victims have been released, including four Charlie Hebdo journalists: Editor Stéphane Charbonnier and cartoonists Jean Cabut, Georges Wolinski, Bernard Verlhac, and economist and writer, Bernard Maris.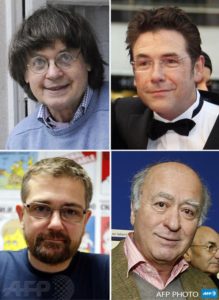 Charlie Hebdo is an often criticized magazine. They have been known to publish controversial stories and cartoons which have caused turmoil in the past. They have been prosecuted under anti-racism laws for publishing cartoons of the prophet, Muhammad, and in 2011 their offices were firebombed after publishing a spoof cover featuring a cartoon of the Muslim prophet.
Tensions have been increasing in France due to immigration, and many non-Muslim French feel there is a rising Islamic influence in their society. The magazine's cover story this week featured the controversial author, Michel Houellebecq, whose latest book portrays France being led by a Muslim president in the year 2022. Witnesses stated they heard the cry "Allahu Akbar" ("God is great") during the shooting.
In a statement from an unnamed office worker from across the corridor:
"… Someone opened the door to our office and asked where Charlie Hebdo was. He had a rifle. We backed away. After he left, we heard gunfire. We went to the windows, there were two men running with guns, speaking in bad French… They were shouting outside, and shooting again. Afterwards, I saw someone leaving the building with his hands covered in blood."
A witness from a neighboring building observed paramedics trying to save an injured police officer on the street. In her statement:
"It was ghastly, awful. We knew it was serious because they weren't even trying to take him away to hospital. They were just trying to save him right there in the street."
According to police spokesman, Rocco Contente, the men "appeared to have opened fire on everyone. It was carnage, absolute butchery."
In a statement from UK prime minister, David Cameron:
"We stand with the French people in the fight against terror and defending the freedom of the press."
German chancellor, Angela Merkel has stated:
It was an "abominable act" that was also "an attack on freedom of speech and the press, core elements of our free democratic culture."
Barack Obama has strongly condemned the attack as well, adding:
"France is America's oldest ally, and has stood shoulder to shoulder with the United States in the fight against terrorists who threaten our shared security and the world."
In a report from Zee News – India:
"The car in which the gunmen fled after the shooting have been impounded by the police and forensic examination of the black Citroen car is being carried out. The vehicle was found at 19th district in north-eastern Paris."
The Local is providing continuous updates on the story. In a most recent update:
"France's Minister of the Interior Bernard Cazeneuve has denied that the gunmen have been arrested, but there are various unconfirmed reports that police officers have been tracked down. Liberation newspaper says its police sources have confirmed the gunmen have been "localisé" (located) and identified."
France 24 is providing live updates as well.
---
Sources:
AFP. The Times of India. Jan 8, 2015. (http://timesofindia.indiatimes.com/world/europe/Blow-by-blow-account-of-massacre-at-Charlie-Hebdo-in-Paris/articleshow/45800889.cms)
The Local. Jan 7, 2015. (http://www.thelocal.fr/20150107/breaking-armed-men-open-fire-at-offices-of-french-mag)
Willsher, Kim and Henley, Jon. The Guardian. Jan 7, 2015. (http://www.theguardian.com/world/2015/jan/07/paris-terror-attack-huge-manhunt-under-way)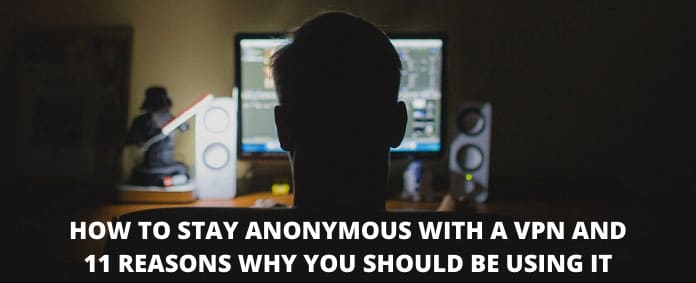 Get Your Anonymous T-Shirt / Sweatshirt / Hoodie / Tanktop, Smartphone or Tablet Cover or Mug In Our
Spreadshirt Shop
!
Click Here
Remove all ads by clicking here