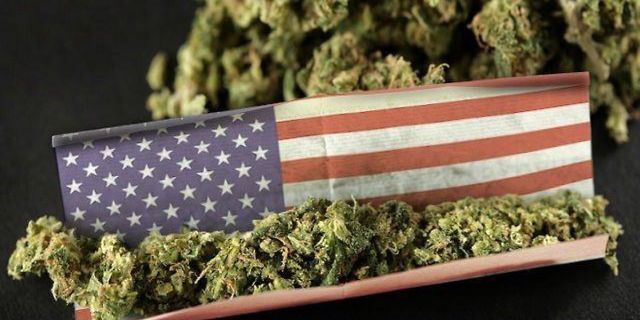 In America, marijuana is still illegal, a felony, or a misdemeanor in 22 states and 3 inhabited territories. Nevertheless, with Colorado, Washington, Alaska and Oregon legalizing recreational and medicinal marijuana and Maine, Massachusetts, Nevada, California, Arizona, Michigan, Missouri, and Ohio expected to follow suit in 2016, Americans can hope to see other states liberalize cannabis laws through decriminalization and legalization of recreational cannabis, as well as the legalization of medical marijuana for non-recreational use in the near future. However, people of these 10 states might have to wait a little longer to legally smoke pot:
1. Alabama. Possession and sale of marijuana is a felony, while transporting and cultivating marijuana is illegal in the state. While 23 states and the District of Columbia have legalized medical marijuana, conservative lawmakers in the Heart of Dixie still feel the state is not ready for it. Republicans, who dominate state elected offices and the state legislature, see marijuana as a gateway to other drug usage.  The state has no initiative process, and the legislature is still debating legalizing medical marijuana.
2. Idaho. Under current Idaho law, personal use possession of 3 ounces or less of marijuana is a misdemeanor punishable by up to 1 year imprisonment and/or a fine of up to $1,000. If the quantity possessed is more than 3 ounces, but less than 1 pound, it is a felony punishable by up to 5 years imprisonment and/or a fine of up to $10,000.
In April, the Idaho Legislature approved S1146, a bill that would protect some seriously ill Idahoans from being convicted for possessing medical marijuana oils with very low amounts of THC. It does not protect patients from arrest and does not provide in-state access to the oils.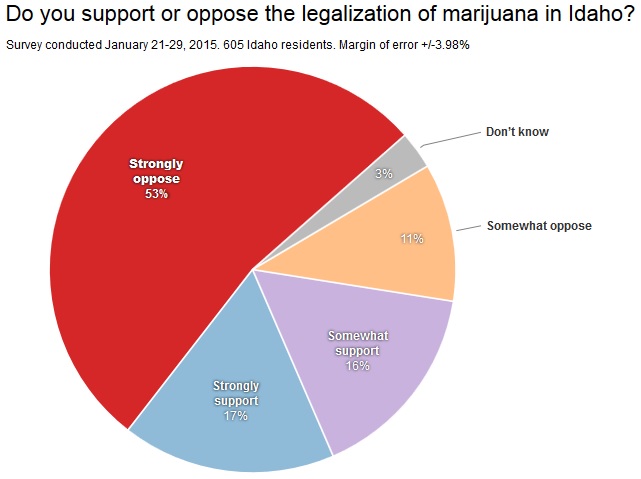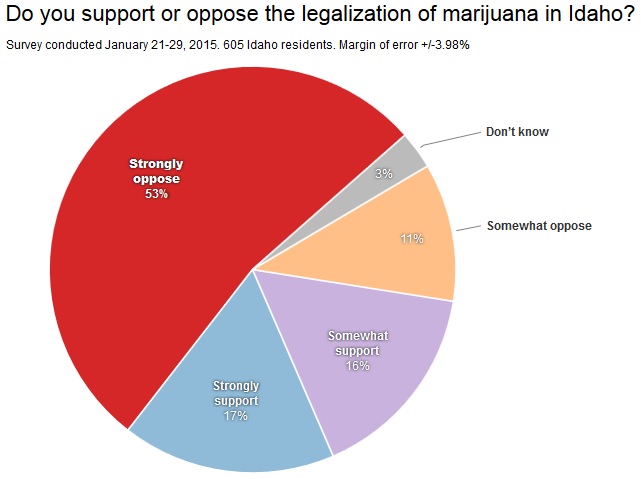 3. Kansas. The Kansas House recently approved a bill that intends to decrease penalties for marijuana possession, allow the limited use of medical marijuana, and study the use of industrial hemp. Opponents, mostly Republicans, are worried that the bill would open the door to wider marijuana legalization. A poll conducted by Fort Hays State University, in 2014, showed 59% Kansans support legal medicinal marijuana, 30% oppose that idea, and 10% aren't sure. The state has no initiative process and little popular support for complete legalization.
4. Louisiana. According to Forbes, it costs more to buy an ounce of weed (at $359) in Louisiana than in 44 other states. The state has some of the country's harshest marijuana laws, including up to 20 years in prison for repeat possession offenders, and up to life in prison for pot possession if the person has a previous felony.
A proposal to reduce marijuana penalties for those convicted multiple times of possessing pot cleared the House floor on May 13, in the Louisiana Legislature. The legislation, HB 149, drops the maximum sentence for second-offense marijuana possession from 5 years in prison to 2 years, for third-offense possession from 20 years to 5 years and reduces the maximum sentence to up to 8 years for subsequent convictions. It is highly unlikely that the Senate will clear it.
5. North Dakota. A poll conducted in October 2014, found that 68% of respondents opposed legalizing recreational marijuana use in North Dakota; only 24% supported recreational pot use. In February, House lawmakers scrapped a bill aimed at making North Dakota the 24th state to legalize medical marijuana, saying it was premature and carried too many risks, which essentially outweighed the potential benefits. The bipartisan bill, would have allowed patients and caregivers to possess a certain amount of cannabis or products such as cannabis oils, beverages, vapors and pills, for medical use. A state unwilling to see the benefits of medical marijuana will take a longer road for its complete legalization.
6. Oklahoma.  The state government is dominated by Republicans and is one of the most conservative in the country. This is also one of those states where alcohol prohibition still lives on; about a third of the state's counties are completely dry. Nevertheless, Gov. Mary Fallin, a Republican opposed to legalizing marijuana outright, recently signed a bill that would allow medical trials of a cannabis derivative known as cannabidiol, beneficial in treating children with debilitating seizure conditions, to move forward. But how far this small, first step toward legalizing one form of medical marijuana will go, is yet to be seen.
7. South Carolina. State lawmakers are preparing a major push to expand the legality of marijuana in the Palmetto State – for medical purposes. A bill (HB 4037), is aiming at legalizing medical marijuana, however, for some medical conditions it will not advance until next year, South Carolina senators said on May 20. Under the proposal, patients would be allowed to possess up to two one-ounce packages of marijuana in leaf form, one ounce of cannabis oil concentrate, or eight ounces of diluted cannabis oil. The bill would establish a state regulated system of medical marijuana cultivation facilities, testing laboratories, and non-profit medical marijuana dispensaries. The Palmetto Politics Poll, last July, barely had majority support for medical marijuana (53%), and didn't even bother to ask about legalization.
8. South Dakota. The Republican-controlled legislature has repeatedly refused to act on medical marijuana bills. In 2015, no marijuana policy reform was proposed at all in the South Dakota Legislature. In 2012, there were 2,297 arrests for marijuana possession, and 127 arrests for marijuana sales in South Dakota. A recent study, by the American Civil Liberties Union, found that South Dakota was among the top 10 states with the largest racial disparities in marijuana possession arrest rates. Given the performance of medical marijuana initiatives, even if a legalization initiative were to qualify for the ballot, it would get crushed.
9. Utah. In March, the state senate killed Utah's chance of having medical marijuana, with President Wayne Niederhauser casting the final, deciding vote. SB259, sponsored by Sen. Mark Madsen and R-Saratoga Springs, died on a 14-15 vote. Opponents and advocates of legalized medical marijuana will stake out their positions over the next few months, as Madsen and Springs draft a bill for the 2016 Legislature. The Utah Medical Association opposes legalization until scientific evidence validates safe and effective medical uses.
10. Arkansas. The Arkansas legislature, has shown little interest in changing its cannabis laws. Possessing less than four ounces of marijuana is a misdemeanor, carrying up to one year in jail and a fine of up to $2,500. Possessing an ounce of marijuana or more, by those who have twice been convicted of possession, is a felony punishable by up to six years in prison and a fine of up to $6,000.
---
You want to support Anonymous Independent & Investigative News? Please, follow us on Twitter: Follow @AnonymousNewsHQ
---