Prompted by Donald Trump's recent call to ban all Muslim immigration into the United States, Facebook founder and CEO Mark Zuckerberg came out with a strong statement "in support of Muslims in our community and around the world".
"After the Paris attacks and hate this week, I can only imagine the fear Muslims feel that they will be persecuted for the actions of others. As a Jew, my parents taught me that we must stand up against attacks on all communities. Even if an attack isn't against you today, in time attacks on freedom for anyone will hurt everyone," he wrote on Facebook.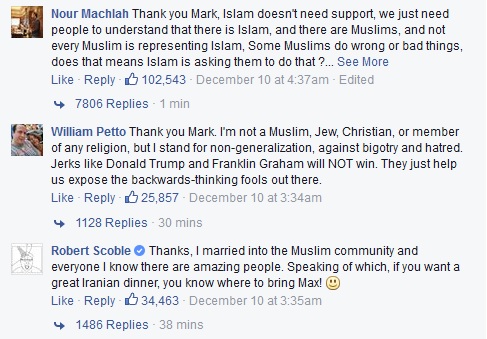 After Facebook CEO, Google CEO Sundar Pichai came out against Trump's recent anti-Muslim tirade in an open letter supporting Muslims. Though, just like Mark, Sundar didn't point out to Trump directly, he did make a reference to the said remarks.
"Let's not let fear defeat our values… It's been said a million times that America is the "land of opportunity" — for millions of immigrants, it's not an abstract notion, but a concrete description of what we find here. America provided access to opportunities that simply didn't exist for many of us before we arrived. And it's not just about opportunity. The open-mindedness, tolerance, and acceptance of new Americans is one of the country's greatest strengths and most defining characteristics. And that is no coincidence — America, after all, was and is a country of immigrants," he wrote on Medium.
Let's not let fear defeat our values
US Republican presidential candidate Donald Trump had previously suggested that all Muslims in the US would be required to register in a database in order to track their activity. These days he is busy blowing his own 'Trump'et on Twitter:
"Why Franklin Graham says Donald Trump is right about stopping Muslim immigration" https://t.co/iVPJcDQLeO

— Donald J. Trump (@realDonaldTrump) December 10, 2015
Meanwhile…
Donald Trump's $1K plate luncheon at NYC Plaza Hotel crashed by anti-racism protesters, forcibly ejected from event https://t.co/wzQQbEnCMQ

— Messiah2k.com (@messiah2kshow) December 12, 2015
Donald Trump really needs to see this movie about Muslims in America https://t.co/nftzlfYzD9

— VANITY FAIR (@VanityFair) December 11, 2015
Trump says don't worry, America — Muslims are actually 'happy' about my anti-Muslim remarks https://t.co/DY1kw0RFwl

— NowThis (@nowthisnews) December 10, 2015
Jews, Christians and Muslims come together in Washington to mourn America's gun victims https://t.co/zcDu3fz3as pic.twitter.com/JHNHx05yuJ

— The Economist (@TheEconomist) December 10, 2015
Trump wants to put a ban on Muslims entering America? Well people in the U.K. wants to put a ban on Trump https://t.co/MYiGvO8jMm

— NowThis (@nowthisnews) December 9, 2015
As I say in the column, white Christians commit far more mass shootings than Muslims in America. https://t.co/fOVlYbWSDk

— Piers Morgan (@piersmorgan) December 10, 2015
---
This Article (Mark Zuckerberg, Google CEO 'Trump' Hate With Love, Speak In Support Of Muslims) is free and open source. You have permission to republish this article under a Creative Commons license with attribution to the author and AnonHQ.com.