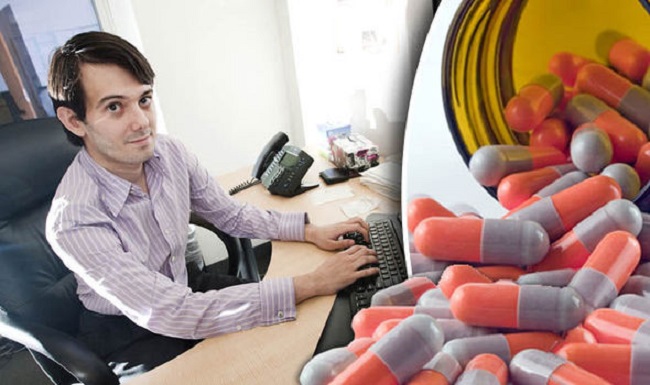 by Amanda Froelich at trueactivist.com
This time, 'Pharma Bro' Shkreli intends to hike the price of a drug used to treat Chagas disease, a parasitic infection that can cause potentially lethal heart problems.
When it comes to the most despised, Martin Shkreli is up there with Monsanto and the Rockefellers.
Earlier this year, the 'Pharma Bro' made headlines when he hiked the price of Daraprim, a decades-old drug used to treat toxoplasmosis, by 5,000%.
After public outcry, Shkreli promised to lower the price of the drug which is heavily relied upon by some AIDS and cancer patients but later reneged on that vow. 
Now, the greedy CEO of Turing Pharmaceuticals is poised to put profits over people again. The New York Times reports that Shkreli is likely to increase the price of another decades-old drug used to treat Chagas disease, a parasitic infection that can cause potentially lethal heart problems.
Commented Dr. Sheba Meymandi, a professor at the University of California, Los Angeles, and director of a Chagas treatment center at Olive View-UCLA Medical Center:
"It's caused a lot of angst in the Chagas community. Everyone's in an uproar."
And for good reason. Shkreli is pissing off a number of organizations that supply drugs for neglected diseases with his plan to take advantage of a federal program that encourages companies to develop potentially life-saving pharmaceuticals. 
The program was created by Congress in 2007 and awards vouchers that can be sold to other companies for hundreds of millions of dollars.
Shkreli has purchased a majority share in KaloBios Pharmaceuticals, which allows him to apply for the exclusive right to sell benznidazole, which is used to treat Chagas in South America.
At present, the drug costs as little as $50 and as much as $100 for two months of treatment. It has never been approved for sale in the US but is provided free to patients by the Centers for Disease Control and Prevention on an experimental basis.
If benznidazole gets the FDA's approval, KaloBios will have exclusive rights to sell it in the United States for at least five years.
Shkreli's plan is to hike its price similar to that of hepatitis C drugs, which cost $60,000 to nearly $100,000 for a course of treatment. That could be as much as a 99,900% increase in cost!
Between 3,000 and 7,000 people would require treatment for acute infection each year in the United States.
According to Dr. Meymandi, the astronomical price increase will be extremely problematic because "The people with Chagas, for the most part, are poor" and many lack insurance.
His intentions seem perfectly clear to those affected by the injustice.
"The only reason for him to do this is to get the voucher and turn around and sell it," said Dr. Caryn Bern, a Chagas disease specialist at the University of California in San Fransisco.
Shkreli's sick plan deserves to be exposed. If you agree, please share this article to raise awareness and comment your thoughts below. 
---
This article (Martin Shkreli Poised To Increase Price Of ANOTHER Pharmaceutical Drug By 99,900%!) is free and open source. You have permission to republish this article under a Creative Commons license with attribution to the author and TrueActivist.com