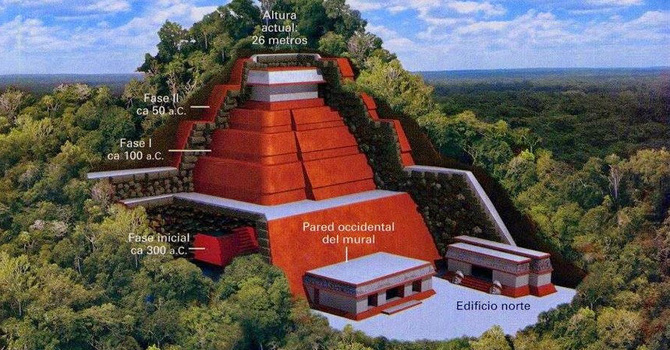 When an enormous pyramid of the Maya civilization was discovered in Mexico in 2010, archaeologists had believed that it was sitting on a hill but recent excavations at Toniná, Chiapas, from Mexico's National Institute of Anthropology and History have shown it to be twice as large as predicted. They have now confirmed that the structure itself is 75 meters tall, with 208 stone steps from its base to its apex, and thus exceeds the height of the famous Pyramid of the Sun that measures 65 meters.
"It's a big surprise to see that the pyramid was done almost entirely by pre-Hispanic architects and therefore is more artificial than natural… it was believed that the entire structure was a natural hill, but recent evidence has revealed that the structure was almost entirely built by ancient inhabitants." Emiliano Gallaga, director of the archaeological zone, told reporters.
"Three-dimensional scanning of the pyramid revealed that it was one of the largest constructions in Mesoamerica, comparable in size only to great Mayan cities like Tikal and El Mirador in Guatemala. Toniná is bigger than we suspected. The pyramids are connected by roads located on top of the surrounding elevations," Gallaga added.
According to Gallaga, the archaeological site of Toniná sits on a platform covering 6 hectares and consists of seven terraces on the north side of the platform which rise above a plaza. Seven social, political, economic, and religious structures were constructed on the terraces, including including areas of palaces, temples, markets, housing, and administration. There is also a ballgame court at the site, and over 100 carved monuments dating from the 6th to the 9th centuries AD.
More than 300 hieroglyphic texts have also been found. Several artifacts have been uncovered including a 1100-year-old stone sarcophagus. Ancient writing on one wall has also revealed important new clues about one of the rulers of the city – a Mayan chief known as K'inich B'aaknal Chaahk.
"This wall is fundamental to understand a chapter of Tonina history between 680 and 715 AD, when the 6th seignior appears in the dynastic sequence of the site. To present, it is known that K'inich B'aaknal Chaahk was the ruler with greater politic and hegemonic power in Tonina, a city known in its times as Po' (white in Mixe-Zoque language)," archaeologist Dr Carlos Pallan Gayol said.
Get Your Anonymous T-Shirt / Sweatshirt / Hoodie / Tanktop, Smartphone or Tablet Cover or Mug In Our Spreadshirt Shop! Click Here
---
This Article (Mayan Pyramid Is One Of The Largest Ever Discovered) is free and open source. You have permission to republish this article under a Creative Commons license with attribution to the author and AnonHQ.com.