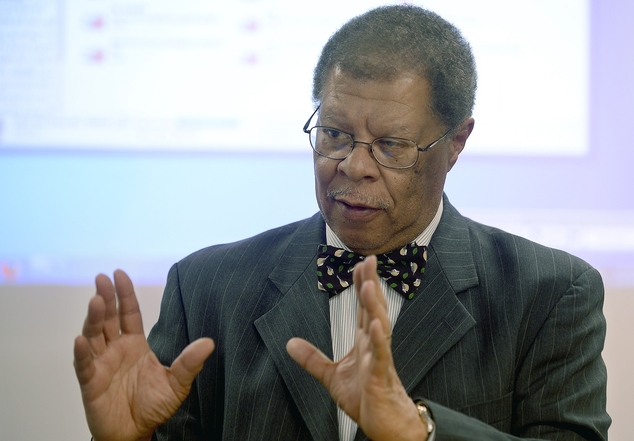 A top prosecutor in Ingham County, well-known for his advocacy against prostitution and human trafficking, has been arrested and charged with 10 counts of engaging in services of prostitution, four counts of willful neglect of duty and one count of pandering – a 20-year felony. 63-year-old Stuart Dunnings III, a married father-of-three, is an elected Democratic prosecutor in Ingham County since 1996.
According to a police affidavit, Dunnings used escort websites, and paid for sex hundreds of times with multiple prostitutes between 2010 and 2015. He paid one woman for sex as many as three or four times a week over this period, while another prostitute had sex with him more than 200 times. Most of the women Dunnings allegedly had sex with were beaten by their pimps and addicted to heroin, according to court documents.
Witnesses, including prostitutes, describe alleged crimes by Ingham County Prosecutor Stuart Dunnings III https://t.co/RzPkDTYplX

— The State News (@thesnews) March 15, 2016
He was also charged with enticing a woman to become a prostitute. The unnamed woman sent an email to Dunnings telling him she had been the victim of domestic violence. She had asked him for his help in a custody fight she was having with the father of her child. After discussing the matter, he took her to lunch and told her he was aware she was struggling financially, offering to pay her money in return for a sexual relationship.
Schuette announces charges against Ingham County prosecutor Stuart Dunnings III by LansingStateJournal
Michigan Attorney General Bill Schuette said the case against Dunnings came out of a 2015 federal investigation of human trafficking and prostitution. Schuette told a news conference:
"This is not a going into Barnes and Noble and buying something as a client or a customer. This is an instance where an officer of the law, an officer of the court, the prosecutor in the capital city of Michigan has a responsibility to enforce the law, report crimes, but he did just the opposite. He was a participant in commercial sex activity."
"I've known Stuart for a long time. We've done some campaigning together. This was a huge betrayal of his trust, his oath of office, his service to the people of this county," Ingham County Sheriff Gene Wriggelsworth added.
Dunnings, the highest paid elected official in Ingham County, with an annual salary of more than $132,000, faces up to 20 years in prison if convicted. Dunnings' brother Steven, a Lansing attorney, is also facing two counts of engaging in the services of a prostitute. Tyrone Smith, the human trafficking ring leader, pleaded guilty in November 2015, to three counts of sex trafficking, and now awaits sentencing.
Ingham Co. Prosecutor Stuart Dunnings III's arrest raises concerns over past, current cases https://t.co/Hek0JCOlzW via @LSJnews

— Emily Linnert (@emilylinnert) March 16, 2016
---
This article (Michigan's Top Prosecutor Charged with Pandering, Hiring Prostitutes) is a free and open source. You have permission to republish this article under a Creative Commons license with attribution to the author and AnonHQ.com.