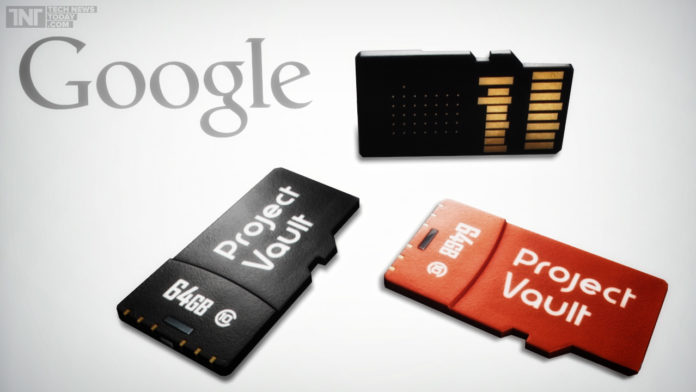 During the early stages of the 21st century, we have seen a rapid growth in hackers, spammers and scammers, who are constantly after one thing: Your online data. With that being said, do you truly expect that your "secured" passwords will truly remain as such, forever?
Several online users are worried about forgetting their passwords, as they are constantly signing up for different online services.
Shining some light onto this subject, Google is just as equally concerned about the online security measures. Not only does Google want to aid in your online protection, but also protect it in the smartest way possible.
Meet the new, and the smallest, computer ever by Google, the Project Vault.
The chosen name for their "super secured" computer is making a name for itself, since Google had announced this new project at the annual Google I/O Developers Conference, held on Friday.

Project Vault, originally designed and created by Google's Advanced Technology and Projects group (AKA ATAP), is nothing shy of a secured computer that can fit entirely on a microSD card. With this microSD card, and the operating system installed on it, you can plug it into just about any system (Desktop and/or Mobile Device) and run the operating system directly from the microSD card.
While stating that this new project is indeed a computer, this is not for typical computing desires. This does, however, present a new line of technology advances in which allows you to communicate, and even authenticate, your online accounts without the hassle of entering passwords.
While today's standards for setting passwords often resemble some sort of reference into our personal lives, Google is aiming to make the passwords we choose, a bit more personal than expected.
The advanced technology that goes into this microchip possess the ability to authenticate you, as well as your passwords, long before any applications or websites even think about asking for your login information. This concept is making the Vault have the ability to make your primary authentication, which is secured by a chosen password, a secondary option. Which will result in you having to do nothing to login to your favorite apps or websites.
Small chip, but big dreams.
The Project Vault allows Google to possess the ability to, in essence, transform your device(s) into your passwords. This method is fully capable of performing the encryption, or even scramble, your app while in a chat message and then go further and provide you with an extra added layer of security. Which will then make all of your respective devices extremely secured, while you are not doing anything extra for security measures in order to ensure that you…are you!
While providing a demo, the ATAP team was able to properly explain, and even show us, how two people are able to utilize this new "computer" in order to perform a secure chat session with each other. In which case, they were using the Vault equipped smartphones. Once the researchers had installed this Project Vault Chip into their respective phones, the chat application had opened up the virtualized 2-File system with the standard read/write I/O interface.
The way this process works is by the default encryption service that is embedded inside of the Vault. Once you have it opened up, the Vault will then encrypt the selected chat message and then send that message through the phone. This ensures no one is able to spy, otherwise known as snooping, in on your conversations. The phone will then proceed onto automatically decrypts the received message. However, this will never be fully able to provide any of the keys or algorithms upon either end, receiving or sending.
The company in which developed this software also states that you will be able to encrypt video with their Vault computer.
What comes with the vault?
An ARM-based processor
An Antenna
A NFC (Near-field Communication) for communicating with nearby devices
4-Gb of "Isolated, Sealed" internal storage
The "Ultra-Secured" operating system
And a nice suit of cryptographic programs
The computer runs off a custom-built RTOS (Real-Time Operating System), combined with an entire suite of cryptographic programs that include batch-encrypting, hashing, and even signing. We can also see that there is a RNG (Random Number Generator) to provide your data and messages, just that much more secured.
When comparing this new line of O.S. against other major O.S.'s, we see that it works just like Windows, Linux, or even Apple. Essentially, this is nothing more than a new concept for device storage for your host machine. Your host machine can represent an actual computer, or a mobile device.
While Project Vault is in the "Experimental" stages at this time, there are process of this new line of computers becoming user ready. However the source code for Project Vault can be easily viewed and is available for you to download and create your own Project Vault from Google's GitHub. Google has listed this under an open-source license, thus making the project available for developers to start configuring and aiding in the project for further development and research purposes.
---
This article (MicroSD Card Hosting a Secured Computer) is a free and open source. You have permission to republish this article under a Creative Commons license with attribution to the author and AnonHQ.