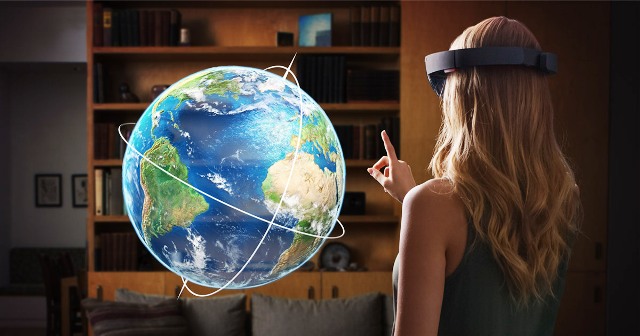 The most widely used operating system is Windows. Microsoft, the company that owns Windows, is now offering its own virtual reality unit. The company is allowing developers to pre-register for the 'HoloLens', a new augmented reality hardware unit.
At the moment, the corporation provides HoloLens to application designers aiming to improve programs for its unique environment. Eager programmers will need to spend $3000 USD for every unit they order, which truly is a large amount. The other tech standards of HoloLens provides us with a bit of guidance when assessing what is within this virtual reality set. The Microsoft HoloLens runs a 32-bit Intel central processing unit and a specialized Microsoft optics control system, which treats data from several detectors.
In reality, the directory of HoloLens' receptors is quite awesome: the unit has a two-megapixel camera, a set of measurement units – i.e. accelerometers, gyroscopes as well as magnetometer – a one-depth lens, four-atmosphere learning lenses, a set of microphones, and background light detectors. The virtual reality head-set is not fed on any indicators or additional cameras that measure motion, instead, it works with an innovative collection of hardware that is amazingly installed on the inside of the unit. Due to its receptors and fundamental programming, the HoloLens can keep track of eye movements and comprehend gestures and vocal instructions.
A demonstration of #Microsoft #HoloLens – imagine watching #SuperBowl in this….https://t.co/mbSslsdHHA

— Anon.Dos (@AnonDos_AnonHQ) March 10, 2016
Below are the detailed specifications of the device, as outlined by Microsoft:-
The Lens
1) See-through Holographic Lenses
2) 2 HD 16:9 light engines
3) Automatic pupillary distance calibration
4) Holographic Resolution: 2.3M total light points
5) Holographic Density: more than 2.5k radiants (light points for every radian)
The Detectors
1) 1 IMU
2) 4 environment understanding cameras
3) 1 depth camera
4) 1 2MP photo / HD video camera
5) Mixed reality capture
6) 4 microphones
7) 1 ambient light sensor
8) Human Understanding
9) Spatial sound
10) Gaze tracking
11) Gesture input
12) Voice support
Input / Output / Connectivity
1) Built-in speakers
2) Audio 3.5mm jack
3) Volume up/down
4) Brightness up/down
5) Power button
6) Battery status LEDs
7) Wi-Fi 802.11ac
8) Micro USB 2.0
9) Bluetooth 4.1 LE
Power Units
1) Battery life
2) 2 to 3 hours of live usage
3) 14 days of standby time
4) Completely functional when charging
5) Passively cooled (no fans)
The Brain
1) Intel 32 bit architecture
2) Specially-built Microsoft Holo Graphic Processing Unit (HPU 1.0)
Weight Of The Device
The product weighs 579 grams out of the box.
Built-In Memory
1) 64GB Flash
2) 2GB RAM
Hardware & Units In The Box
1) HoloLens Development Edition
2) Clicker
3) Carrying Case
4) Charger & Cable
5) Micro Fiber Cloth
6) Nose Pads
7) Over-Head Strap
Operating System & Applications
1) Windows 10
2) Windows Store
Tools Required For Development of HoloLens
1) Windows 10 PC
2) Visual Studio 2015
3) Unity
THE RELEASE DATE FOR THIS PRODUCT IS THE 30TH MARCH 2016. YOU CAN CLICK HERE TO VISIT THE PAGE AND ORDER YOUR DEVELOPER SET—that's if they aren't out of stock.
Source: FossByte, Microsoft Holo Lens Hardware Details
---
You want to support Anonymous Independent & Investigative News? Please, follow us on Twitter: Follow @AnonymousNewsHQ
---
This Article (Microsoft's HoloLens Is Going To Take The World To A Whole New Level) is free and open source. You have permission to republish this article under a Creative Commons license with attribution to the author and AnonHQ.com.