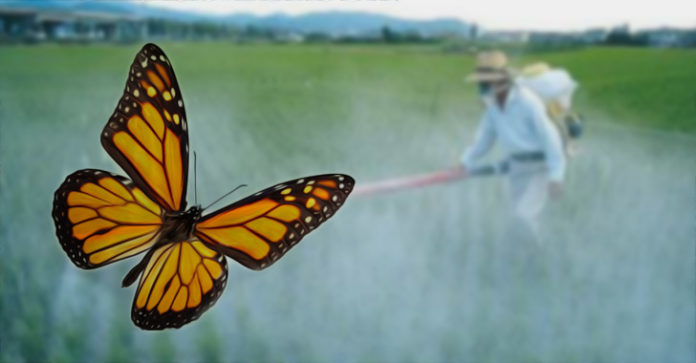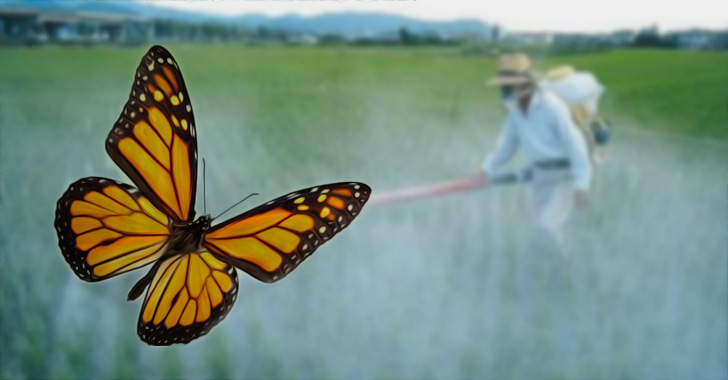 Written by: Josh Paniagua at theantimedia.org
The degrading monarch butterfly population in the United States hasn't necessarily been a secret. Yet there appears to be broad lack of concern amongst the people.
The U.S. Fish and Wildlife Service has revealed that in recent years, the monarch butterfly population has declined 90% from a recorded population of 1 billion in 1996. Sure enough, Fish and Wildlife attributes these declining numbers to climate change, crop conversion, and you guessed it, agricultural practices, particularly the use of herbicides like Monsanto's infamous Roundup.
Monarch butterflies rely on milkweed for survival, as it is the butterfly's primary food source. Milkweed also serves as a host to monarch larvae which consumes the plant upon hatching. Roundup, being a weed killer, inevitably kills off milkweed, inhibiting food sources and depriving monarchs of a crucial element in their lifecycle.
In light of these discoveries, the U.S. Fish and Wildlife Service has decided to collaborate with the National Wildlife Federation and organize a conservation fund. An excerpt from the Fish and Wildlife press statementreads:
"We can save the monarch butterfly in North America, but only if we act quickly and together. And that is why we are excited to be working with the National Wildlife Federation and National Fish and Wildlife Foundation to engage Americans everywhere, from schools and community groups to corporations and governments, in protecting and restoring habitat. Together we can create oases for monarchs in communities across the country."
"Known for its beautiful orange color, fascinating life cycle and remarkable annual migration, the monarch butterfly is the most iconic butterfly in North America," U.S. Senator Amy Klobuchar said. "With the butterfly rapidly disappearing, I am pleased to see the Fish and Wildlife Service taking positive steps to reverse its decline. We must build on this momentum, and I will continue to call on the public and private sectors to join together in the effort to protect the monarch butterfly."
The main path of action here seems to be to plant milkweed and nectar plants on a widespread level to restore the monarch's food supply. Fish and Wildlife Service says that they plan to spend around $2 million on revitalizing 200,000 acres of monarch habitat and invest in over 750 schools to build pollinator gardens.
"If we all work together — individuals, communities, farmers, land managers, and local, state, and federal agencies — we can ensure that every American child has a chance to experience amazing monarchs in their backyards," says Collin O'Mara, President and CEO of the National Wildlife Federation.
Obviously, the monarch butterfly is more than just pretty colors. While it is toxic, monarchs, their larvae, and their eggs are food for several species of bird, rats, and insects. The press release issued by the Fish and Wildlife Service has made it clear that the monarch acts as even more than just food and eye candy.
"Spectacular as it is, protecting the monarch is not just about saving one species. The monarch serves as an indicator of the health of pollinators and the American landscape. Monarch declines are symptomatic of environmental problems that pose risks to our food supply, the spectacular natural places that help define our national identity, and our own health. Conserving and connecting habitat for monarchs will benefit other plants, animals and important insect and avian pollinators."
In other words, declining monarch populations may imply declining quality in habitat. It seems some people forget this, but we live on earth just as much as animals and insects do. If their environment is deteriorating, that means our environment is deteriorating. When we talk about things like "degrading monarch habitat" or the damaging of some other animals' habitat or population, it almost appears that some people forget that we share the earth with all of these struggling species and environments.
You can find out more about the crisis monarchs (we) are facing and how to lend a hand here.