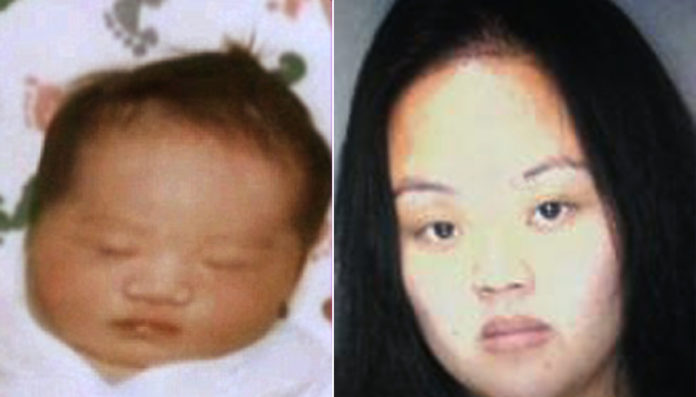 Ka Yang, a 34-year-old mother in California, has been sentenced to 26 years in prison for microwaving her six-week-old daughter, Mirabelle Thao-Lo, to death in March 2011.
Yang had initially claimed she had lost consciousness while holding Mirabelle and had woken to find her next to a space heater. She then changed her story and told detectives she had an epileptic seizure when she put Mirabelle in the microwave. Prosecutors said Mirabelle had been in the microwave for between two-and-a-half and five minutes. She was found with 60 to 80% burns, and radiation marks on her internal organs. Mirabelle's pacifier was discovered in the microwave.
This is what has happened to mankind…. The devil has overpowered the mind and hearts so much that a mother can even do such a thing to her own child!!!!

Posted by Khan Ibnkhan on Tuesday, December 22, 2015
In November, Yang, a resident of Sacramento, was convicted of first-degree murder and a second count of assault on a child causing great bodily injury leading to death, but pleaded not guilty to the charges. Yang's defense counsel, Linda Parisi, blamed Yang's long-standing battle with epilepsy for her daughter's horrific death. "There is no history of child abuse. She has no criminal history."
Her lawyers told the court that the mother had had an epileptic seizure when the murder took place, so she did not realize what she was doing. Yang did have a history of epileptic seizures; however, when paramedics arrived at the scene, Yang was not disoriented.
When detectives pointed out inconsistencies in her story, Yang acknowledged she lied and said she might have a split personality. Lao Paochoua Thao, a Yang family spokesman, described her as a "gentle, nice woman" who would not have intentionally harmed her child. "She didn't know what she was doing. Her real mind was out of reality."
Mother microwaves her baby. What is the world coming to? This is truly a tragedy. http://t.co/2cIpUjVHKc

— Da Crossover (@DaCrossover) September 25, 2013
Yang has three sons that are under the age of 10; they are currently staying with family members.
---
This Article (Mother Sentenced To Life In Prison After Cooking 6-Week Old Baby In Microwave) is free and open source. You have permission to republish this article under a Creative Commons license with attribution to the author and AnonHQ.com.