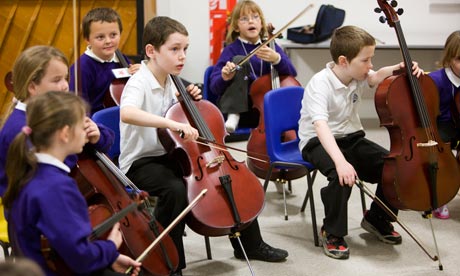 Various studies have been conducted that demonstrate the impact music has on the brain and how it is of benefit to the mind. It helps to better verbal IQ and is also known to shift states of consciousness, which helps to initiate active responses that can manifest both physically and mentally. So, knowing all this, why is it that music education is the first program to be cut off the school budget? It is terribly senseless, especially when you consider the immense benefits and positive effect that it has on children.
Schools have either started to charge extra fees for music education, or they have completely done away with the music department. It appears that the budget cuts aren't determined by the financial condition of individual schools, but rather the financial status of the state in which it is located. In the US, Georgia, Texas, and California are the states most affected by this.
Countless musicians and professionals recount their childhood years at school as being the most influential to them. They consider this time significant to their musicianship as their skills flourished the most during this fundamental period. This seems to have also helped to set the tone for their growth and potential. These types of continuous testimonials from skilled musicians of all kinds is precisely why it is so critical that music departments across the country stay intact and remain a primary part of education.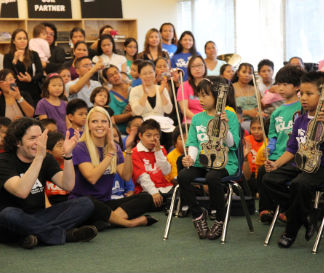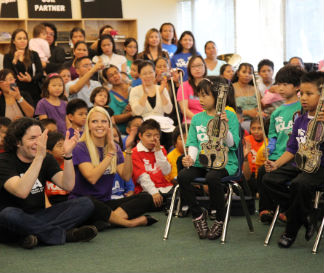 The US government is always touting that they support education, while they squander taxpayers money on useless activities. Children aren't getting high quality education in public schools and denying them music education signifies the deteriorating education standards in the country. Disappointingly, statistics rank the US as 26th in world for education. Although there are a vast number of national organizations, including government organizations, who have acknowledged how beneficial music education is, it still lacks the respect of school boards across the nation and continues to be perceived as an expendable program when school budgets get tight.
What children miss out on most in a musically reduced or even barren environment, are the musical experiences that music education brings them. It's the loss of music that will matter. The biggest loss may simply be the chance to participate, in a guided way, with music — to learn how music is made, to try making music, to learn about the infinite ways that music comes to us and to learn about music's connections to events and eras of our history.[1]
A survey by the Congressional Research Service, a non-partisan division of the Library of Congress, summarizes: "Expresses the sense of the Congress that: (1) music education enhances intellectual development and enriches the academic environment for children of all ages; and (2) music educators greatly contribute to the artistic, intellectual, and social development of children, and play a key role in helping children to succeed in school."
Apart from this, a resolution of the State Senate ( H. Con. Res. 266) makes the following acknowledgement: "Students who participate in school band or orchestra have the lowest levels of current and lifelong use of alcohol, tobacco, and illicit drugs among any group."
Statistics are also showing the positive effects music education can have on the overall academic achievements of school students, as a 1988 National Education Longitudinal Study states: "High school music students have been shown to hold higher grade point averages (GPA) than non-musicians in the same schools."
Music education advocates are working overtime to prevent budget cuts and spread awareness. Advocates, Alec Damiano and Anastasia Landeros, collaborated on an amazing documentary film entitled "Listen" that explores the neglect of music education in the state of Arizona. It begins with a quote by Plato, related to the importance of music education:
"I would teach children music, physics and philosophy;
But most importantly music,
for the patterns in music are the keys to learning." [2]
Music is a beautiful form of art which has clearly been shown as a developmental tool for young adults. It certainly deserves a permanent place in education all over the world.
SOURCES:
[1] http://www.pbs.org/wnet/tavissmiley/tsr/dudamel-conducting-a-life/the-consequences-of-curtailing-music-education/
[2]http://theantimedia.org/music-ed-continues-to-be-a-primary-budget-cut-for-schools/
---
You want to discuss a certain topic with likeminded people or you want to organize a local protest or you have an idea for a project that can help people in need in your local community or all around the world? Join our forum! www.anonboards.com
---
You want to support Anonymous Independent & Investigative News? Please, follow us on Twitter: Follow @AnonymousNewsHQ
---