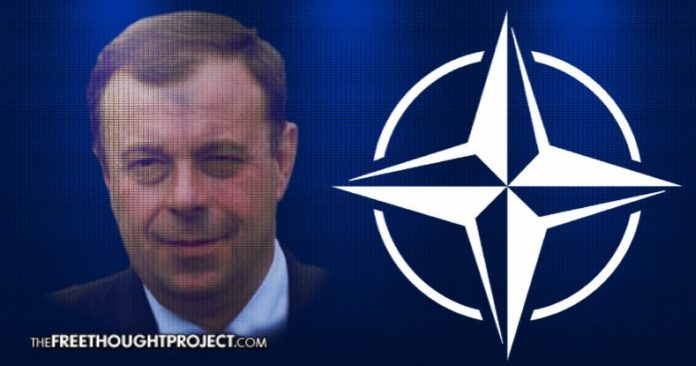 Belgium — Yves Chandelon, NATO Auditor General, was found dead — by gunshot to the head — in the Belgian city of Andenne last Friday.
Authorities are calling the death a suicide, but Chandelon's family is reportedly vehemently disputing that assessment.
Although information remains scarce, there are troubling details suggesting Chandelon indeed might not have taken his own life.
For one thing, the NATO auditor, who was apparently tasked with "counteraction against terrorism financing issues," according to News.am, was found over 62 miles from Lens, the city where he lived — and nearly 87 miles from his place of work in Luxembourg.
Chandelon also owned three registered firearms, but an unregistered weapon was discovered near his body.
Further, Belgian press reports, Chandelon "had mentioned to his entourage, he thought he had been followed and had received 'strange' calls."
SudInfo.be reports the man's family has a number of unanswered questions surrounding the strange death, asking, "Did Yves Chandelon have any enemies? Was he threatened in the course of his work in NATO? Was it an odious crime made up in suicide, or did the man go through a troubled period?"
Belgian media also reports in the days before his suspicious death, Chandelon "felt threatened," and that the duties of his job would have required him to deal with money laundering and issues related to terrorism — "A profile likely to expose Chandelon to danger."
Indeed several NATO allies — and, glaringly, NATO member nation Turkey — have been exposed for directly funding terrorist groups; most notoriously, the self-titled Islamic State.
Incidentally, Russian Ambassador to Turkey Andrey Karlov was assassinated this week in Ankara, while giving a speech to a small group gathered in an art gallery — though the killer was shot dead by police shortly afterward, questions still surround the incident.
Mevlut Mert Altintas, the man who murdered Karlov, had been a Turkish police officer, until a recent purge by President Recep Tayyip Erdoğan of those sympathetic to political opposition believed by him to be behind a coup attempt this year.
Altintas reportedly began shouting about revenge for Aleppo — the recently-liberated Syrian city where Syrian government forces backed by Russia battled to expel all terrorist groups.
But some of those terrorist groups are backed by the U.S. and Turkey — and the United States even armed one of the largest faction of so-called moderate rebels as part of its attempt to depose Syrian President Bashar al-Assad.
As for the Islamic State, Turkey has been exposed for allowing the caliphate to transport stolen oil and other supplies into Syria — a fact ultimately admitted true by the U.S. — and an issue that has brought condemnation and rancor in the NATO ranks.
Virginia Senator Richard Black explained in an interview in January, as reported by RT,
"Virtually all arms, ammunition, equipment, supplies, jihadists, medical support – all of it comes from Turkey. Right now, ISIS sends 44,000 barrels of oil per day – stolen barrels, most of it from Syria – across the border into Turkey,' said Black. 'The State Department has publicly said that there's only a trickle of oil that gets into Turkey, but I have personally spoken to Kurdish activists … [who] observed hundreds of ISIS oil tankers carrying stolen Syrian oil into Turkey on a daily basis.'"
In fact, Black called the Islamic State a tool of the U.S., Saudi Arabia, and NATO earlier this month, saying, as RT reported,
"I think ISIS is often used as a tool between Turkey and the United States and as long as they are useful to one of those parties they are protected and when they are not useful they are not protected,' Black said, arguing that ISIS served as 'tool of Turkey, Saudi Arabia, Qatar, the United States and NATO forces…from the very beginning' of the conflict in Syria."
In addition to Karlov, and now, Chandelon, a third suspicious death also occurred within the span of one week, "Petr Polshikov, 56, was found with a bullet hole in his head after an unknown assailant fired at least two rounds at the senior civil servant," Russian media reported this week. Polshikov — who had been chief advisor to the Latin America department at the Russian ministry — was found in his Moscow home, however, and only hours after the assassination of Karlov.
Considering how dangerous dealing with the morass of shady political figures, terrorists, and ideologies would be for Chandelon, there are certainly other possibilities than suicide which might better explain what happened.
This is a developing story and will be updated with additional information if and when it becomes available. The article has been updated to reflect Chandelon was found last Friday, not Thursday.