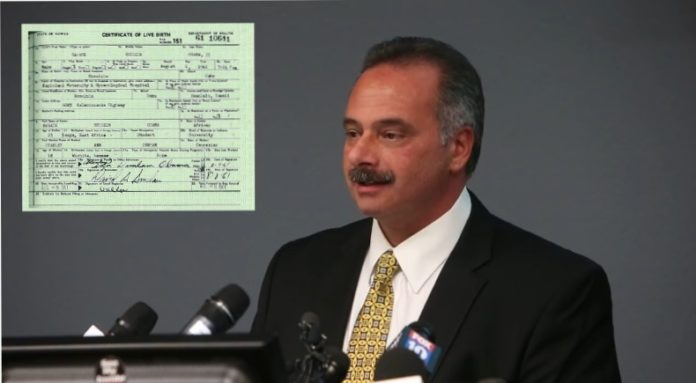 This isn't about whether Barack Obama's country of birth was the United States or somewhere else. This is about whether or not the birth certificate put forth by the government and Obama was indeed fraudulent.
Over the course of a 5 year investigation overseen by Maricopa County Sheriff Joe Arpaio and conducted by Mike Zullo, involving PhD graduates in 4 different labs, and other professionals, the birth certificate put forward by the government at the time, has been declared a fake.
Sheriff Joe Arpaio held a news conference on the 16th, aired live on Fox 10 to discuss his department's findings. You can view the entire segment below.
9 points of forgery were discovered; copied and pasted onto Barack Obama's birth certificate from a birth certificate belonging to a Johanna Ah' Nee. Both certificates came from Hawaii, 1961, just 16 days apart. The 9 points forged from the certificate belonging to Ah'Nee were pasted "digitally" onto the Obama document.
The 9 points of forgery include [mark 13:12]:
Section 6a Place of Birth, the city — Honolulu
Section 6b Place of Birth, the island — Oahu
Section 7b "Residence of Mother" — Oahu
Date stamp of document in Section 20 and 22
Section 6c – box crossed 'yes' to "Is Place of Birth Inside City or Town Limits?"
Section 7d – box crossed 'yes' to "Is Residence Inside City or Town Limits?"
Section 7g box crossed 'no' to "Is residence on a farm or plantation?"
The boxes in 6d and 7c where the cross marked 'yes' to the questions were also forged.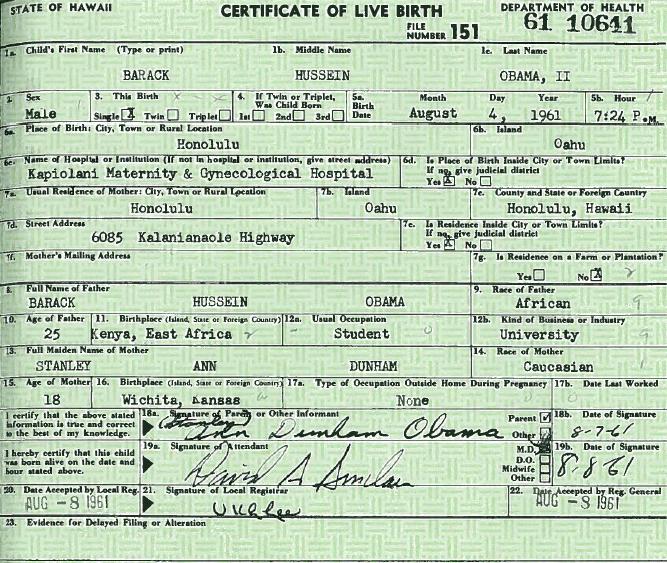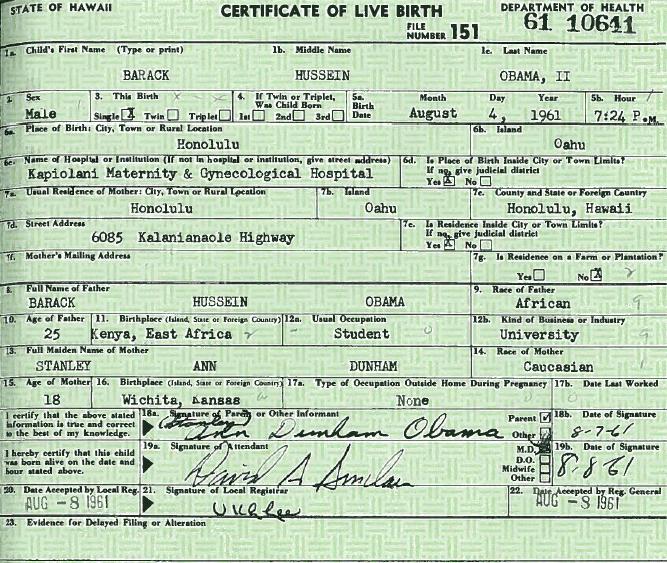 Two specialists from two different continents (Hawaii and Italy) with no knowledge of the other, assisted in the investigation, and both concluded very similar outcomes, resulting in the 9 points of forgery.
The date stamps  [mark 27:27 on the clip below] at the lower angle at the bottom of the documents suggest that it is highly probable that the document is a forgery. Coupled with the other points discovered, suggests that it is 100 percent a forgery because of the "textual juxta-positioning" relationship of certain words to each other on the document.
Reid Hayes, co-author of 5 books, a board member of the scientific association of forensic examiners, and a court qualified hand writing and document examiner with 40 years' experience, released this conclusion. "The Obama certificate of live birth posted on whitehouse.gov on April 27, 2011 is a fraudulently manufactured document. Evidence indicates that this certificate of live birth of Johanna Ah' Nee is one source utilized in the construction of the certificate of live birth … "the nail in the coffin" that provides the certificate of live birth is inauthentic…" In other words, it is a fraudulent document.
The intention was to clear the document, says self-confessed Republican, Zullo. But it wasn't to eventuate if he were to remain true to his discipline as an investigative officer, after evidence began to mount. 
Stonewalled by two places that could have cleared the issue up, Zullo was as much as thrown out by Kapalani medical centre as he was from the Department of Health in Hawaii, both avoiding the question of genuine verification of the contents of the birth certificate, not that there was simply a birth record on file. [mark 35:00 and 39:45].
Zullo was also clear that Johanna Ah' Nee is not a suspect; her birth certificate, according to her, had remained in a locked filing cabinet until 10 days after the Obama certificate surfaced online. [mark 40:05]
Falsifying a document like this is a federal offense. It is also speculated that the birth certificate was simply created – which can be done on face value, according to Hawaiian laws. All in all, the document is false, but the context and circumstances are still unknown. It disappeared and reappeared from the bound documents it belonged in, to the White House and back again. Zullo has more questions than answers – but the document is now proven by specialists in their field, on either side of the world, as fake.
Ironically, revisiting the laws of Hawaii, Zullo points out "Hawaii law says that the Department of Health in Hawaii must create a birth certificate merely on the representation from anyone that a birth has taken place. It doesn't tell you anything. Somebody just reported it." [mark 39:00]
There are ways to amend a certificate years later [mark 37.25], where the amended information becomes the real information in the file. And that there is no way to determine if it is an amended certificate.
It begs the question as to why this certificate was ever amended – or if it was created entirely. It is a federal offense. The Johanna Ah' Nee document is a source of the activity – it's a "safe bet." Technically, Obama should be impeached.
What is Obama, to this day – and the government – hiding?
It also begs the question: why hasn't this news gone viral?
.

Sources: Private sources, YouTube.
---
This article (Obama's Birth Certificate Investigation Concludes After 5 Years, Forensic Outcome: Certificate is Fake) is a free and open source. You have permission to republish this article under a Creative Commons license with attribution to the author AnonWatcher and AnonHQ.com.
---
Supporting Anonymous' Independent & Investigative News is important to us. Please, follow us on Twitter: Follow @AnonymousNewsHQ