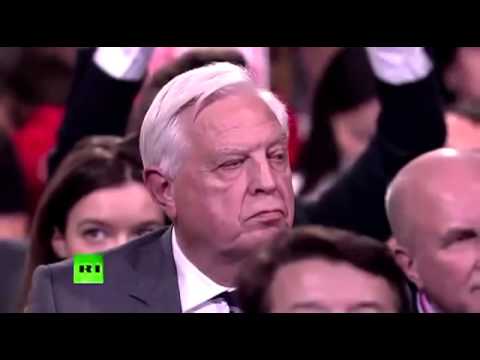 What happens when President Putin fields a question critical of his track record? Well, for one thing, he doesn't rely on a teleprompter, only answer pre-screened questions, or waffle about in legalese like SOME people.
JOHN SIMPSON, a veteran BBC reporter, launched into a long-winded Western-copy-paste "Russia-is-evil", diatribe disguised as a question:
Western countries almost universally now believe that there's a new Cold War and that you, frankly, have decided to create that. We see, almost daily, Russian aircraft taking sometimes quite dangerous maneuvers towards western airspace. That must be done on your orders; you're the Commander-in-Chief.
It must have been your orders that sent Russian troops into the territory of a sovereign country – Crimea first, and then whatever it is that's going on in Eastern Ukraine. Now you've got a big problem with the currency of Russia, and you're going to need help and support and understanding from outside countries, particularly from the West.
So can I say to you, can I ask you now, would you care to take this opportunity to say to people from the West that you have no desire to carry on with the new Cold War, and that you will do whatever you can to sort out the problems in Ukraine? Thank you!
Below is Putin's response:
Putin first tackles the journalist's allegation, that Putin was responsible for a Cold War atmosphere because he had ordered jets to fly near Western countries.
Putin stated that in fact, Russia had ceased such "strategic aviation"  since the 90s,  and had only restarted the flights 3 years ago… while the US had CONTINUED such aerial maneuvers near Russian borders… with bombers armed with nuclear weapons.
Who is the real provocateur? The bully who keeps punching you while you stay silent, goading you on, or that one time you retaliate and he pretends to have been mortally wounded?
Putin then speaks of how Russia only has two military bases abroad, one in Kyrgyzstan where Russia was invited by its authorities to set up a base after rebels trained in Afghanistan started trying to disrupt the nation.
The second base is located in Tajikistan, also bordering Afghanistan. Both countries were facing the "unplanned" spill-over of terrorism caused by the American war on "terror". From the rise of ISIS, we know that these two weaker nations could well have been quickly overrun by American-trained "moderate rebels".
"It is even in your [American] interests to know that everything is calm there," said Putin. Nope, and I reckon Putin knows full well that America's interests primarily involve fu***** up Russia's backyard.
The US on the other hand has bases all over the world.
Putin asks the BBC journo if he has no common sense… implying that Russia is the aggressor when the US is bringing nukes to Europe in a move that SHOULD bring to mind the Cuban missile crisis on a far grander scale.
At 50 billion USD, Russia's defense budget is also dwarfed by the 575 billion dollar American war machine. "Have you no common sense at all?" Putin again asks the journo.
Putin then points out that Russia is not massing its armies at the US's borders, or indeed any nation's borders- in fact, it is NATO that keeps moving its militarily hardware closer to Russia's borders.
Nobody asked Russia if it was OK with the constant buildup at its borders- there was no negotiation, and Russia was just told that each NATO country could do whatever it pleased when it came to security.
If that is the case- then why not Russia too?
There is also the Anti-Ballistic Missile Treaty, signed between the Soviet Union (and applied to Russia afterwards) and the US, that prevented either from building more than 200 anti-ballistic missiles. This was because Mutually Assured Destruction would keep both parties from nuking the other; for one side to suddenly gain the ability to shoot down all nukes, it would also simultaneously gain the ability to wipe out any other nation it chose with virtually no consequences.
The US had first proposed the treaty in 1967, and would withdraw from it in 2001, under George W. Bush. Ostentatiously, the US needed its anti-ballistic missiles to defend against a "rogue state". This would turn out to have been Russia all along, rather than the Al Qaeda/ ISIS/ basketball-shoe-wearing sword-wielding, cinematic-quality-beheading terrorist boogeyman.
Then there's the case of sanctions against Russia- illegal under the World Trade Organisation framework that Russia was a party of. Russia had opened up its economy to drive Western profits… yet now when the rules are inconvenient to US interests, it gets Russia sanctioned.
Putin left the journalist speechless, and the look of frozen rage on his face was telling indeed. At the end of his speech, Putin answered that Russia wanted to cooperate with Western powers against global threats like terrorism and Ebola.
Sources: Russia Insider
---
This Article ("Have You No Common Sense?" Putin DESTROYS BBC Journalist) is free and open source. You have permission to republish this article under a Creative Commons license with attribution to the author(CoNN) and AnonHQ.com.