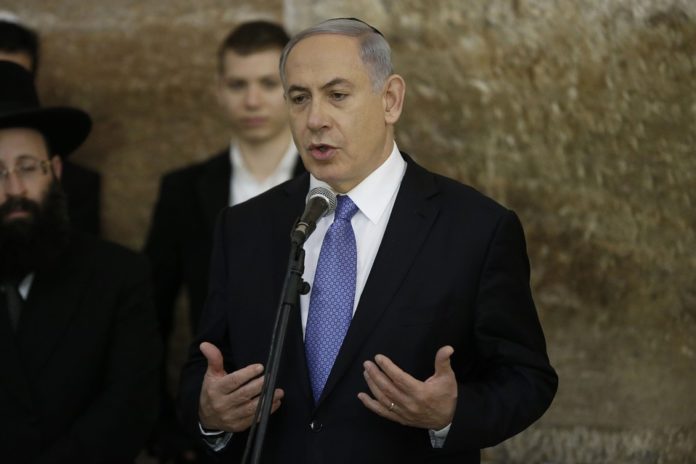 Netanyahu won the election, but his actions just prior are worth considering in order to properly understand the sort of person he is; in a bid to increase voter support, the Israeli Prime Minister Benjamin Netanyahu's last minute efforts to save his fledgling campaign for a historic fourth term have widened the rift between the United States and its long-standing ally in the Middle East.
In an interview with the Israeli news site NRG, Netanyahu officially ditched the "two-state" solution in the troubling Middle Eastern crisis. This statement comes as a shock to most Israelis, Americans and the international community who backed the peace plan of having a separate state.
"I think that anyone who is going to establish a Palestinian state today and evacuate lands, is giving attack grounds to the radical Islam against the state of Israel," he said. Asked by an interviewer if it was true that a Palestinian nation would never be formed while he's prime minister, Netanyahu replied, "Indeed."
"Anyone who is going to establish a Palestinian state, anyone who is going to evacuate territories today, is simply giving a base for attacks to the radical Islam against Israel," he said. "This is the true reality that was created here in the last few years."
Following Netanyahu's interview, chief Palestinian negotiator Saeb Erekat, who is also a member of the executive committee of the Palestine Liberation Organization, said the Israeli Prime Minister's stance is nothing new.
"Netanyahu has done everything possible to bury the two-state solution," he said. "Netanyahu's statement at the illegal settlement of Har Homa is a response to all those governments who tried to block Palestinian diplomatic initiatives. He couldn't have done that without counting on full impunity from the international community. Now the world must learn its lesson and understand that impunity won't bring peace, only justice will."
Netanyahu's comments come as polls showed his party trailing the more liberal Zionist Union coalition party. Why Netanyahu ended up winning in the end remains one of the great mysteries of life. Political analysts see this as an effort to appeal to pro-settlement voters who aren't too happy with the Netanyahu government, it is rather unfortunate that such blatant pandering actually worked. [1]
These comments have essentially, caused a rift between Israel and its American political allies at a time when differences of opinion between the two countries over negotiations to contain Iran's nuclear program and Netanyahu's recent address to Congress have already political political relations.
Now that he has won the elections, he seemingly attempted to mend ties with Washington by walking back a pre-election promise not to support a Palestinian state, but spokespeople in the White House and State Department did not express any sentiments welcoming Netanyahu's assurances that he continued to support a two-state solution to the Israeli-Palestinian conflict.
"Prime Minister Netanyahu was the prime minister three days ago as well," responded State Department Spokeswoman Jen Psaki to his Thursday assurances. "We believe he changed his position three days ago."
What seems to be a "vote tactic", has obviously tarnished Netanyahu's image.
Washington remains unimpressed by prime minister's claim that he still supports peace process, and calls comments about Arab vote 'a cynical tactic'.