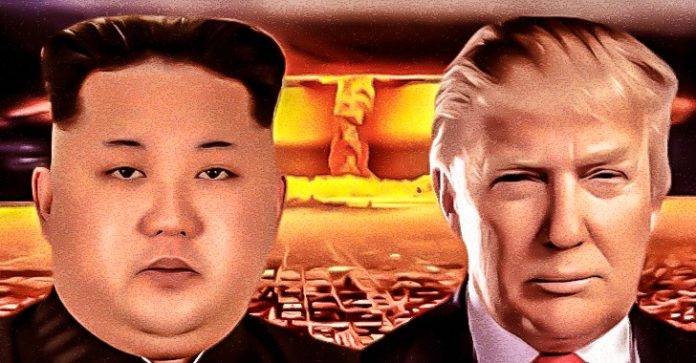 (COMMONDREAMS) The Trump administration has succeeded in ratcheting up tensions in the Korea Peninsula after dispatching a Navy strike group to the western Pacific Ocean and threatening a "pre-emptive strike" against North Korea if the country goes ahead with a nuclear bomb test.
In response to the Trump administration's saber-rattling, North Korea on Friday warned of a looming "thermonuclear war," threatening a pre-emptive strike of its own if the U.S. engages in "reckless" aggression.
In an exclusive interview with the Associated Press, Vice Minister Han Song Ryol said that "Pyongyang has determined the Trump administration is 'more vicious and more aggressive' than that of his predecessor, Barack Obama," AP writes. "He added that North Korea will keep building up its nuclear arsenal in 'quality and quantity' and said Pyongyang is ready to go to war if that's what Trump wants."
And in a statement attributed to the North Korean Foreign Ministry's Institute for Disarmament and Peace, officials also warned:
The U.S. introduces into the Korean peninsula, the world's biggest hotspot, huge nuclear strategic assets, seriously threatening peace and security of the peninsula and pushing the situation there to the brink of a war.

This has created a dangerous situation in which a thermonuclear war may break out any moment.
"We've got a powerful nuclear deterrent already in our hands, and we certainly will not keep our arms crossed in the face of a U.S. pre-emptive strike," Han told AP. "Whatever comes from the U.S., we will cope with it. We are fully prepared to handle it."
China, too, warned of imminent war on Friday, telling all sides to pull back or go down "an irreversible path."
Foreign policy experts, peace activists, and politicians are calling on the White House to recognize the grave danger posed by Trump's aggressive approach to North Korea.
As Peace Action said in a press statement late Thursday: "Yet again, the Trump administration appears to be threatening a preemptive war against North Korea. The mere threat of such an attack has already ratcheted up tensions in the Korean Peninsula. Following through on the threat could lead to all out war and give the invasion of Iraq a run for its money as one of the most catastrophic foreign policy decisions in U.S. history."
"When the inevitable retaliation comes, what form does it take?" the group added. "North Korea could fire artillery into South Korea, it could bombard U.S. military installations, or send troops streaming south across the border."
"Given that some of North Korea's nuclear warheads are likely to survive any U.S. strike, the worst case scenario is frankly terrifying," Peace Action said. "If President Trump were to authorize such a reckless strike, he'd be putting millions of South Koreans and the roughly 28,500 U.S. troops stationed there in immediate danger."
And while playing this dangerous game of brinkmanship with North Korea, Trump is enjoying his seventh trip to his golf resort in Palm Beach, Florida since becoming president—and this weekend, he's without any senior staff.
Trump's apparent disregard for the looming threat of nuclear war wasn't lost on observers:
No Trump senior staff are on Air Force One, and none are meeting him in Florida this Easter weekend, a White House aide tells @jeneps.

— Jennifer Jacobs (@JenniferJJacobs) April 13, 2017
While Trump is at Mar-a-Lago for a 3-day golf weekend, China warns war could break out at any moment in North Korea. https://t.co/L0rxIpXwSG

— Keith Boykin (@keithboykin) April 14, 2017
"Trump arrived for another weekend at his languid Florida resort on Thursday" via @Kevinliptakcnn https://t.co/4PachoU9wl

— Rebekah Metzler (@rebekahmetzler) April 14, 2017
by Nika Knight / Creative Commons / Common Dreams / Report a typo