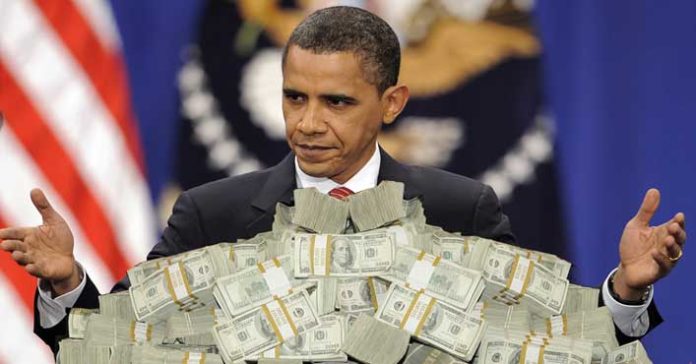 There is no doubt that former U.S. President Barack Obama is a close pal of bankers and corporate executives. In 2016, when Wikileaks released emails hacked from the account of John Podesta, it was revealed that the Wall Street bank giant, Citigroup, had actually submitted to the Obama campaign in 2008, a list of its preferred candidates for cabinet positions. Believe it or not, Obama took the list and made it his cabinet. Obama was a puppet of the bank over his presidency duration his entire eight years.
When Obama left the White House, the first time he and his wife were spotted publicly was in the British Virgin Islands. The couple was seen with the English billionaire Richard Branson. Branson owns two islands in the Virgin Islands: Necker and Moskito. The Obamas were ferried there in Branson's private jet to have a vacation.
Of course, Mr Obama is free to make friends with who he so desires. However, the kind of people he makes friends with gives us a clear indication of the kind of person he is: as the saying goes, 'show me your friend and I will tell you who you are.' No doubt, Obama continued the long tradition in the White House—handing America to the bankers and other business magnates.
It might interest you to know that the relationship between Obama and the bankers is far from over. Although Obama helped the bankers while in power, now the turn of the bankers has arrived to help him in a game commonly known as 'scratch my back and I'll scratch yours.'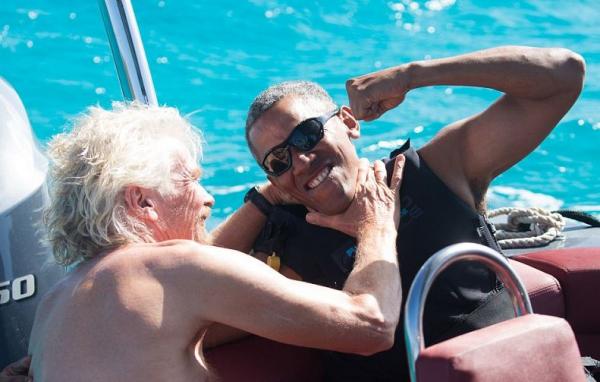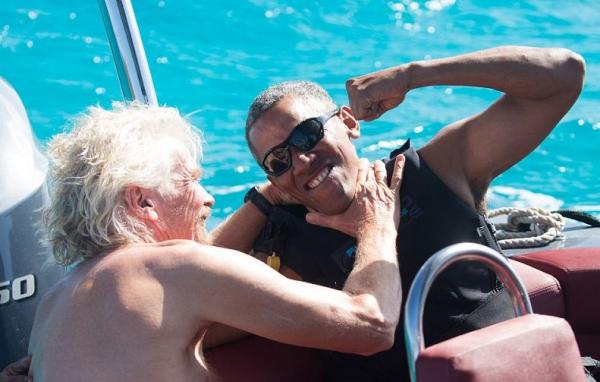 A new report has emerged that some Wall Street executives are offering Obama up to $400,000 to make a speech at a conference scheduled for September this year. The report was first made public by Fox Business Network, detailing that the former White House boss would appear at Cantor Fitzgerald LP's healthcare conference. Cantor Fitzgerald LP is a Wall Street financial service firm that specializes in institutional equity, fixed income sales and trading, among others.
Fox Business said it confirmed Obama's appearance at the conference with senior executives at Cantor. The unnamed sources at Cantor told Fox Business that Obama will serve as the keynote speaker during the event. Obama will appear only once to give the speech during the week-long event.
According to other sources, Obama has already signed a contract for the speech with Cantor. It is said the financial firm is only waiting to coordinate with Obama before making a formal announcement to the public about his appearance at the event.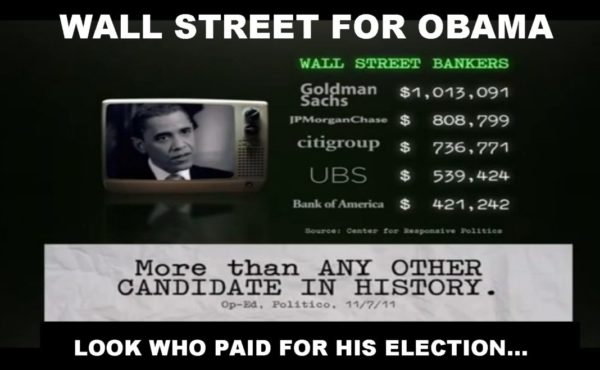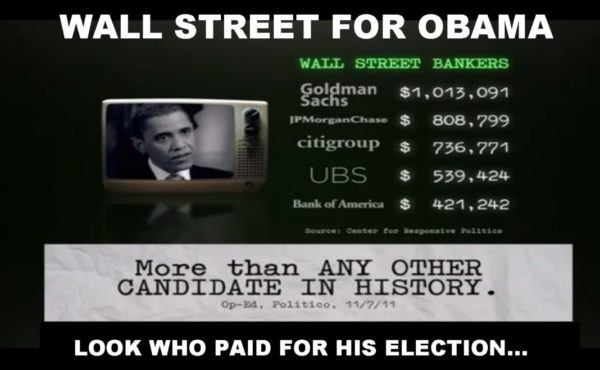 It was agreed in the contract that Obama can back out of the arrangement if scheduling conflicts or other concerns arise, according to the sources. To make a whopping $400,000 from a single speech is obviously an expensive business.
If Obama is able to make the speech, it would rank him nearly twice the price of Hillary Clinton; the 2016 Democratic Presidential nominee who is also paid for such activities. This shows how these politicians are in cahoots with big corporations.
Before the presidential election in 2016, it was revealed that the Clintons combined to earn more than $153 million from paid speeches in 2001 through to until Hillary launched her presidential campaign in 2016.
In total, Bill and Hillary gave 729 speeches from February 2001 until May 2016, receiving an average payday of $210,795 for each address. The two also reported at least $7.7 million for at least 39 speeches to big banks, including Goldman Sachs and UBS. Hillary alone made at least $1.8 million for around eight speeches to these big banks.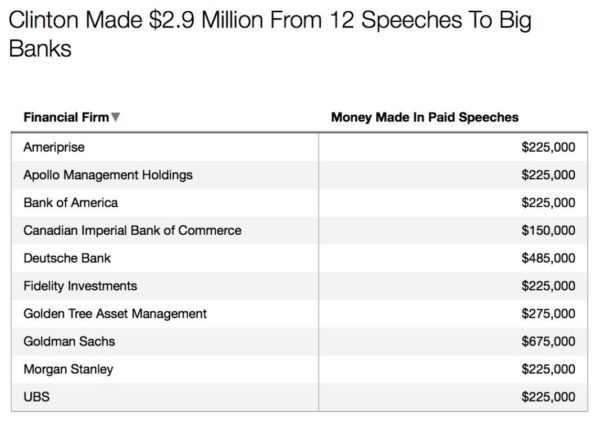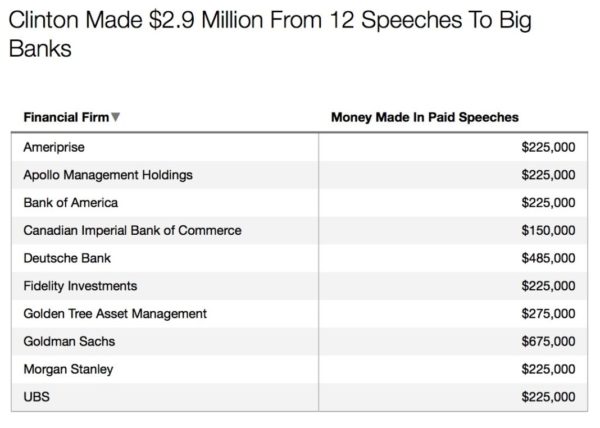 In fact, this was even an analysis made by CNN, an outlet that backed Hillary over Bernie Sanders during the Democratic Party's primaries. The outlet also supported Hillary during the presidential contest.
American politics is undoubtedly tied to the banks. The bankers run the show in the country. During the financial crisis, while Iceland was bold enough to jail their bankers, back in the U.S, scarce taxpayers' monies were used to bailout the bankers. The bankers control Capitol Hill. This is the bitter truth we must endure.
---
This article (Obama to Earn Whopping $400,000 from a Single Speech to Wall Street Executives) is a free and open source. You have permission to republish this article under a Creative Commons license with attribution to the author and AnonHQ.com.
---
Supporting Anonymous' Independent & Investigative News is important to us. Please, follow us on Twitter: Follow @AnonymousNewsHQ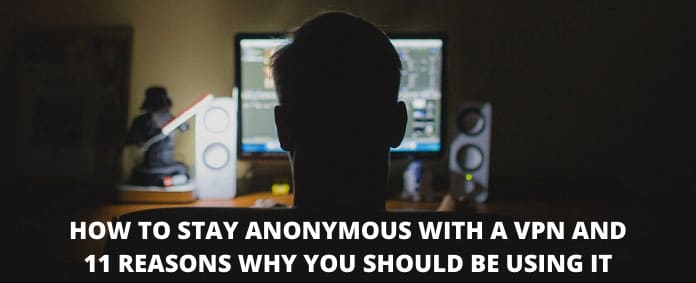 Get Your Anonymous T-Shirt / Sweatshirt / Hoodie / Tanktop, Smartphone or Tablet Cover or Mug In Our
Spreadshirt Shop
!
Click Here
Remove all ads by clicking here
" target="_blank">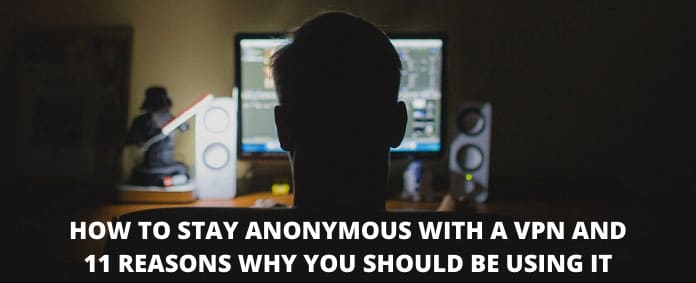 Get Your Anonymous T-Shirt / Sweatshirt / Hoodie / Tanktop, Smartphone or Tablet Cover or Mug In Our
Spreadshirt Shop
!
Click Here
Remove all ads by clicking here
[/eaa_ads]