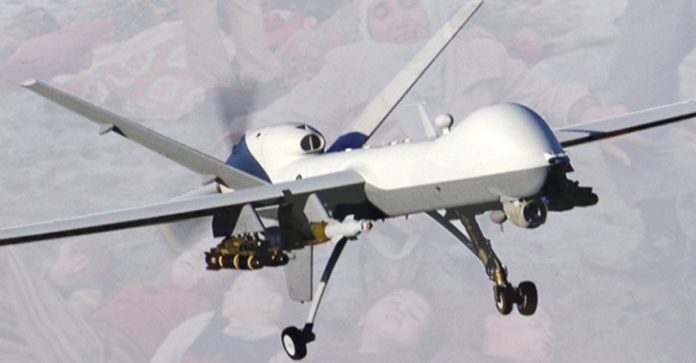 By Claire Bernish at theantimedia.org
United States — Obama's drones have 'officially' killed more innocent people than mass shooters — despite paranoia surrounding gun control and propaganda about unhinged loose cannons shooting civilians en masse.
According to President Obama's administration — in a years-in-the-making report — drones used in military combat overseas killed between 64 and 116 civilians between 2009 and the close of 2015 — almost certainly a paltry representation of the true total, considering accurate record-keeping remains a near impossibility.
But the voluntary disclosure, praised by some human rights advocates, nonetheless proffers an official U.S. tally for innocent lives lost in various geopolitical melanges.
"It's hard to credit this death count, which is lower than all independent assessments," director of the ACLU's National Security Project, Hina Shamsi, told the Intercept.
Indeed, as Ryan Devereaux pointed out:
"Organizations such as the Long War Journal, the New America Foundation, and the Bureau for Investigative Journalism estimate that at least 200 and as many as 1,000 civilians have been killed by American drone strikes in nations where the U.S. is not at war since Obama took office. The administration offered no individual accounts to explain where its numbers came from, or who the civilian casualties were."
As the Guardian summarized, "Between 2009 and 31 December 2015, the administration claimed that it launched 473 strikes, mostly with drones, that killed between what it said were 2,372 and 2,581 terrorist 'combatants.'"
Assessing the true number of civilians killed during combat operations can be a matter of interpretation — to an extent. But lowballing estimates already widely considered conservative typifies the severe curtailment of transparency the public has come to expect from the government Obama once aggrandized as "the most transparent administration in history."
For all that pellucidity, Obama's drone assessment went public immediately prior to the July 4th holiday weekend — as if it were hoped no one would notice — complete with a number of glaring flaws.
"In releasing only aggregate figures that did not include when or where the strikes occurred, the administration shielded those claims from meaningful public scrutiny, even as it sought to bolster its own assertions about the accuracy and effectiveness of the operations," the Washington Post keenly explained.
To wit, in explaining how the administration arrived at its altogether opaque numbers, a vague descriptiondevoid of any meaningful analysis left many scratching their heads:
"The information that was provided to the [Director of National Intelligence] regarding combatant and noncombatant deaths is the result of processes that include careful reviews of all strikes after they are conducted to assess the effectiveness of operations. These review processes have evolved over time to ensure that they incorporate the best available all-source intelligence, media reporting, and other information and may result in reassessments of strikes if new information becomes available that alters the original judgment."
In comparison to this exercise in semantics gymnastics and its dubious underestimation of innocents killed, a count of those killed in mass shootings in the U.S., compiled by the Los Angeles Times last month and noted byRare, offers telling insight into Obama's drone program — if you overlook the administration's laughable figures.
According to the Times, 168 people have perished at the hands of mass shooters between 1984 and the end of 2015 — 218 when including the 2016 massacre at Pulse nightclub in Orlando. Both figures massively undercut the up-to 1,000 — and likely far more — civilians killed by drones in the aforementioned conservative estimates noted by the Intercept. This means Obama's drone program abroad, when looking at independent estimates, has killed up to 500 percent more innocent people than mass shootings in the United States.
In these times of hot tempers and the seeming imperative need by many to swiftly assign blame, it's necessary to emphasize this article isn't intended to condone wanton violence — no matter who perpetrates it. Nor does this article seek to condemn guns or call for any measure of gun control.
But what must be noted are the lengths the government goes to in order to obfuscate exactly how deadly its drone warfare program can be — treating innocent lives as meaningless through statistical legerdemain for the sole purpose of justifying its continuance — while simultaneously posturing about gun violence at home.
This is heightened hypocrisy at its finest. And we would expect nothing less.
---
This article (Obama's Civilian Drone Death Count up to 500% Higher Than US Mass Shootings) is free and open source. You have permission to republish this article under a Creative Commons license with attribution to Claire Bernish andtheAntiMedia.org. Anti-Media Radio airs weeknights at 11pm Eastern/8pm Pacific. If you spot a typo, email[email protected].