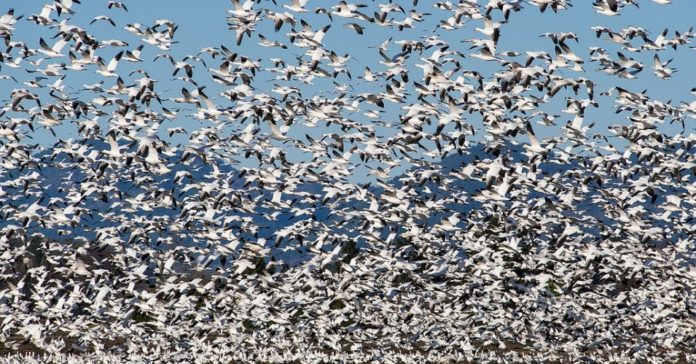 The Berkeley Pit is one of the most toxic bodies of water in the United States.
Thousands of snow geese have been killed by the toxic waters of the Berkeley Pit, a flooded former copper mine in Butte, Montana that is one of the most poisonous and acidic bodies of water in the United States.
Unusually warm weather led the flock—tens of thousands of geese—to migrate south from Canada to the American Southwest later than usual, and they ran into a snow storm in Montana. The only open water in the area on which they could land was that contained in the Berkeley Pit.
The geese landed in the pit, whose water is contaminated with arsenic, cadmium, cobalt, copper, iron, and zinc, in late November. The heavy metal contamination has resulted in water so acidic that the organisms able to survive within the pit are the objects of scientific study. Thousands of birds did not survive after touching down on the red-tinged toxic waste.
The Washington Post reports:
Roughly 10,000 geese landed in the Berkeley Pit at the end of November, turning the water "white with birds," said a mine official with Montana Resources, which jointly manages the pit with the Atlantic Richfield Company, to the Montana Standard. On Tuesday, investigators could not give an exact measure of how high the death toll would go. But a preliminary estimate, via drone and flyover counts, found thousands of dead birds.

"I can't underscore enough how many birds were in the Butte area that night," Mark Thompson, a Montana Resources [mining company] environmental affairs manager, said to the Associated Press. "Numbers beyond anything we've ever experienced in our 21 years of monitoring by several orders of magnitude."
The factors involved were likely a result of climate change, according to Montana Audubon Society executive director Steve Hoffman. Hoffman told the Montana Standard that "with a warmer fall, many birds, including those swimming in the Berkeley Pit water, are migrating later than usual."
"Thompson said federal and state agencies were still confirming the number of dead geese," AP notes. "Nonetheless the company expected the total would be many times more than the 342 that died in 1995, prompting a mitigation effort that seeks to protect birds from the toxic water."
Montana Resources, the mining company, will face fines if the Environmental Protection Agency (EPA) finds that its efforts to keep the birds away from the mine were not in compliance with regulatory standards.