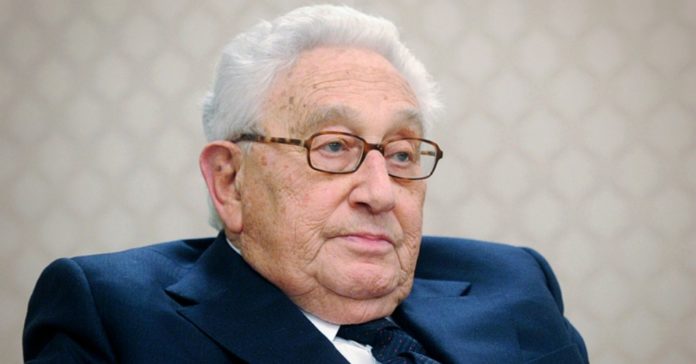 The Nobel Peace Prize committee last month stunned many observers by choosing Henry Kissinger—the former secretary of state behind the secret American bombing of Cambodia and who supported Argentina's "dirty wars," among other things—to  speak at a forum on "The United States and World Peace after the Presidential Election."
In response, on Tuesday the progressive groups RootsAction and Nobel Peace Prize Watch issued a petition demanding that Norwegian officials arrest Kissinger.
"The Nobel Committee has arranged for well-known war mastermind Henry Kissinger to speak as an honored guest at a forum that is part of the Nobel Peace Prize events," the petition states. "Several of Kissinger's crimes come under treaties that make it mandatory for Norway to prosecute. Kissinger is complicit or a main actor in many violations of the Genocide Convention and of the Geneva Conventions."
Nobel Peace Prize Watch lays out Kissinger's actions (pdf) in great detail, making the case that Norway is obligated under international law to arrest the former secretary of state.
Kissinger was infamously awarded the Nobel Peace Prize in 1973 for his role in the Vietnam war—a decision that comedian Tom Lehrer said "made political satire obsolete."
Zbigniew Brzezinski, former National Security Advisor under Jimmy Carter, is also scheduled to speak at the Oslo forum, which will take place on December 11. Jan Oberg of the Transnational Foundation for Peace and Future Research condemned the Nobel committee's decision to honor the two former U.S. officials:
These two experts on warfare and interventionism will—Orwellian style—speak about "The United States and World Peace after the Presidential Election."

This is the country that, since 1980, has intervened violently in Iran, Libya, Lebanon, Kuwait, Iraq, Somalia, Bosnia, Afghanistan, Sudan, Kosova/Serbia, Yemen, Pakistan, Syria, i.e. 14 Muslim countries. It has some 630 base facilities in 130+ countries. It has its U.S. Special Forces (SOF) in 133 countries.

It has used nuclear weapons without apology and owns the second largest arsenal of nuclear weapons.

The U.S. stands for about 40 percent of the world's military expenditures, is the world's leading arms exporter and has killed more people than anybody else since 1945. It's the master of (imprecise) drone strikes. It presently supports Saudi Arabia's bestial war on Yemen and conducts a military build-up in Asia and the Pacific planning, as it seems, for what looks like a future confrontation with China. And not with terribly positive results in its Middle East policies since 1945.

So with all these credentials, please tell us about world peace!
And Nobel Peace Prize Watch further argues: "Millions of people, victims and survivors, will question or be seriously offended if Norway goes through with praise and honors to a person in the top ranks of the history of callous international state criminality. The suffering ordered or managed by Kissinger has led to increasing insecurity and violence for which all citizens of the world pay a high price."
This work is licensed under a Creative Commons Attribution-Share Alike 3.0 License