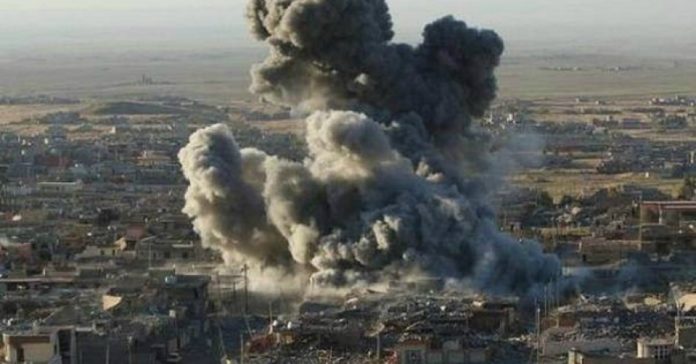 By Nadia Prupis at commondreams.org – Photo: Domenico/flickr/cc
The U.S. Pentagon has vastly under-reported civilian deaths from airstrikes in Iraq and Syria—by half.
According to new figures released Wednesday by U.S. Central Command (CENTCOM), 119 civilians died since bombing against the Islamic State (ISIS) began in 2014, an update that now includes an additional 64 deaths between November 2015 and September 2016.
Previously, CENTCOM only acknowledged 55 civilian deaths since airstrikes began. The new figures come after an internal investigation was launched into the bombing campaign after rights groups accused the U.S. military of "significantly underestimating" the toll on civilians and infrastructure.
Those groups, such as Amnesty International, have put the death count much higher, estimating that more than 1,700—and possibly over 2,500—civilians have been killed since 2014.
"The latest disclosure is in the right direction but we do not consider it to be adequate….None of the 11 incidents we examined carefully for our memo and found some 300 likely civilian casualties from them is included in the incidents here," Neil Sammonds, an Amnesty researcher on Syria, Lebanon, and Jordan, toldSputnik News on Thursday.
The latest report notably omits figures from a series of strikes in July in Manbij, Syria, which killed an estimated 500 civilians, including 56 deaths from a single bombing. At the time, the Pentagon claimed it believed the targets were members of the Islamic State (ISIS). Antiwar.comwrites:
Despite the Pentagon feeling the need to come up with excuses for the Manbij strikes at the time, they not only didn't include them in the final death toll, but didn't even hazard an attempt to mention the well-documented incidents in the document.
Sammonds similarly told Sputnik that the report provided no evidence how U.S. officials determined that the attacks were unlawful, stating, "The disclosure brings the overall acknowledged civilian deaths across both Iraq [and] Syria to be 119. As I said, from those 11 incidents alone we believe there were in the region of 300 civilians killed—[and] independent NGOs have documented at least 650 civilian killings in Syria alone. The actual, total figure is likely higher still."
The U.K.-based advocacy group Airwars, which tracks reports of civilian casualties, noted the timing of the report's release, writing on Twitter, "Pentagon just chose 4pm on day of the U.S. election results to admit 64 new civilian deaths in 24 casualty events in Iraq & Syria."
Pentagon just chose 4pm on day of the US election results to admit 64 new civilian deaths in 24 casualty events in Iraq & Syria. More soon pic.twitter.com/148rkBcSBv

— Airwars (@airwars) November 9, 2016
According to the Associated Press, as of Wednesday, CENTCOM received 257 allegations of airstrikes that caused "possible civilian casualties," and concluded that 76 of those warrant further investigation.
Of those 76, four were duplicates, the AP reported.
This work is licensed under a Creative Commons Attribution-Share Alike 3.0 License