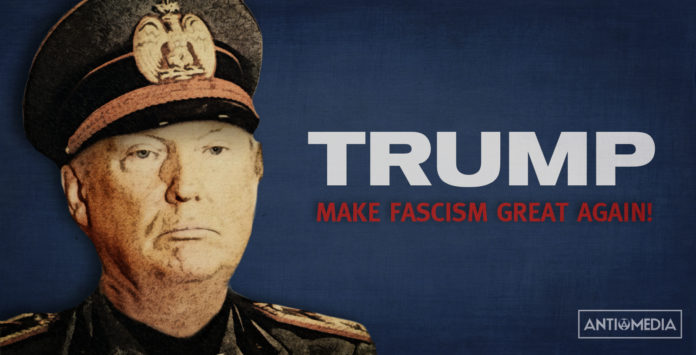 By Michaela Whitton at theantimedia.org
United Kingdom — A spectrum of MPs and community groups in the U.K. are arguing that anti-extremist legislation should be used to ban presidential hopeful Donald Trump if he tries to enter the country.
Appropriately named Trump — British slang for the expelling of wind from the anus — the politician called for a"total and complete shutdown of Muslims entering the U.S.,"  to a deafening round of whistling and applause from his disciples.
The most extreme tirade to roll off the Republican's tongue so far, has provoked outrage across the world and resulted in the top leadership of his own party referring to him as "unhinged."
As ripples of universal disgust spread, furious MPs and community leaders in Britain have condemned the billionaire's latest blunder. An online petition calling for a block on Trump entering the U.K. gained nearly 240,000 signatures in less than 48 hours, easily surpassing the threshold of 100,000 required for Parliament to address it.
The Independent reported U.K. Labour leader, Jeremy Corbyn, denouncing Trump's statements as "an attack on democratic values" and an "affront to common humanity."
While Scottish First Minister, Nicola Sturgeon, said, "Donald Trump's comments are obnoxious and offensive, and have rightly been condemned by people across the political spectrum."
Even the leader of right-wing United Kingdom Independence Party (UKIP), Nigel Farage, weighed in and slammed Trump's comments as "a political mistake too far."
Director of the British Future think-tank, Sunder Katwala, said, "Until Trump retracts these highly prejudiced comments, there is a good case for making clear he would be refused entry to the UK by the Home Secretary."
The Muslim Council of Britain stated, "We have been told that those who espouse hatred have no place in the UK. We expect the same rules to apply to [Mr Trump] if he tries to enter the UK."
Tory MP Sarah Wollaston said, "If he doesn't retract the comments, then it is reasonable to question whether there are grounds to ban him from the UK."
An outraged Aberdeen university that had once awarded Trump an honorary degree announced that it was"considering" whether to revoke it.
David Cameron, who is not immune from his own bigoted gaffs by referring to migrants as a "swarm," issued a lukewarm rebuke to Trump and described the leader's hate speech as "divisive, unhelpful and quite simply wrong."
In the States,  Executive Director of the Council of American-Islamic Relations, Nihad Awad, asserted, "Donald Trump sounds more like the leader of a lynch mob than of a great nation like ours."
Meanwhile, public disbelief at the absurdity of this guy running for President of the United States has been translated into a growing number of satire pieces to make light of the dark situation.
---
This article (Petition to Ban Trump From UK for Being an Extremist Goes Viral) is free and open source. You have permission to republish this article under a Creative Commons license with attribution to Michaela Whitton andtheAntiMedia.org. Anti-Media Radio airs weeknights at 11pm Eastern/8pm Pacific. If you spot a typo, email[email protected].