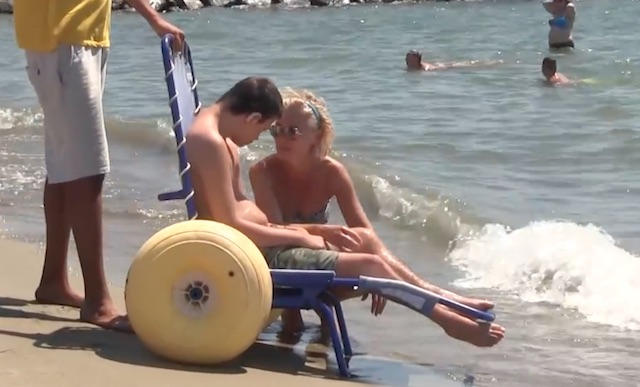 By Amanda Froelich at trueactivist.com
The portion of the Little Madonna beach in Italy is outfitted with boardwalks, ramps, and water vehicles so anyone who is disabled may have fun in the sun.
One can rarely turn on the television nowadays or open the 'News' tab on their smartphone without being bombarded by negative media. It's for this reason that last year, Pope Francis requested more news outlets cover positive happenings in the world rather than just focus on the negative ones. And, he's practicing what he preaches by instigating a number of heart-warming occurrences.
A recent one includes the Vatican agreeing to pay a year's worth of rent towards Work of Love, an organization that manages a private section of the Little Madonna beach in Italy. As CNN reports, the group has rented a portion of the beach since 2012 and outfitted it with boardwalks, ramps, and water vehicles so those who are disabled or in wheelchairs can have fun in the sun. According to Rev. Massimo Consolaro, the priest in charge of the group, hundreds of people with disabilities use the beach every year, and the numbers are rising.
A statement published by Work of Love relays that the news of the donation was received with "enthusiasm and astonishment." The papal almoner, Monseigneur Konrad Krajewski, disclosed to the press that Pope Francis gave the charity an undisclosed sum "to support the project that helps disabled youth and in particular to cover the cost of the annual rent for the beach known as the Little Madonna."
Work of Love made it clear that the charity is greatly appreciated, as the program is entirely run by volunteers. That includes medical personnel and helpers from the Italian Paralympic Swimming Federation. Located 17 miles south of Rome, the segment of the Madonna beach is described as a "beach without architectural or mental barriers, where everyone can enjoy the sea together." Thanks to the Vatican's generosity, it will remain open for a minimum of one more year.
What are your thoughts? Please comment below and share this news!