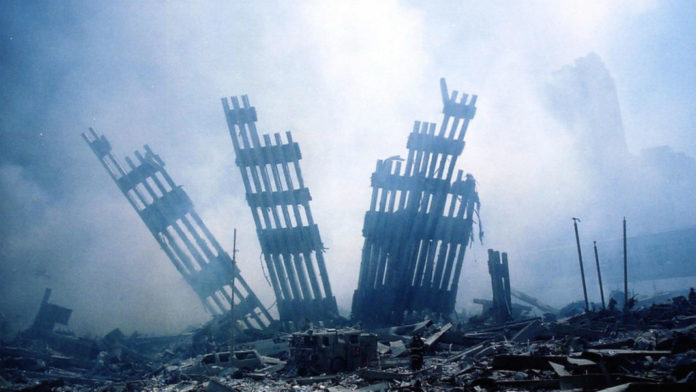 The historic event of the World Trade Center cannot be forgotten. A deliberate plane crash took the lives of 2,996 people on the 11th of September, 2001. It can't be forgotten also because of the 90,000 Afghan civilians – including women, children and babies – who have lost their lives in the name of America's 'justice'. The 'official' number of those who died because of indirect causes of the war are listed as more than 300,000; and because of this, not only is Afghanistan stressed as a nation, but its neighbours are also suffering from the justice America brought to the Pashtuns.
According to the Bush administration, the official events, and news that unravelled on 9/11, a plane colliding into the side of a hundred and ten storey building was enough to bring down the structure in less than 120 minutes.
Yet many experts and conspiracy theorists disagree with the methods that caused the Twin Towers to collapse, stating rather, that it appeared as though bombs had been laid within its foundations – and this is something the current President of the United States agrees upon.
Around the time of the event, an interview was conducted with one of the more prominent builders in New York – the current President Donald Trump – asking for his expert opinion on the events that took place that day.
Trump stated that the north tower of the World Trade Center was an extremely strong building. He further stated that "bombs exploding simultaneously" might have caused the collapse – that a plane being the sole cause was unlikely. President Trump further said the collapse had nothing to do with architectural problems. According to him, there were no architectural defects.
The current President of the United States then questioned how an aircraft could go through solid steel. To which again he argued that there was more to the story than just an aircraft hitting a building, as there was a hole in the steel indicative of bombs.
The sixteen-year-old interview of Donald Trump was uploaded to YouTube by Trump Commission, a pro-Trump group that is looking for answers from their leader.
Like many out there, the Trump Commission also believes that former President George Bush Jr. refused to tell the whole story to his nation.
Source: Minds, The Nation.
---
This article (President Trump Said Bombs Likely Used in 9/11 Twin Tower Collapse) is a free and open source. You have permission to republish this article under a Creative Commons license with attribution to the author and AnonHQ.com.
---
Supporting Anonymous' Independent & Investigative News is important to us. Please, follow us on Twitter: Follow @AnonymousNewsHQ