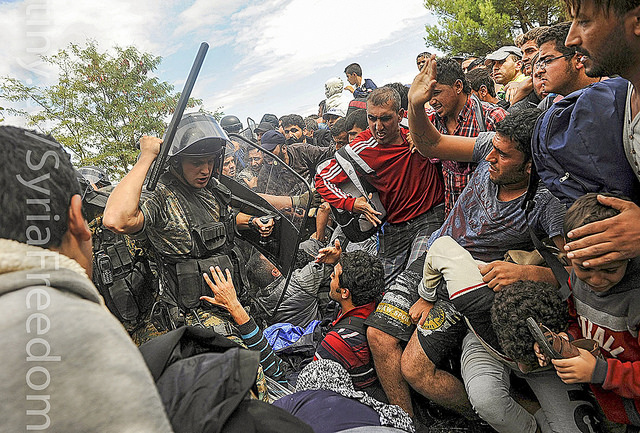 SKOPJE, Macedonia – Protests turned violent in the Macedonian capital of Skopje late Wednesday after the country's president  issued a pardon to 56 government and opposition figures involved in a wiretapping scandal.
According to the wiretaps, which were released in February 2015, many people with links to the government were involved in vote-rigging, misuse of state funds, manipulation of law courts and media and even a murder cover-up, among other alleged crimes. Conservative former prime minister Nikola Gruevski, his security chief, and several members of his cabinet, were among those that were pardoned for their alleged discrepancies.
Live in #Skopje: Police and protesters face-to-face as Macedonians rally against President's pardons. #протестирам pic.twitter.com/mps37k91hn

— Balkan Insight (@BalkanInsight) 13 April 2016
On Tuesday, Ivanov halted the work of the special prosecutor and pardoned those under investigation in an effort to "put an end to this agony."
"I am making an important step towards mutual reconciliation, [which] will help restore a normal political and democratic fight . . . based on a competition of ideas and results instead of mutual exhaustion and destruction," he said.

In response to Ivanov's decision, which comes ahead of early elections on June 5, some three thousand protesters took to the streets of Skopje to demand the resignation of President Gjorge Ivanov. Some protesters broke windows at the president's city centre office, took out items of furniture and attempted to burn them. The protesters, who also threw eggs and flares at the premises, then proceeded to break windows at the nearby Ministry of Justice, Reuters reports.
A number of people, including a journalist, were injured during the event and thirteen people have been detained by police.
Johannes Hahn, the EU commissioner for enlargement, said Mr Ivanov's actions "are not in line with my understanding of rule of law."
"In light of these developments, I have serious doubts if credible elections are still possible. Political leaders must know that the actions we have seen recently put the Euro-Atlantic future of their country seriously at risk."
Jess Baily, the US ambassador to Macedonia, said: "A blanket pardon without due process protects corrupt politicians and their associates. Let the SPO [special prosecutor's office] and courts do their jobs."
This news comes just days after Macedonian police fired rubber bullets and tear gas at protesters at the Idomeni border crossing. In recent months, the Idomeni border crossing has become a flashpoint for violence as thousands of stranded migrants attempt to continue their journey through the Greece-Macedonia border to northern Europe.
Nikos Toskas, the Greek minister for citizen protection has since declared that these desperate migrants are a threat to the country. "What you see today, are the jihadists of tomorrow," said Toskas, referring to the hundreds of young men attempting to tear down the fence and throw rock at police while chanting "Allahu Akhbar" (our god is greater than yours).
Radicals have long targeted migrants entering Europe—especially those who are without families—offering support to illegals in return for their allegiance. Although migrants entering Germany have been a primary target for radicals, Toskas fears that the recent Macedonia border restrictions could encourage future jihadists.
"The Salafists are trying to use the desperate situation refugees find themselves in for their own goals," said a spokesman for the Bavarian security service.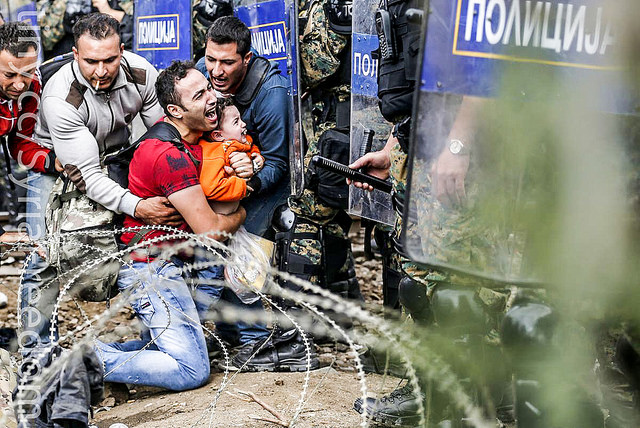 Since the border protests, police have denied using tear gas on their side of the border. "There are some incidents on the Greek side of the border. Greek police are using tear gas near the border with Macedonia. It is calm so far on the Macedonian side of the border," an official told AFP.
Many of the protesters had smeared toothpaste on their faces in an attempt to limit the effects of the tear gas, leading many to question where the migrants learnt such evasive measures. As these troubling events continue to unfold, the cloud of destruction, corruption and death continues to grow and spread across the country. We will keep you updated as this story develops.
Protesters are currently gathering for a third time, March 14th, on the streets of Skopje to demand the resignation of President Gjorge Ivanov and for the electoral roll to be cleared of fake voters. According to a live report from Balkan Insight, several thousand protesters are currently gathered outside Macedonia's parliament building.
The crown has reportedly diverted on it route to the police station—the protesters had initially set out to demand the release of the 13 protesters who were arrested during the demonstrations held on Wednesday evening—and are now making their way to the headquarters of the ruling VMRO-DPMNE party.
LIVE coverage of tonight's protests in #Skopje via our blog: https://t.co/9KCTfx00fW #протетирам #ProtestIvanov pic.twitter.com/bwFvuFPD8m

— Balkan Insight (@BalkanInsight) 14 April 2016
---
You want to support Anonymous Independent & Investigative News? Please, follow us on Twitter: Follow @AnonymousNewsHQ
---
This Article (Video: Police Officers Shoot An Unarmed Man In The Head For Asking For Their Help) is free and open source. You have permission to republish this article under a Creative Commons license with attribution to the author and AnonHQ.com.