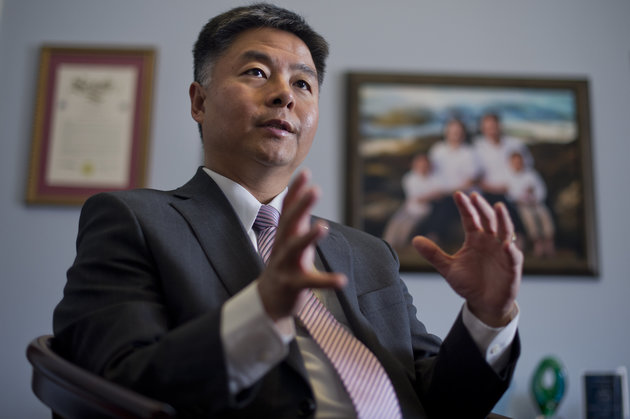 ---
[responsivevoice voice="UK English Female" buttontext="Play"]
In a move that's being described as "long overdue," Rep. Ted Lieu (D-Calif.) will be filing a bill that requires a psychiatrist to be present at the White House. While the urgency to pass the bill rose from concerns about Trump's mental health, Lieu states that any and all presidents should have access to mental health in light of the stresses that accompany the position of president.
In a statement to Huffington Post, Lieu said:
"I'm looking at it from the perspective of, if there are questions about the mental health of the president of the United States, what may be the best way to get the president treatment? We're now in the 21st century. Mental health is just as important as physical health."
Since 1928, a physician has been required at the White House, however due to the stigma associated with mental illness, a psychiatrist was excluded from the stipulation. Various mental health practitioners and politicians have raised concerns over Trump's "erratic behavior and penchant for lying," and this has once again raised the question of whether or not presidents should undergo psychiatric evaluations – Rep. Jason Chaffetz (R-Utah) is considering introducing legislation that would require presidents to undergo a mental health exam.
Lieu continues:
"It is not normal for the president of the United States, within 24 hours, to write about death and destruction and fake news and evil. The most troubling aspect of this is it is very clear he has a disconnection from the truth. … The very first press conference he had in this administration, they could have talked about jobs or health care. They talked about crowd size. And then lied about it. It's one of the most bizarre events I've witnessed in politics."
Interestingly enough, The Daily Wire, a very much Conservative news site ran by former Breitbart editor-at-large, Ben Shapiro, compiled a list of 101 lies told by Trump, and these aren't even covering the lies he's told since he's been in office. For all the newly self-described Conservatives who now hate those rascally "Libtards" who constantly call Trump out as a liar; take it from one of your own – Lyin' Donald: 101 Of Trump's Greatest Lies
Aside from the constant barrage of lies that spew from Trump's mouth, he's now taken to launching personal attacks and Twitter-tantrums against everyone from Nordstrom, to federal judges who don't rule in his favor. Lieu states:
"His disconnection from the truth is incredibly disturbing. When you add on top of that his stifling of dissent, his attacks on the free press and his attacks on the legitimacy of judiciary – that then takes us down the road toward authoritarianism. That's why I've concluded he is a danger to the republic."
Lieu said he would reach out to other colleagues to co-sponsor his bill once it's out, and is currently gaining support for another bill that would prevent the president from launching a first nuclear strike without Congress first voting to declare war.
"Right now, the president, with one order, can launch 4,000 nuclear weapons. The nuclear winter would destroy the United States. We cannot imagine the framers would have allowed this situation to be placed."
[/responsivevoice]
---
This article (Psychiatrist May Soon Be Required at the White House) is a free and open source. You have permission to republish this article under a Creative Commons license with attribution to the author and AnonHQ.com.
---
Supporting Anonymous' Independent & Investigative News is important to us. Please, follow us on Twitter: Follow @AnonymousNewsHQ