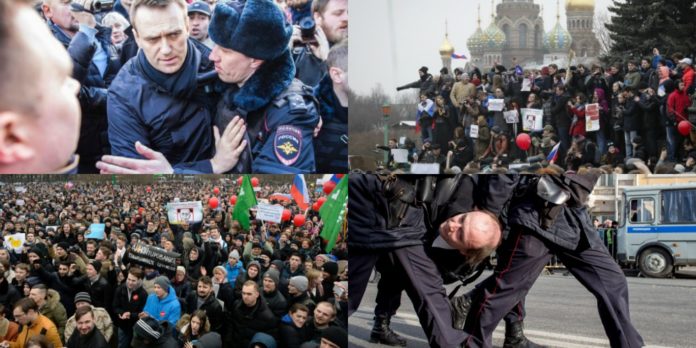 In what is being termed as the biggest show of defiance since the 2011-2012 protests, tens of thousands of anti-corruption protesters took to the streets of Moscow and over 100 Russian cities demanding the resignation of Russian Prime Minister Dmitry Medvedev. Medvedev is accused of running a corruption empire of luxury properties, yachts and vineyards.
Russian opposition leader and a leading anti-corruption activist Aleksei Navalny — Russian President Vladimir Putin's biggest critic — was detained, jailed for 15 days, and fined 20,000 Rubles for instigating the biggest anti-government protests in five years. Other charges included disobeying instructions from a police officer, and resisting arrest during the 'unauthorized' and 'illegal' mass dissent.
Many in their teens and 20s, the anti-corruption protesters were livid after an investigation conducted by Navalny's Anti-Corruption Foundation revealed "Medvedev owns real estate around the country, controls giant lots of land in the most elite districts, enjoys yachts and apartments in pre-revolutionary mansions, and receives profit from the agricultural companies and vineyards both in Russia and abroad."
"The former president, acting prime minister and Russia's second in command has created a corrupt network of charity foundations that he uses to get bribes from the oligarchs and to maniacally build himself palaces and dachas all around the country.
"People, who have seized power in Russia, have long ago stopped being simple bribetakers. The corrupt officials usually try to hide their activities, but these people are acting almost in the open. Hundreds of people are engaged in servicing Medvedev and his properties. And they all see, know and understand, who owns these dachas protected by the state special services."
The video of the investigation, which was posted on YouTube on March 2 and has so far garnered more than 14 million views, is said to have stirred the nationwide protests on March 26. According to NPR, at least 500 protesters were arrested in Moscow itself, though human rights groups say the number is higher:
"There were reports of 2,000 people showing up in Novosibirsk in Siberia, we had 10,000 in St. Petersburg, the estimates here in Moscow are about 20,000. Riot police detained the opposition leader as soon as he arrived in downtown Moscow; with Navalny supporters briefly attempting to pry open the police van that held him in the capital's iconic Pushkin Square."
Under the draconian laws passed in the wake of anti-government protests in 2011, Russians are required to seek the government's prior permission before they hit the streets to protest; if they dare to defy the law of the land and raise their voice, they face imprisonment and fines.
Петербург сегодня. Люди пришли и готовы предъявлять власти жёсткие политические требования pic.twitter.com/sNpNRdLEQN

— Andrey Pivovarov (@brewerov) March 26, 2017
In 2011, Putin had accused then U.S Secretary of State Hillary Clinton of inciting the protests that rattled the Kremlin and led to harsh new laws aimed at suppressing dissent. But it was Navalny who called on the Russians to go out on the street and protest voter fraud in the parliamentary elections, which ended up with a victory and third term for Putin.
Though a Russian court recently found him guilty of embezzlement in a 2013 case he claims is politically charged to disqualify him, Navalny vows to run for president in March 2018 in order to "fight corruption, redistribute wealth, invest more in education and health, decentralize Russian politics, reform the country's judiciary and pull back from involvement in foreign wars." Navalny, a fierce Putin critic, told the court on Monday:
"Even the slightest illusion of fair justice is absent here. Yesterday's events have shown that quite a large number of voters in Russia support the program of a candidate who stands for fighting corruption. These people demand political representation – and I strive to be their political representative."
Sunday's protests took place in areas that primarily vote for Putin, from the western city of Chita in Siberia to southern Dagestan's capital, Makhachkala. That contradicts claims made by Kremlin spokesman Dmitry Peskov that the young 'underage kids' had been "promised financial rewards in the event of their detention by law enforcement agencies."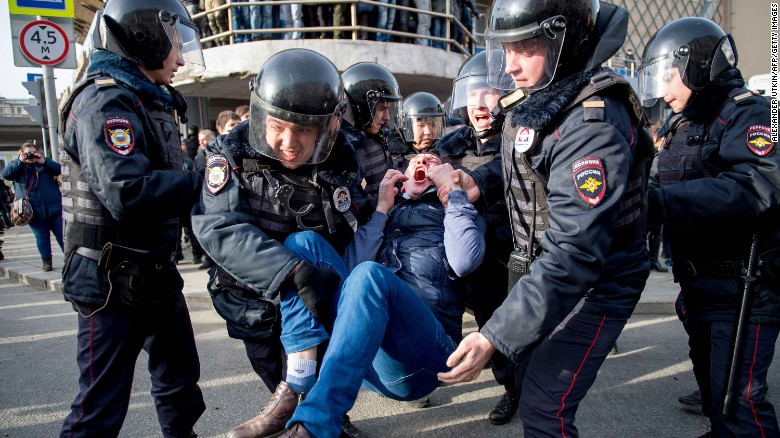 After the Russian media implemented a blackout and ignored Sunday's protests, Peskov denied restricting the free press: "We don't create the editorial policies of TV channels. TV channels show what they think is important. There are just so many ways to get information, so it's not right to say that the information is restricted in any way."
In his defense, Medvedev's spokeswoman Natalya Timakova told RIA Novosti: "It is pointless to comment on the propagandistic outbursts of a convicted opposition figure, who has already announced he is running some kind of election campaign and fighting against the authorities."
Following criticism of the Trump administration's silence on Sunday's crack down, the White House condemned the arrests by calling the move "an affront to core democratic values" and calling on the government of Russia, adding that Washington was "troubled" to hear of the arrest of Russian opposition figure Alexei Navalny.
In Pics: Anti-Corruption Protests Across Russia
---
This article (Putin Sends Biggest Critic Behind Bars as Anti-Corruption Protests Rock Russia) is a free and open source. You have permission to republish this article under a Creative Commons license with attribution to the author and AnonHQ.com.
---
Supporting Anonymous' Independent & Investigative News is important to us. Please, follow us on Twitter: Follow @AnonymousNewsHQ