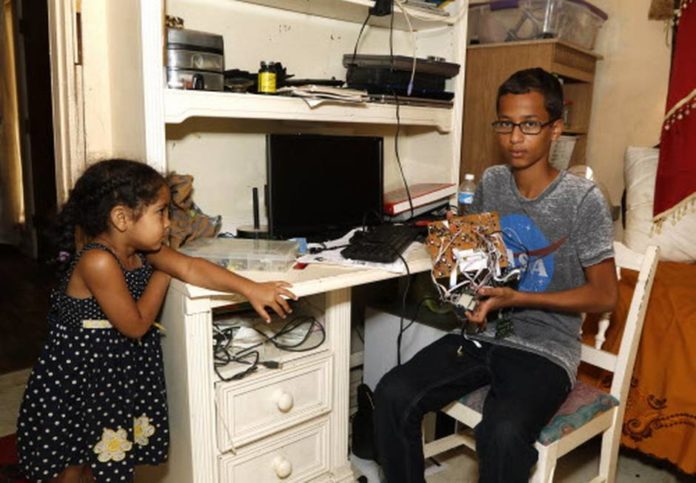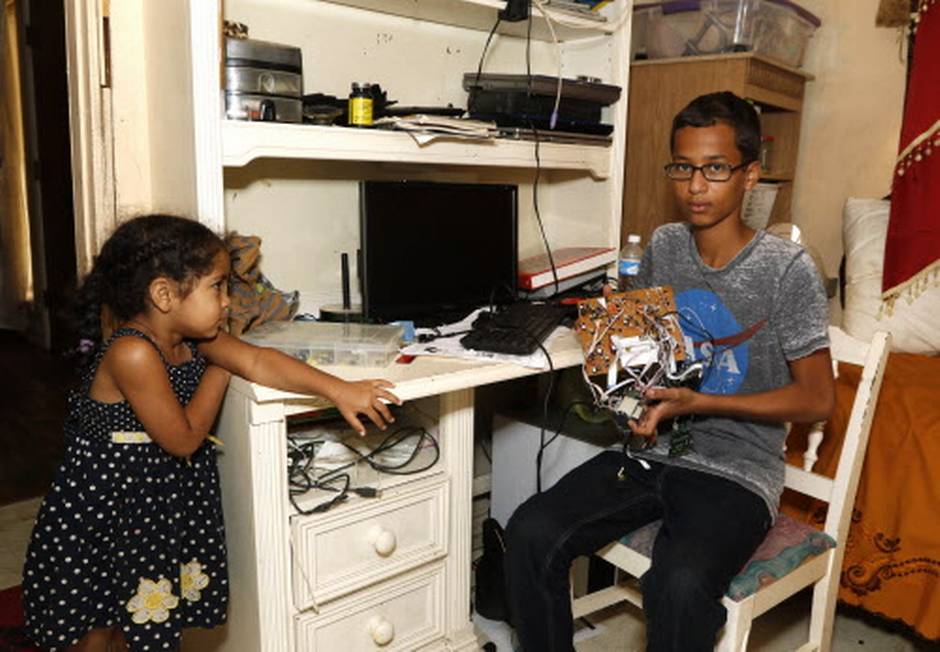 When the country is trying hard to persuade the Muslim world that American policies aren't driven by anti-Muslim bias, arrest of 14-year-old 9th grader Ahmed Mohamed on Monday seemingly confirmed the Muslim world's worst fears about the United States —that America is deeply hostile to Muslims and the law enforcement officials profile Muslims and their children as bomb-wielding terrorists.
Ahmed was arrested at his high school in Irving, Texas, after he brought a homemade clock to class to impress his new teachers. Though he repeatedly said his device was merely a homemade clock, he was handcuffed "for his safety and for the safety of the officers" and taken to a juvenile detention center. The device was confiscated as "evidence" as an English teacher suspected it was a bomb.
Although, Irving's police chief announced Wednesday that charges won't be filed against Ahmed as "there's no evidence to support the perception he intended to create alarm", his father Mohamed Elhassan Mohamed, suggested the suspicion and arrest were racially motivated. "His name is Mohamed and because of Sept. 11, I think my son got mistreated," he said.
While the Internet promptly exploded in support for the teenager under the hashtag #IStandWithAhmed, one tweet from a blogger from Pakistan shows the double standard of what Texas law enforcement views as threatening.
Both of these photos were taken in Texas. Let that sink in for a moment. #IStandWithAhmed pic.twitter.com/NQCZ9rW2lw

— Muhammad ShehrOze ツ (@Shehr0ze) September 16, 2015
The tweet shows Ahmed in handcuffs as police led him out of his high school. On the right are two white, gun-holding children who showed up with other open carry activists at a 2014 arts festival in Fort Worth, Texas. Neither the children nor other members of the group were arrested.
The sentiments were similar on Twitter from across the world.
Youngest person to ever build a nuclear fusion reactor. When you're not Muslim they support you! #IStandWithAhmed pic.twitter.com/jh995pQLpg

— Black Intifada (@Akhenaten15) September 16, 2015
Most kids who made a homemade clock in 20 minutes would be hailed as Jimmy Neutron. Muslim Kid? Potential bomb maker. Sad. #IStandWithAhmed — Wajahat Ali (@WajahatAli) September 16, 2015
If his name was John he would be labeled as a genius. Since its Ahmed he's labeled as a "suspect". #doublestandards #IStandWithAhmed

— Amneh Jafari (@AmnehJafari) September 16, 2015
Kids are encouraged to be curious and creative. Does #IStandWithAhmed show that isn't the case for minorities? http://t.co/qaRxVPQFt7 — Los Angeles Times (@latimes) September 17, 2015
A young boy shouldn't have to stop expressing their talent just because of your wrongful stereotypes #IStandWithAhmedpic.twitter.com/crdUiqs1Bo

— Abbas Sarsour (@iFalasteen) September 17, 2015
A child should not be arrested as a result of adult fear and ignorance. #IStandWithAhmed

— Pedro Noguera (@PedroANoguera) September 17, 2015
Ahmed made a clock And he's a terrorist dylan roof killed nine people But its ok hes mentally ill #IStandWithAhmed pic.twitter.com/6e0KOq20pn — WORLD STAR™ (@WorIdStarLaugh) September 17, 2015
#IStandWithAhmed because now even 9th graders aren't safe from idiotic humans who are Islamophobic and Uneducated (a teacher?) A TEACHER!!

— Nicholas Martinez (@thatgayboynick) September 17, 2015
#IStandWithAhmed so u can invent a nuclear bomb and get NOBEL while a muslim kid can make a clock and is a terrorist !!!!! — Marjan_LFC (@marjan94) September 17, 2015
Ahmed Mohamed's family were so hospitable to the journalists outside, this is what Islam is. #IStandWithAhmed pic.twitter.com/5zUe9bPIiH

— ﷽ (@MercifulDeen) September 17, 2015
---
This Article (Racial Prejudice: In America, A Young Christian Inventor Is A Hero; A Muslim Is A Terrorist) is free and open source. You have permission to republish this article under a Creative Commons license with attribution to the author and AnonHQ.com.