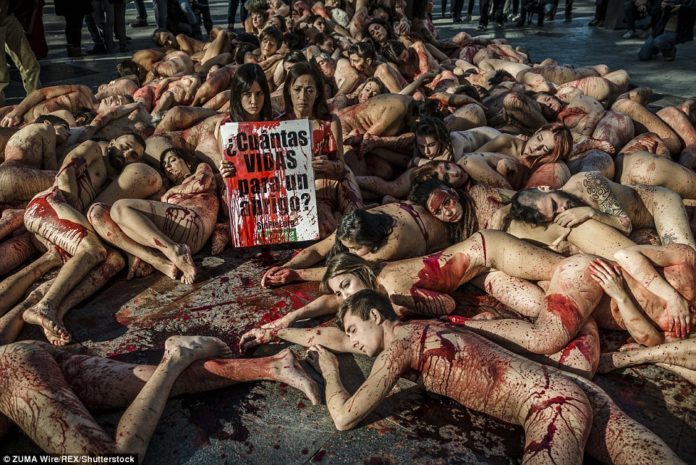 Dozens of animal rights activists stripped naked and covered themselves in blood before gathering in Barcelona last week, to protest against the fur industry. Tourists and passers-by stopped to take pictures of the scene, which was made to imitate a heap of animal carcasses spilling from a cage into the street.
At the center of the tangle of bodies, Luisa Escribano, 53, and her daughter Barbara, 21, held up a sign reading: 'How many lives just for a coat?'
Bloody, naked and caged:
Animal activists protest against killing for fur in Barcelona#Spain pic.twitter.com/k9jW1D5a0q

— IN THE NOW (@IntheNow_tweet) 12 December 2016

"It is very important to draw attention to what happens to the animals, and which goes largely unnoticed. They suffer and die on farms, but their lives matter for me and my family," Luisa said, a member of the international animal rights group AnimaNaturalis, who staged the protest.
A few days after the protest, an undercover investigation by ITV's Good Morning Britain revealed that real fur was being labeled as faux fur on many products being sold by retailers in the UK. "Consumers are being duped into buying real animal fur," said Claire Bass, director of Humane Society International UK. "Fur is tragically so cheap. It can be produced for the same or less than the cost of fake fur."
The investigation prompted Debenhams, a large high street retailer, to pull a number of handbags from its shelves and website after it was discovered that their 'fake fur' pom pom was actually real fur.
"We are investigating with the brand how this item entered the brand's supply chain," a spokesman for the retailer announced.  
After receiving a tip-off by animal rights activists, the investigation team went undercover in two additional high street retail stores – Forever 21 and Westside – to find products suspected of consisting of real fur. In both stores, the investigation team was informed by the stores' sales assistants that the suspected products were faux fur. However, upon sending the items to a fur expert, it was soon revealed that the products were made from real fur.
"We sent both of these items off to an expert in Leeds who can basically tell if something is real or fake because real fur has a protective layer, you simply can't do things like mother nature," said the undercover reporter. "He found that both of these are indeed real fur."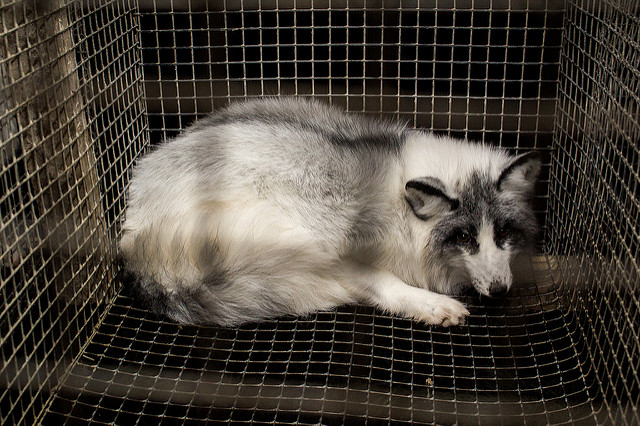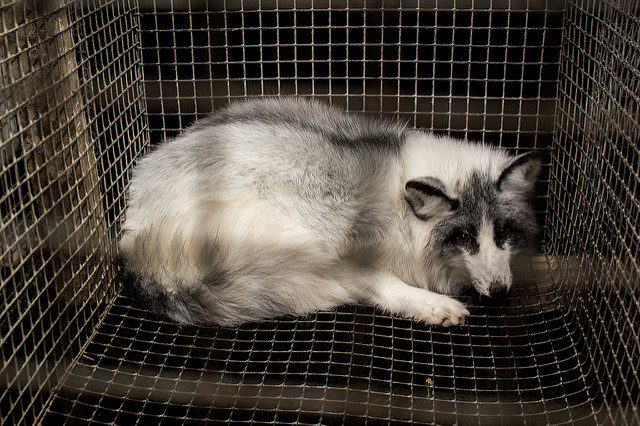 The expert identified the animals that the fur was sourced from as the Angora rabbit and the Racoon Dog. These two animals were used to make the Forever 21 bag pom pom and the parka from Westside, respectively.
"That's shocking because in 2014, Forever 21 was on a list of retailers who reportedly banned Angora from their shops, because of the way the fur is plucked from these rabbits, it's not done in a nice way, they're still alive, a lot of them are in a lot of pain," she said.
The undercover investigation has alarmed many consumers, many of which are strongly against the fur industry. According to AnimaNaturalis, each year over 60 million animals fall victim to the brutality of the fur industry, using their pelts to manufacture fashion pieces.
Consumers in the UK have been advised to look out for physical signs that indicate whether the fur on products is faux or real. The base of the faux fur, for example, should be made from a fabric or mesha base, rather than a leather textured material.
Image: Flickr, Lacy Landre (CC BY-ND)
---
This article (Real Fur Branded as Faux Fur: Protesters in Barcelona Strip Naked and Cover Themselves in Blood) is a free and open source. You have permission to republish this article under a Creative Commons license with attribution to the author and AnonHQ.com.
---
Supporting Anonymous' Independent & Investigative News is important to us. Please, follow us on Twitter: Follow @AnonymousNewsHQ