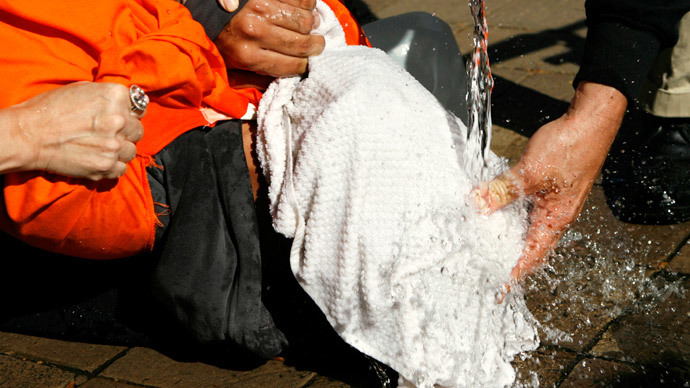 When one hears about a government agency and naked photos, the NSA is probably the first one to come to mind. It seems that another clandestine organisation has an unhealthy obsession with male genitalia – the CIA has been caught taking naked photos of candidates of its secret "extraordinarily renditions" program.
Apparently the CIA has been taking these photographs, not to blackmail their kidnapped captives, but to prove that the prisoners were treated "humanely." Captives were then shipped off to the foreign countries which would torture them ( side note, apparently being stripped of clothing and photographed without consent under uncertain conditions after being abducted by a spy agency for unproven allegations is considered humane. Irony is lost on the CIA) and then the CIA would claim that they had nothing to do with and had no knowledge of how their detainees would be treated in said foreign country… despite sending them there specifically so that they can be tortured.
An unnamed American official would describe the photos (pre-torture mind you) to The Guardian as being "very gruesome."
Medical director of Physicians for Human Rights Dr Vincent Iacopino would point out that the abductees had been sexually assaulted in order to humiliate them. "Is the naked photography a form of sexual assault? Yes. It's a form of sexual humiliation," he said.
"Photographing or videotaping detainees in U.S. custody unrelated to the processing of prisoners or the management of detention facilities can constitute a violation of the laws of war, including the Geneva Conventions, in some cases," said expert on detainee abuse and researcher with the Harvard Humanitarian Initiative Nathaniel Raymond. "Any evidence that the CIA or any other U.S. government agency intentionally photographed naked detainees  should be investigated by law enforcement as a potential violation of domestic and international law," he concluded.
Footage of this incident was apparently destroyed, but for some reason (blackmail?) the agency had retained some of the "gruesome" naked photos – classified photos, which The Guardian said showed "CIA captives are blindfolded, bound and show visible bruises. Some photographs also show people believed to be CIA officials or contractors alongside the naked detainees."
The logic of proving that inmates were not tortured, by taking naked photos of their beaten bodies is baffling indeed. This would seem to suggest that, beyond sexually humiliating them, the captives would also be subjected to far worse in the foreign nations they were abducted to.
Why were completely naked photos necessary? Well, because some foreign nations torture people by administering shocks to their genitals.
Sources: The Guardian, The Free Thought Project, RT, NY Times, Open Society, Mother Jones
---
This article (Report: CIA took Naked Photos of Rendition Captives before Torture, to Prove they were not Tortured by CIA) is a free and open source. You have permission to republish this article under a Creative Commons license with attribution to the author(CoNN) and AnonHQ.com.