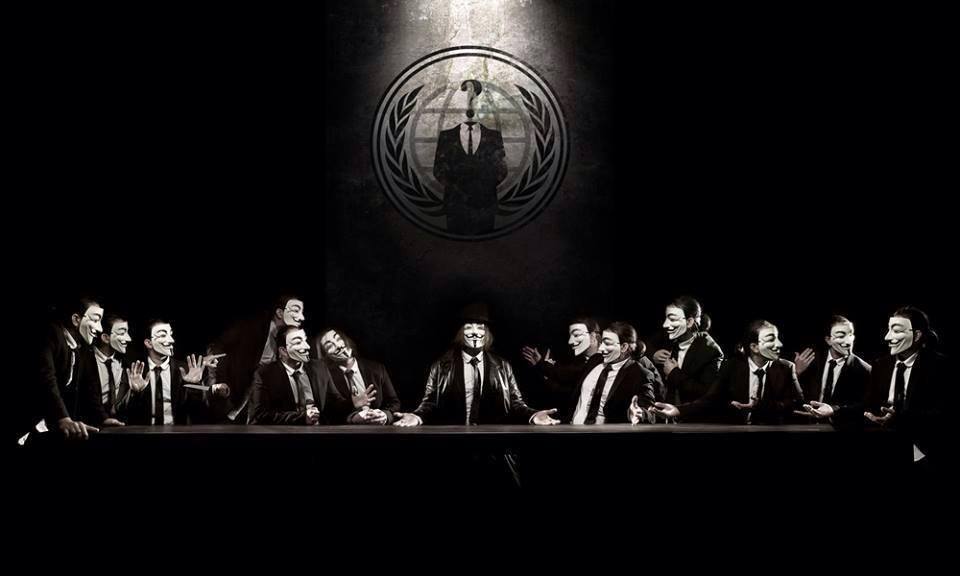 It is not exactly breaking news to say that America's primary election season has become a complete circus. Right now the United States is actually deciding between electing a women who is currently under criminal investigation by the FBI or a man who's foreign policy entails banning an entire religion. Something we in the industry refer to as a zero sum game for most of America and the rest of the civilized world.
In the last few months "the lame stream media" has been reporting and weighing in on Anonymous hacks and operations, something very much out of the ordinary. As you might expect the pundits and headlines have been decidedly negative and have sparked a lot of internal discussion within Anonymous circles. Most recently The Guardian published an article "Anti-Trump Campaign Sparks Civil War Among Anonymous Hackers." In the article the author goes on to explain how many people within the Anonymous collective are upset that other members of Anonymous have taken public sides in a political debate and how these groups are now targeting one another.
Examples of Conflicting Messages
Anonymous Opposes – Declares War on Trump: http://www.foxnews.com/tech/2016/03/18/hackers-target-donald-trump-claim-to-leak-his-social-security-number.html
Anonymous Supports Bernie Sanders?: http://www.inquisitr.com/2652994/anonymous-endorses-bernie-sanders/
Anonymous Tells Ted Cruz To Drop Out of Race: http://news.softpedia.com/news/anonymous-warns-us-sen-ted-cruz-to-leave-presidential-race-or-else-502009.shtml
Anonymous Attacks Clinton Campaign: http://www.anonews.co/anonymous-blows-the-lid-off-hillary-clinton/
The article goes on to quote several Anonymous sources whom have spoke out publicly on the matter. As one group states "We are feeling deeply concerned about an operation that was launched in our name – the so-called Operation Trump. We – Anonymous – are warning you about the lies and deceits pushed under our banner." A second source which supports the operation goes on to say "There has been large amounts of opposition to this operation as many think that OpTrump aims to censor Donald Trump's free speech, this is not the case. We do NOT stand for a specific political ideology." A third source then weighed in on the banter going on to point out how many groups have been ""actively attempting to subvert and misuse Anonymous for their own gains. They are both using Anonymous as a prop in their 'war' and it is a lie. Anonymous comes from every part of the political spectrum, the only things we could be all (mostly) aligned on are against the censorship of candidates by the media or against human rights violations or similar." The same source later went on to point out the obvious fact that almost anyone can make a video mimicking the group pretending to speak on behalf of the movement.
As you can see just by the nature of being 'Anonymous' it is fairly easy to get a quote from anyone claiming to be part of the collective and pass it off as journalism. This is at least a small part of the problem we observe here. For all of the main stream media suddenly interested in reporting on Anonymous affairs we would like to take this time to better educate you on the workings of Anonymous. No one can claim speak on behalf of the entire Anonymous collective and no single statement will ever define what Anonymous is or what it stands for. Understand that Anonymous is microcosm of society. Just as there are many people who exist in society with different religions, morals, ethnicity, religions, backgrounds – the same can be said about Anonymous. It is as simple as that, it is not nearly as mysterious and complicated as some reporters make it out to be.
Over the last few months a new Anonymous group has arose called the Anonymous Intelligence Agency and they have prepared their first video to address not only the divide within Anonymous but within American society in general. Political ideologies and opinion do not make people enemies, no one is meant to agree on everything and this is perfectly alright. If we really want a better world and a better country we have to work together, not fight one other. The more divided and segregated the people of this nation become, the more powerful the government becomes….
---
This article (How America's Primary Season Has Sparked 'Civil War' Within Anonymous) is a free and open source. You have permission to republish this article using a creative commons license with attribution to the author and AnonHQ. Join the conversations at www.anonboards.com