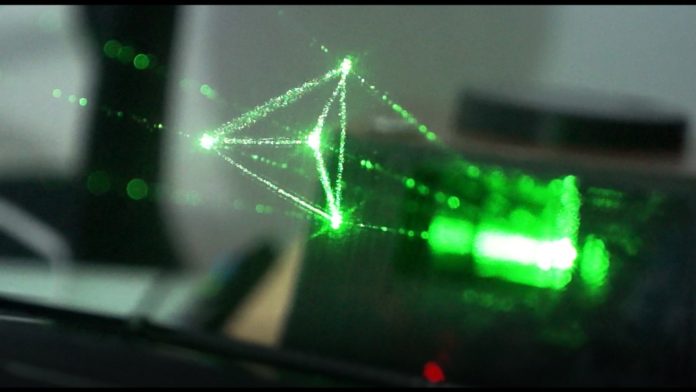 An enthusiast and a researcher who specializes in laser technology has come up with an amazing idea that can make 3D objects appear out of thin air with the help of onboard lasers.
Jaime Ruiz Avila from Austin, Texas, like many of us, is a fan of Star Wars. Avila says his inspiration came from the scene when Luke Skywalker sees R2D2's holographic image of Princess Leia asking for Obi Wan Kenobi's help. This is where his idea for creating a screenless projection came to mind.
The machine is a single unit laser-based volumetric visual apparatus. It can be easily fixed to your table, and it can complement the 3D printer – displaying the results in real world so you wouldn't have to waste 3D ink. It can also be used for educational purposes and as a simple marketing device to draw the consumer's attention.
#Holovect display, something right out of #StarWars https://t.co/fYWdtX8YGf

— Anon.Dos (@anondos_) March 15, 2017
The device, named Holovect MK II, is a one of a kind and the only commercially available device capable of drawing 3D vectors in the air with the use of light.
Explain the Magic to Me
The means of displaying the image is unique. The images displayed aren't holograms, but rather measured beams of light thrown into modified space or air. If you're thinking this isn't that how a hologram works, then consider this hologram as a recording of the patterns on film or source such as plates of glass, consisting of 3D information about every angle concerning the displayed subject.
What makes Holovect MK II different from other similar technology, Avila explains how he used the same principles of light that take place when a mirage occurs. When rays of light travel from one medium to another – usually – one witnesses three different types of effects to an extent; diffusion, refraction and in a few cases, light works with the refractive index of the material itself. When particles of light travel through a different portion of light that has a different refractive index, a person will see a different visual because the pressure and the temperature of that particular area are different than its surroundings.
The Holovect MK II consists of a unit that can control the air around its region so it can modify the refractive index of a particular area where a simple laser beam can be molded into displaying shapes. Thus, by using software, the air columns are controlled and can modify the particles of light into desired vectors anywhere in a controlled air space.
Avila further said the vector laser's displayed objects are sets of data that were designed for Holodeck MK II. These data sets are a list of coordinates that guide the lines to help the 3D vector image come to life. The hardware consists of switches that can program the 3D vector to spin or move from one point to another within the controlled space.
Holovect MK II isn't just for visual pleasure; it can be used to bring soul to the CAD designs on Holovect before they're used in 3D printing. Its developer also stated that Holovect could be used for visualisation of 3D data along with its use for 3D advertisements, such as branding.
Avila also made sure gamers can use the Holovect, too, in drawing and art related software or general designing tools, saying these customizations will be available soon. The machine will also include 3D image capturing and creating technology.
So, if you're excited about having your own Star Wars display, then you can order your Holovect MK II early bird for $750. Their page is offering options beginning at $750 – $1800 with shipments of the product to anywhere in the world.
Source: The Verge, Kick Starter, Motherboard, Live Science.
---
This article (Researchers Find Ways to Bring Star Wars 3D Display to Life) is a free and open source. You have permission to republish this article under a Creative Commons license with attribution to the author and AnonHQ.com.
---
Supporting Anonymous' Independent & Investigative News is important to us. Please, follow us on Twitter: Follow @AnonymousNewsHQ