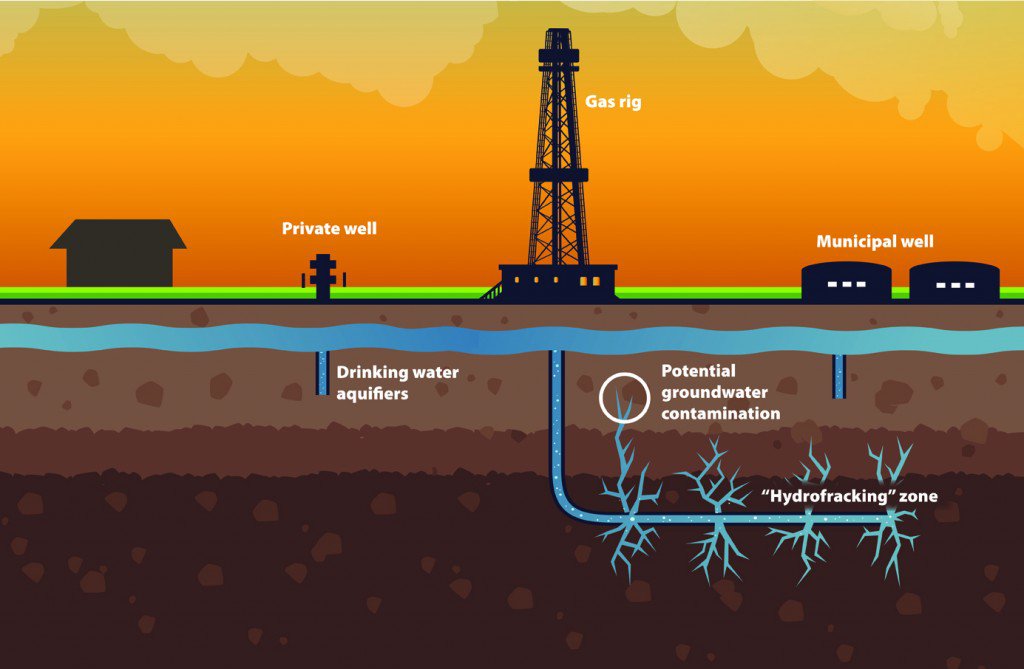 According to a number of articles  dated back to the 1960s, fracking has been used as a method of nuclear waste disposal.
As the fight against the fracking industry continues, activists and environmental journalists are working to accumulate and uncover undisputable evidence against this industry's practices. However, despite the overwhelming evidence that has been presented over the past decade, governments continue to merely sit back and watch the fracking industry destroy our environment. Why do they do this? To fulfil their lust for money and power.
In an article written for Truthstream Media, writers Aaron Dykes and Melissa Melton reveal that tohydraulic fracturing, or "fracking" has been used to dispose of millions of gallons of nuclear waste since 1960.
Through a series of uncovered articles from the spring of 1964, Dykes and Melton discovered that a number of media organizations had reported on a "then-newly disclosed plan to dump nuclear waste produced by the atomic energy industry into hydraulic fracturing (fracking) wells using a cement slurry technique developed by Halliburton & Co." At the time, the two top fracking companies in the US were Halliburton and Dowell.
Contrary to popular belief, fracking is not a relatively new industrial phenomenon. In fact, as revealed by these articles, Halliburton has a long-standing relationship with the secret government as well as the oil and nuclear industries.
According to the articles, after teaming up with the U.S. Government and the Union Carbide Corp., who operate nuclear materials divisions at the Oak Ridge National Laboratories in Tennessee, Halliburton was credited with "solving" the nuclear industry's radioactive waste disposal problem.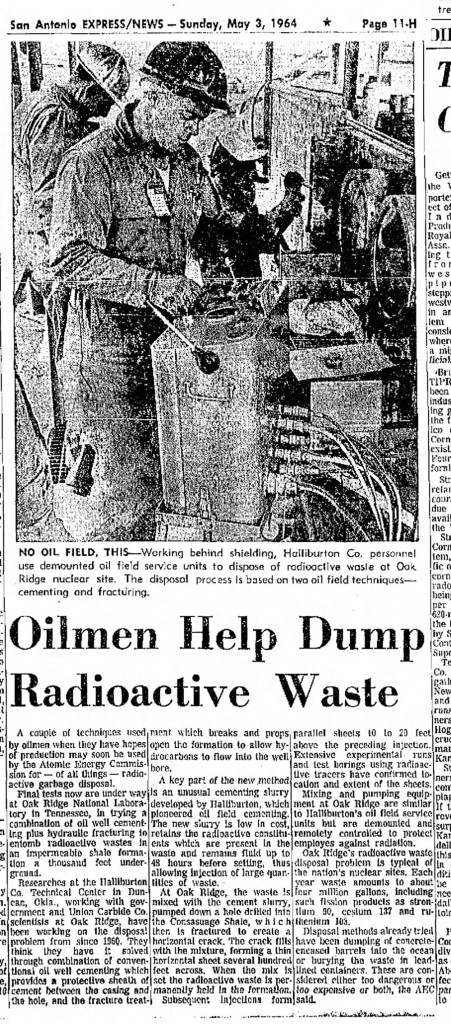 Each of the articles sourced by Truthstream Media, detail the same information and carry the same story: In the 1960s researchers at Halliburton worked with scientists at Oak Ridge to establish a way of using fracking to dispose of nuclear waste.
Together they came up with a method of mixing the nuclear waste with a cement slurry, before "pumping the mixture down hole drilled into the Conasuaga shale and then fracturing the shale to create a horizontal crack." These cracks are then filled with the mixture, forming a thin horizontal sheet that is several hundred feet across and a thousand feet underground. Once set, the mixture then holds the radioactive waste in the formation permanently. Well, that was what was meant to happen.
Since the 1960s, U.S. industries have injected around 30 trillion gallons of toxic waste into the earth in a effort to dispose of it in a less costly manner. However, despite the corporation's ability to assure the Environmental Protection Agency that this method is safe and poses no threat to our aquifers, over the years a number of leakages have been recorded.
In April, 1967 a magnitude 5.0 earthquake occurred after the pesticide waste that had been injected by a chemical plant at Denver's Rocky Mountain Arsenal destabilized a seismic fault. Just a year later, a corroded hazardous waste well in Erie, Pa., ruptured, causing "a noxious black liquid seeped from an abandoned gas well" in Presque Isle State Park.
In 1975, as much as five million gallons of highly acidic herbicide was sent into a nearby water aquifer after the waste injected by the Valsicol Chemical Corp. burned through its well casing. Finally, in August 1984, "radioactive waste was turned up by water monitoring near a deep injection well at a government nuclear facility," in Oak Ridge, Tennessee, the same wells that Halliburton and the Atomic Energy Commission claimed would be permanent and "impermeable" for centuries to come.
In addition, many of the wells that have been made within the past five or so decades have been forgotten or abandoned, making them lost to the record books. Unsurprisingly, this has arose much concern, especially once you consider the evidence that proves the wells are not guaranteed to last the amount of time promised by Halliburton and others in the industry.
As reported by ProPublica, there are upwards of 2 million abandoned and plugged oil and gas wells across the U.S., of which, as many as 100,000 do not appear in regulators' records. A number of these wells are "just broken off tubes of steel, buried or sticking out of the ground," despite the fact many are supposed to be sealed shut with cement, a material that has been proven to break down over time.

Since fracking has been used to dispose of unwanted toxic substances as far back as the 1960s, many of the abandoned and lost wells across the U.S. have likely been filled with these dangerous substances. As many experts have noted, the condition and stability of these wells have become a serious cause of concern.
"In 10 to 100 years we are going to find out that most of our groundwater is polluted. A lot of people are going to get sick, and a lot of people may die," Mario Salazar, an engineer who worked as a technical expert for 25 years with the EPA's underground injection program in Washington, told ProPublia's Abraham Lustgarten in a interview.
Astonishingly, despite the overwhelming evidence against its use, these practises are both widespread and widely defended across the globe. But how can this be so? The answer simply comes down to money. Alternative methods of waste disposal include burning waste, treating wastewater, recycling, or disposing of the waste of the surface, are methods that are either more costly or damaging to the environment.
Subterranean waste disposal is now becoming a more popular method. Area's chosen of operation are used by pharmaceutical, agricultural and chemical industries to deposit specific wastes produced. Ultimately, this reduces the amount of Co2 being produced from other methods and providing a future relying less on foreign oil and nuclear fuel production.
Yes it can be argued that this method is a better alternative to dumping the waste directly into waterways; however, simply burying the waste beneath the earth's surface in the hopes that the idea 'out of sight out of mind' will apply to this situation, is not a suitable solution.
---
This Article (Revealed: Fracking Has Been Used To Dispose Of Nuclear Waste Since The 1960s) is free and open source. You have permission to republish this article under a Creative Commons license with attribution to the author and AnonHQ.com.